How To Soothe Holiday Stressed-Out Skin, From Dermatologists
mbg Beauty Director
By Alexandra Engler
mbg Beauty Director
Alexandra Engler is the Beauty Director. Previously she worked at Harper's Bazaar, Marie Claire, SELF, and Cosmopolitan; her byline has appeared in Esquire, Sports Illustrated, and Allure.com.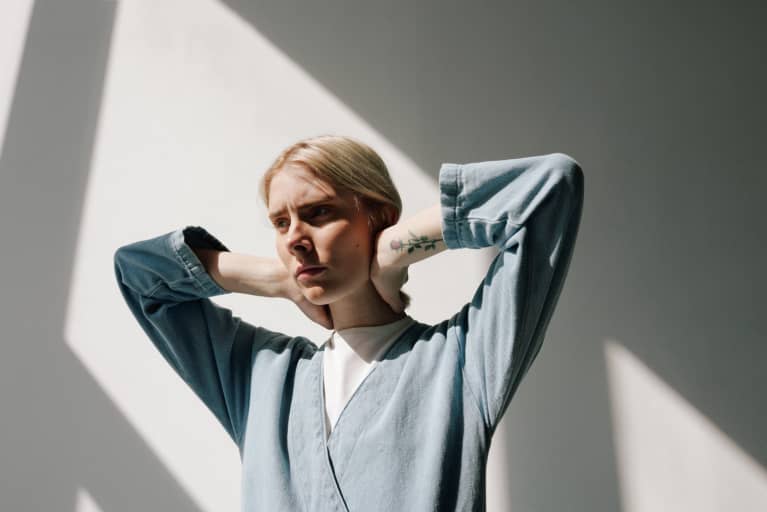 I don't know about you, but my skin does not take lightly to holidays or special occasions. I am often, not always but often, left with blotchy, inflamed, angry skin a few days post-festivities. Skin is a complicated, nuanced, and complex organ—one in which a blemish or rash could have multiple confounding triggers to blame.
Here's why my skin capital-F Freaks out the week following holiday time—and why yours likely does as well: It's a chaotic combo of indulgent food, extra stress, a thrown-off circadian rhythm, and not being diligent with my skin care. Then, if you add travel on top of this, you have another slew of issues, including but not limited to time zone changes, recycled plane air (if you are flying), dry car air (if you are driving), making skin care swaps with travel versions, and even sleeping on new pillowcases.
This all amounts to absolute havoc, especially if your skin is sensitive to begin with.
How to quickly reset your skin after a holiday-induced freakout.
Right about now you may be wondering what you can do to help your poor complexion get back on track. This may involve pouring over your skin care cabinet looking for any product that might be a quick fix. But before you go about slathering your face with more actives, let this be a very quick lesson: When your skin is irritated, always opt for paring back—rather than adding to.
"Simplicity is key when responding to any skin sensitivity," says holistic esthetician Hayley Wood about irritated skin. Most importantly, stop using potent chemical exfoliants until your skin calms down: Things like retinol, AHA, or BHAs will only further disrupt your skin's barrier, which is the last thing you want to do when your complexion is showing signs of irritation. "Don't exfoliate or use harsh active ingredients during a time of sensitivity," she says. "No active ingredient will be able to deliver on their promise if the skin is already irritated. Instead, soothe the skin and it will return to optimizing its own self-healing functions."
This isn't to say use nothing—you need to wash your face and apply moisturizer, after all!—but it does mean you need to be very, very picky about what you're using until your skin goes back to its baseline. Here, a few ingredients to look for to help soothe your skin, temper inflammation, and build up your skin's barrier.
Need help stat? Try a cold compress.
As basic as it sounds, applying a cool compress "decreases blood flow to the area and helps soothe the skin," Purvisha Patel, M.D., a board-certified dermatologist, previously told us about inflamed skin. If you don't have a designated cold compress, make your own; put ice cubes in a plastic bag, then wrap it in cloth and apply to the area. Or use that bag of frozen peas in the freezer. Either way, apply your cold compress of choice to the affected area for 15 minutes on, 15 minutes off, until the irritation subsides.
Holidays, with all their joy and indulgence, can come at a cost to your skin—if your skin is highly sensitive to changes in your routine. If this is you, don't fret. Simply halt all potent actives (like retinols, AHAS, and BHAs) and find hydrating products that contain skin-barrier-building actives.