Bedroom Clutter Messes With Your Sleep (!) Here's What To Do About It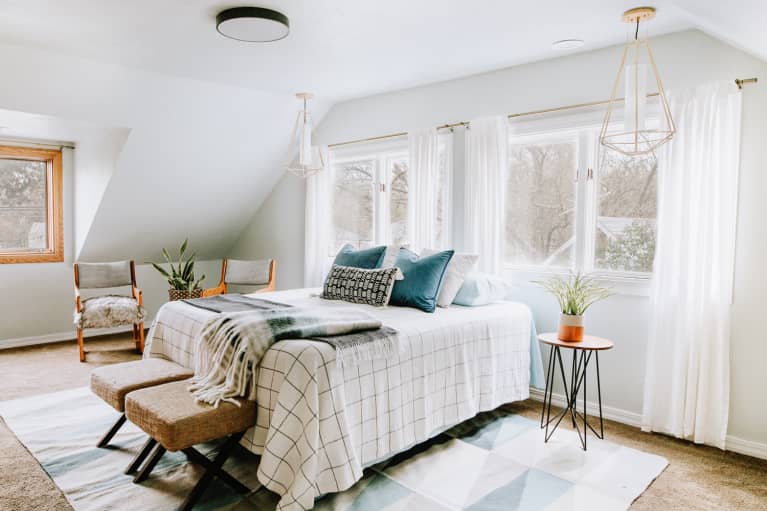 Our editors have independently chosen the products listed on this page. If you purchase something mentioned in this article, we may
earn a small commission
.
To the outside world, Carin seemed to have it all: a great job, lots of friends, and a full social life. But something in her life wasn't working. She called me for a decluttering session, and as we talked about what her goals were, she revealed that her performance at work was slipping, and she was fairly certain it had to do with her terrible bouts of insomnia.
The insomnia was causing her to be late to the office every day, and once she did finally get there, she was beyond exhausted. When I saw her bedroom, I knew exactly what the culprit was. Her clutter had totally taken over the space.
There was a bed piled high with clothes, a closet overpacked and overflowing, stacks of unread business books everywhere. Every night as she tried to fall asleep, she would stare at piles of clutter and beat herself up. Her bedroom was no longer a sanctuary but a giant stack of failures—failure to put things away, to read all the books, to "do it all."
How your "clutter blocks" can negatively affect your health and well-being.
I knew right away she was deep in what I like to refer to as clutter blocks. As I explain in my upcoming book, Making Space, Clutter Free: The Last Book on Decluttering You'll Ever Need, I've noticed there are a number of emotional obstacles associated with excess stuff. And when these hit full force in the bedroom, they can derail a good night's sleep.
In this case, Carin was waking up to piles of clothes or Clutter Block No. 3, Avoiding Grown-Up Decisions. The clothes could also be a manifestation of Clutter Block No. 2, My Stuff Tells Me Who I Am. When someone owns more clothes than one person can wear in this lifetime, it tells me they are overbuying for a myriad of unhealthy reasons such as loneliness, boredom, or wishful shopping.
How to declutter the bedroom for a better night's sleep.
This is just one example of how clutter in the bedroom can get in the way of rest. I'd recommend taking a good hard look around the room and thinking about what your stuff is telling you. Then, take 30 minutes to take items that have a home somewhere else and return them to their proper place. Here are some principles to remember as you clean it up for the sake of your sleep.
If your clothes don't fit in the closet and/or dresser it's time for a serious purge.
We wear only 20 percent of our clothes 80 percent of the time—so if you haven't worn it in over a year, you won't wear it again. Let it go!
Paperwork belongs in the office or a designated space in your kitchen or dining area, not the bedroom.
If paperwork has migrated to the bedroom because the office area is too full, you have an over-retention problem. Get informed about what paperwork you really need to keep and shred the rest.
If a magazine is more than six months old, you're not going to read it.
Toss the stacks in the recycling bin and cancel the subscription. In Carin's case, she got honest with herself about what books she was really going to read and made a promise to herself to have only one book on her nightstand at a time. A couple of months later, she called me to say that she'd slept in her bed every night since our session and she hadn't been late to work once. Making the effort to declutter led to a calm and serene bedroom and a great night's sleep for her—and it can do the same for you.