Stressed About Fertility? We Asked Top Fertility Experts What You're Doing Right & Wrong
mbg Health Contributor
By Gretchen Lidicker, M.S.
mbg Health Contributor
Gretchen Lidicker earned her master's degree in physiology with a focus on alternative medicine from Georgetown University. She is the author of "CBD Oil Everyday Secrets" and "Magnesium Everyday Secrets."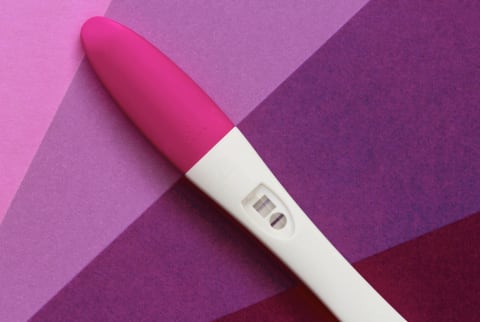 Photo by Kaat Zoetekouw / Stocksy
December 6, 2018
Fertility tends to be something women don't really think about until we're actually trying to conceive. And then we become totally obsessed with it—rightfully so—trying to learn everything we can as fast as we can in the span of a few weeks or months.
But fertility is something we should all be more educated about and aware of at all ages. And it's also something that can be influenced seriously by our lifestyle and factors like stress, diet, and exercise. So I tracked down some top fertility specialists to ask what we're doing right a wrong—and what we should be concerning ourselves with and when.
Advertisement
This ad is displayed using third party content and we do not control its accessibility features.
Diet is everything—and you can start now.
We all know diet is important when it comes to our energy levels, mental health, and weight management, but it's also paramount when it comes to fertility. As Sheeva Talebian, M.D., a reproductive endocrinologist explains for us, "Nutrition and exercise are essential to getting your body ready for pregnancy and keeping it healthy during your pregnancy. The same way proper nutrition and exercise are good for your cardiovascular system, they are good for your reproductive system."
So how soon should you start tailoring your diet to improving fertility? According to Carlyn Rosenblum, R.D. and nutritionist at Trellis—a new fertility studio in New York that offers a $45 fertility consult, egg freezing, and fertility health coaching—you can start at any time, but three months is the magic number. "There is about a 90-day window where follicles grow and mature before ovulation. During this time, these follicles are extremely susceptible to external factors such as diet and lifestyle. I always recommend women adopt a fertility-friendly lifestyle at least three months prior to conception or freezing their eggs because they will not see the improvement in their egg quality until they implement the changes for at least that amount of time," she explained.
So what does a pro-fertility diet look like? It means staying away from sugar—even natural sugars—and eating plenty of healthy fats. "Insulin resistance causes hormonal imbalances that can affect fertility hormones," says Rosenblum. "And therefore contributes to poor reproductive health. While more and more people are warming up to the idea of fat, I still see many patients who are afraid that fat will make them fat. However, when it comes to fertility, fat is essential for healthy hormone production and also maintaining balanced blood sugar levels."
Educate yourself on your monthly cycle sooner rather than later.
If there was a common important theme among fertility experts, it's that the biggest thing women are getting wrong about fertility is not educating themselves on how it works before they want to get pregnant. "I would say the 'biggest mistake' people are making about their fertility is that they are not educating themselves properly. Knowledge is power. With proper education you may decide 'not to wait a little longer before trying' or you may decide to take even more aggressive measures like freezing eggs or embryos if you have a partner. You do not want to look back with regret and think, 'I wish I'd had this information five years ago,'" Dr. Talebian explained.
Cary Dicken, M.D., physician and fertility specialist at Trellis, would agree with her. "One of the biggest mistakes women are making about fertility is not understanding the female reproductive system and how female fertility changes. If you want kids in the future, live a healthy lifestyle and be proactive about your fertility—learn about your ovarian reserve, consider preserving fertility via egg freezing, and understand how to get pregnant once you're ready."
So where do you start educating yourself on fertility? It can be as simple as having a conversation with your doctor about your health and how fertility changes as you age. You can also get a physical evaluation that will give you an idea of how many healthy eggs you have to work with and other factors that might affect fertility. This can help prepare you for any obstacles—big or small—that you might face and give you time to plan ahead. Another simple step you can take is to start tracking your cycles. This will make you aware of how regular your cycle is and help you pinpoint ovulation and your fertile days. Luckily, there are a ton of apps for that, like Daysy, Dot, and Natural Cycles (which was just approved by the FDA as contraception).
Advertisement
This ad is displayed using third party content and we do not control its accessibility features.
Evaluate the toxins in your life and start avoiding them as much as possible.
One practical step we can make to improve our fertility is to take a good hard look at the toxins and chemicals we're encountering every single day, including alcohol and caffeine. To support fertility, "Alcohol consumption should be moderate, and caffeine intake should be decreased to 200 mg a day. Double check any medications, supplements, and beauty products, and make sure they are 'safe' to take when pregnant. I also recommend whole eating, which means avoid processed foods, preservatives, artificial cooking oils, and sweeteners."
If you're a coffee person or matcha lover, you might wonder why caffeine is something to keep an eye on. According to Rosenblum, "Coffee depletes women's bodies of important nutrients (like B vitamins and magnesium) that are essential for proper hormonal balance. Drinking coffee first thing in the morning also interferes with our body's natural production of cortisol, which can exacerbate hormonal imbalances." Noted.
Whether you want children now, a year from now, 10 years from now, or yesterday, knowing this information will help you get there. And even if you don't want kids, making these healthy lifestyle changes are great for your long-term health. It's never a bad idea to educate yourself on your monthly hormone surges and fertile days and the changes occurring in your body as you age.
Advertisement
This ad is displayed using third party content and we do not control its accessibility features.