How To Make Your Bedroom A Sweat-Free Zone Even In The Heat Of Summer

Contributing Wellness & Beauty Editor
By Lindsay Kellner
Contributing Wellness & Beauty Editor
Lindsay is a freelance writer and certified yoga instructor based in Brooklyn, NY. She holds a journalism and psychology degree from New York University. Kellner is the co-author of "The Spirit Almanac: A Modern Guide to Ancient Self Care," with mbg Sustainability Editor Emma Loewe.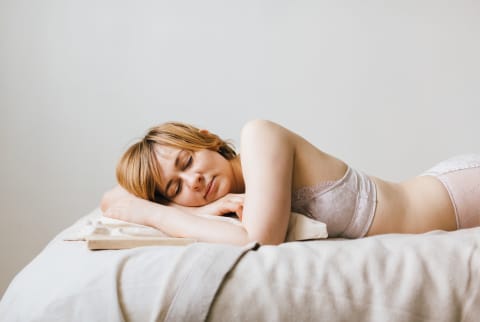 Image by Alexey Kuzma / Stocksy
Last updated on July 18, 2019
Whether you're an urban dweller dreading the seasonal summer air conditioning window unit installation or a homeowner who wants to keep her bills down (and the planet happy), one thing's for certain: Those first few hot summer days often mean sweaty, sleepless nights. On those first few balmy evenings, the heat and humidity seem to come out of the blue, disrupting your precious, hard-earned sleep.
At that point, it seems too early to use one of your few beloved windows to install a window air-conditioning unit or to switch on the central A/C full blast. I personally try to hold out as long as I can for Mother Earth (and yes, my wallet), but those first few evenings are unbearable after a cool spring.
Advertisement
This ad is displayed using third party content and we do not control its accessibility features.
So I decided to do an experiment. The weather in New York has been downright wonky, swinging days with temperatures that vary by 20-degree increments. One day it's 90 and the next it's 70—and I know it's been similar in other parts of the country and world, too. In the same way you change out your winter wardrobe, change your summer bedroom with the following seven wellness tips:
1. Make sure you have blackout curtains.
Even if you love waking up with the light, blackout curtains will be so helpful in keeping your place cool during the day. It's helpful to keep them drawn during the day and, sure, if your window is near a streetlight, in the evening as well. They do a great job at blocking sound. I've gone through quite a few blackout curtains to find the best ones, and West Elm's velvet curtains for a plush look or Belgian flax linen for a more relaxed vibe both block light very well. These curtains claim to lower the temperature in your room by 5 degrees. If you already have curtains, search online for a blackout panel to add. As pretty as they are, sheers won't help keep a bedroom cool.
2. Practice cooling breath work.
Before bed, try sitting down for a few minutes in front of an open window or a fan. Closing your eyes, gently roll your tongue and stick it out of your mouth so it looks like a straw. With your curled tongue out, inhale for four to five counts through your tongue. Retract your tongue and exhale for four to five counts through your nose. Repeat this as many times as you'd like. Eight to ten is recommended. If you can't curl your tongue, make a small "o" shape with your lips, small enough that a Cheerio couldn't pass through, and use this instead. This is called the "Sitali Pranayama" and is known to be helpful for cooling the body and calming the nervous system.
Advertisement
This ad is displayed using third party content and we do not control its accessibility features.
3. Switch to linen sheets and pillowcases.
This probably made the biggest difference. I'm someone who loves being under the covers no matter what the temperature, there's something about the weight of the blankets that's soothing. My year-round sheets are 100 percent cotton, so I thought they'd breathe just fine, but it didn't seem to matter—I'd wake up in a pool of my own sweat. Switching to linen sheets was a game changer—I chose Parachute Home's linen sheet set and loved the texture and color (fog) right off the bat. They're much lighter than the cotton ones and maybe more absorptive...I like to think any sweat evaporates, creating a cooling effect all evening.
4. Try a weighted blanket if you miss your comforter.
If you swapped out your sheets for linen and you're still sweating because you love the weight of your comforter, I get you. A linen quilt will help but may not be enough if you really love the weight. As it turns out, a gentle weight distributed across the body is calming to the nervous system, which puts you in a better place to fall asleep. Even if you use this for a few minutes while settling into sweet, sweet slumber before kicking it off, a weighted blanket can be seriously helpful. They're often used to help children with ADHD and autism and increasingly by adults who want to up their sleep game. We love these because the designs are stylish, plus their business helps refugees.
Advertisement
This ad is displayed using third party content and we do not control its accessibility features.
5. Swap your light bulbs for lower wattage ones.
This includes overhead lights and bedside bulbs alike—the less heat you have from electricity in your bedroom, the better. If you have a TV or computer in your room, I recommend using them elsewhere if you can. Those devices throw off a deceptive amount of heat that you simply don't need on those scorchers.
6. Spritz with a cooling room spray.
Peppermint, eucalyptus, lavender, and orange blossom are all scents that will bring a cooling energy to your bedroom. Since oils tend to create a barrier on the skin, I recommend a room spray. This one by P.F. Candle Co. has notes of calming lavender, citrus, and sea salt air: perfect for making your stuffy summer evening a bit more easy breezy.
Advertisement
This ad is displayed using third party content and we do not control its accessibility features.
7. Invest in a ChiliPad.
If all else fails, try a ChiliPad. I first heard about ChiliPads through Tim Ferriss' podcast and they continue to be a word-of-mouth solution for sleeping with partners who run hot or for anyone without an air conditioner who sleeps in a warm climate. If you're not ready to invest in the original model, try the gel pad.
While you're at it, check out the only decluttering guide you'll ever need, plus a Brooklyn home tour complete with 600-plus houseplants.
Advertisement
This ad is displayed using third party content and we do not control its accessibility features.