How To Make A DIY Face Scrub: 4 Recipes That Will Give You A Serious Glow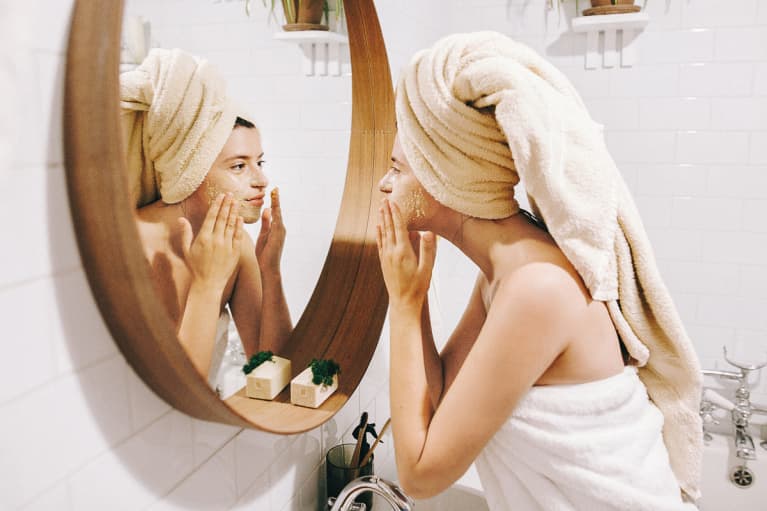 Our editors have independently chosen the products listed on this page. If you purchase something mentioned in this article, we may
earn a small commission
.
Never underestimate a good face scrub. Scrubbing can actually work wonders in a skin care routine, as it allows you to control the pressure (and the exfoliation, as a result), and it can even help give you an immediate glow; although there's a fine balance between a gentle buffer and one that quite literally cuts up the skin. Shudder.
Now, there are plenty of market scrubs formulated just for the delicate skin of the face. But get this: Many of these products use ingredients you likely already have at home. Here's everything you need to know about the venture, plus four DIY face scrub recipes with all glowing reviews.
When should you use a face scrub?
While both types of exfoliation (that is, chemical and physical) are able to shed dead skin cells, physical exfoliation uses actual granules to remove all the debris mechanically. That said, sometimes it can lead to more immediate results than the chemical counterparts. According to board-certified dermatologist Jessie Cheung, M.D., founder of Cheung Aesthetics and Wellness: "Physical exfoliation offers instant gratification, as dead skin cells and dirt are swept away during the treatment—it's perfect if you need an immediate glow. Some patience is required with chemical exfoliation."
That's because in addition to buffing the skin smooth, the actual scrubbing itself can stimulate blood circulation in the face (which can give you that lit-from-within sort of glow), mentions Marisa Plescia, research scientist at clean beauty e-tailer NakedPoppy.
And while face scrubs can quite literally pave the way for other targeted treatments and serums ("The active ingredients will penetrate more easily," says Cheung), you don't want to be using both physical and chemical exfoliation at the same time—that's way too harsh for the skin barrier to handle. Stick to one type of exfoliation and call it a day.
What do you need for a DIY face scrub?
Generally, you need only two basic ingredients for a face scrub: a physical exfoliant and an emollient.
Sounds simple, but the types of both are critical—choose a too-harsh exfoliant, and you can quite literally scratch up your face, even cause microtears in the skin. "Try to avoid exfoliating ingredients that can be jagged, such as shells and fruit pits," says Plescia. (Think walnut shells or even coarse sea salt.) Rather, snag gentler granules: Plescia is partial to finely granulated white or brown sugar, finely ground oatmeal, or finely ground flours (think chickpea, rice, or almond flour).
You have a bit more flexibility in terms of emollients. You can use water, honey, or even yogurt to help liquefy the scrub. Plescia, however, recommends choosing an oil: "Oils moisturize the skin and also allow for the scrub to be more easily rubbed in," she says. As for which oils to add, well, that's up to you: Try out different concoctions with olive, jojoba, almond, grapeseed, or even pumpkin seed oil (it's great for acne-prone individuals), and see how each treats your skin.
4 face scrub recipes for radiant skin. 
After you gather all the (gentle) ingredients for a face scrub, there are plenty of ways to customize your exfoliating experience. The choice is yours:
1.
Soothing Oatmeal-Honey Face Scrub
This face mask uses two star DIY ingredients: oatmeal and honey. Oats (specifically of the colloidal variety) have anti-inflammatory properties that are naturally soothing on the skin. And according to Plescia, "Raw honey is extremely beneficial to the skin and can be hydrating, anti-inflammatory, and even antibacterial." We couldn't agree more.
1 tablespoon finely ground oatmeal (you can use a food processor or blender)
2 teaspoons finely ground brown sugar (emphasis on finely ground)
1 teaspoon raw honey
Between 2 and 4 tablespoons of olive oil
Mix all the ingredients together, adding 1 tablespoon of oil at a time as you combine. "The overall consistency of the face scrub should be almost paste-like," Plescia explains. Scrub gently in circular motions for about a minute. Rinse with lukewarm water, and carry on with your routine.
2.
Brightening Rosehip Face Scrub
Rosehip seed powder falls under the category of ground flours—it's quite soft and fine, which makes for a great physical exfoliant. (Feel free to sub in another finely ground flour, though, if you can't find the rosehip.) Plus, it's rich in brightening vitamin C, as well as vitamin A via carotenoids. Of course, make sure your rosehip powder (and all your ingredients, for that matter) is organic and high-quality—you don't want to be scrubbing any iffy ingredients on your skin. Here's a recipe from product formulator Jana Blankenship, founder of the natural beauty brand Captain Blankenship:
½ tsp. rosehip seed powder
½ tsp. raw honey
Mix all the ingredients together until it forms a paste (you may need to add more honey for the formula to liquefy). Scrub gently in circular motions for about a minute, and rinse with lukewarm water.
3.
Rose-Honey Scrub for Dry Skin
This scrub effectively removes dead skin cells while still remaining gentle on dry skin. Rose, in particular, has been shown to reduce redness on the skin, which can help keep your complexion looking calmed and smooth as you scrub.
½ tsp. powdered rose petals
½ tsp. finely ground oats or oat flour
1 tsp. honey
½ tsp. water
Combine the ingredients until it forms a paste. Scrub gently in circular motions for about a minute, and rinse with lukewarm water before moving on with your skin care routine.
4.
Cinnamon-Spice Scrub for Acne-Prone Skin
¼ tsp. cinnamon powder
½ tsp. turmeric powder
½ tsp. rosehip seed powder
½ tsp. water
Combine the ingredients until it forms a paste (feel free to add more water, says Blankenship, until it reaches a thick yet spreadable consistency). Scrub gently in circular motions for about a minute, and rinse with lukewarm water.
Physical exfoliation can work wonders for dull, tired skin, but know when you've had enough: "It can also cause some skin irritation, especially if you exfoliate too frequently or use physical exfoliants that are too coarse," Plescia notes. She recommends scrubbing one to two times a week—although, you might even want to do less if you incorporate chemical exfoliants (like AHAs or BHAs) into your skin care routine.
You might want to be careful of the delicate eye area as well. Even though the granules are gentle, any tugging or scratching around the eyes is a recipe for wrinkles down the road. Also, "Be mindful if you have open wounds, cuts, or sunburn," says Plescia. Ouch.
With the right ingredients, face scrubs can be a stellar addition to your skin care routine. Better yet, they're incredibly easy to DIY. If you're looking for an immediate glow, a good scrub-down may be just what you need.
Want to turn your passion for wellbeing into a fulfilling career? Become a Certified Health Coach! Learn more here.