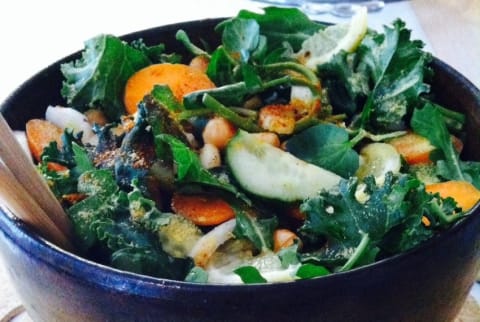 February 21, 2014
On a yoga retreat years ago I was introduced to the Buddha Bowl. A meal-sized bowl filled with simple pure food and enjoyed with deep gratitude. After losing my beloved father to stomach cancer, I began to understand the significance of my lifelong quest for health and decided to honor my father and my body by adopting the ritual of a Buddha Bowl.
I had no idea at age 12, when I became a vegetarian in a family of happy carnivores, that a tragic timeline lay ahead. It wasn't easy to explain, especially to my concerned father, why I didn't want to eat animals or drink milk, and why I was obsessed with raw vegetables. As the oldest of five children, my father pleaded with me at the supper table, "Please be reasonable." He worried the little ones may stop eating their meat, too!
Advertisement
This ad is displayed using third party content and we do not control its accessibility features.
By 16 I lost my Dad's mother and sister to cancer. At 17, while friends basked in the freedom of college life, I spent my free time exploring nutrition and the mechanics of the body. I became a serious student of macrobiotics, and after a decade of strict adherence, branched out to include a raw and vegan diet.
With every passing year, I began to harness the power of vibrant health, and I knew which foods made me stronger. My father and I remained close, but he still couldn't make sense of my food fascination.
Several years after the home birth of my first child I was stunned to receive a surprise visit from Dad, who had flown from Florida to Boulder to see me. I'll always remember his soft blue eyes, glassy with emotion as he shared the horrible news. Dad had advanced gastric cancer, and it had spread.
I was ready. With my husband's blessing I stayed with Dad for many months. I cooked him all his meals, mostly in a macrobiotic style. My little girl and I taught him about prayer and meditation, and to his doctor's surprise, he lived for three more years — well past the six months they had predicted. There was lots of love around Dad … family and friends got to say a proper goodbye.
A pivotal time for me was when my father, once the pillar of strength in our family, said with stirring humility, "Betsi, I am sorry for all the times I questioned your choices. I have come to realize in the past few years that you were right, choosing a healthy diet is best."
As we sit for our regular evening dinner, sometimes one of my kids will joke about Mom's crazy Buddha Bowl. But mostly, they've come to expect my big bowl, usually filled with tons of raw kale, veggies, some whole grain or beans, and at times they even ask to finish my leftovers! For me this ritual contributes to my health and connects me to Dad each evening as I say my blessing of gratitude for his love and my life …
Create YOUR own Buddha Bowl:
1. Find a unique, large sized bowl which you can become accustomed to as a symbol of nourishment and gratitude, and perhaps a pair of chopsticks to complete the "mood."
2. First, use an abundance of raw organic greens to fill the majority of the bowl. My favorites are kale, arugula and watercress, which are packed with vitamins, minerals, antioxidants and fiber.
3. Next, add in as many raw or steamed veggies as you like or have available. Mixing textures and variations in taste can be an enjoyable and relaxing creative process: crunchy, sweet, bitter, juicy …
4. Now it's time for protein — I like to keep it light in the evening, so I add only 25% of a protein-grain combo, and usually choose beans like garbanzo, black or kidney, and grains such as quinoa or brown rice. Other delicious proteins could be walnuts, pumpkin seeds or ultra-nutritious chia seeds.
Dressing YOUR Buddha Bowl:
This final touch is the best part and can be as varied as a flower arrangement. Drizzle your favorite olive oil and vinegar, or splash tamari or Braggs and lemon juice, add finely chop garlic, scallions, mild or hot peppers, sprinkle sea salt, nutritional yeast, or cayenne … discover what feels nourishing to your body, concentrate on tingling your taste buds! And of course, remember to enjoy with gratitude!
Advertisement
This ad is displayed using third party content and we do not control its accessibility features.
Betsi Iris Mufson
Betsi Iris Mufson MSW was the free spirited grad student at Smith College who wrote her thesis on the use of meditation in psychotherapy. Research for this study introduced her to various techniques of eastern meditation which she has practiced for almost three decades. Betsi has been vegan for 25 years, is a certified yoga instructor and advocate of holistic health. Through her work as a psychotherapist, wellness consultant and contributor/writer (for MindBodyGreen & Aboutmeditation) Betsi finds endless inspiration. She uses an integrative model which she developed, The 7 Essentials for Radiating Wellness, to help clients rebalance for increased vitality & ageless beauty. Read more about Betsi's work on her website www.radiatingwellness.com or contact her at radiatingwellness@gmail.com.