Clogged Pores? 4 DIY Blackhead Masks To Erase Those Pesky Plugs & Keep You Glowy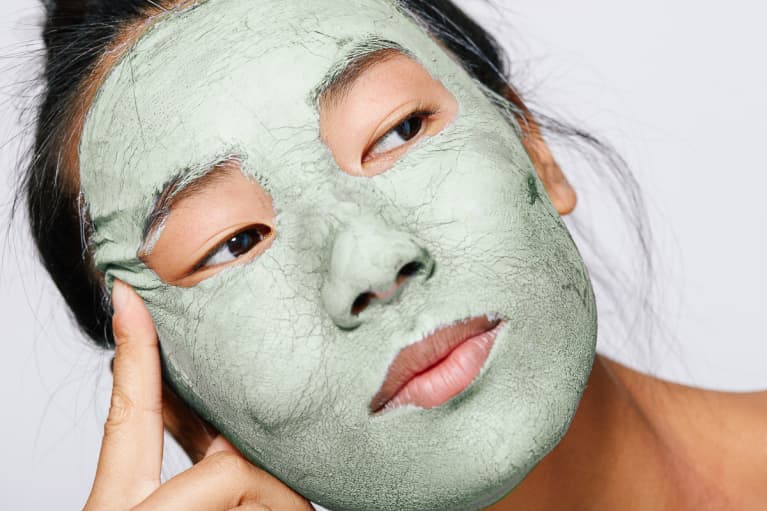 Our editors have independently chosen the products listed on this page. If you purchase something mentioned in this article, we may
earn a small commission
.
Blackheads dotting your skin? No matter where they may be cropping up (be it your face, chest, or back), slather on a mask—clarifying those problem areas can practically erase those plugs. And sure, there are plenty of blackhead treatments you can add to your online cart, but if you're looking for a fix, like, now, take a peek into your fridge: A DIY blackhead mask is incredibly easy to whip up, and you likely have all the ingredients you need in your kitchen.
How to make a blackhead mask: The basics. 
A little refresher on blackheads: These open comedones occur when your hair follicles become clogged with a combination of dead skin cells, bacteria, and oil, leaving you with pesky little plugs. But instead of squeezing them yourself—shudder—or opting for a pore strip (which may not unclog the plug at its source), dermatologists agree that regular exfoliation is your best bet to keep those blackheads at bay.
Enter, your trusty blackhead mask. The key? Naturally exfoliating ingredients to gently dissolve dead skin cells and lift debris from those pores:
Yogurt: The creamy goodness is rich in lactic acid, making it a fan favorite in many DIY kitchens.
Apple cider vinegar: ACV is naturally astringent, which can help exfoliate, cleanse, and tighten the skin, says product formulator and founder of the natural beauty brand Captain Blankenship Jana Blankenship.
Honey: If you have honey (specifically of the Manuka kind), you'll have a natural antibacterial on your hands—perfect for keeping those pores clear and blackhead-free. "Honey also contains small amounts of AHAs such as gluconic acid, and thus is a gentle chemical exfoliator," says Marisa Plescia, research scientist at clean beauty e-tailer NakedPoppy.
Lemon: Lemon juice contains citric acid, another AHA that can slough dead skin cells from the topmost layer of the skin (not to mention it has heaps of vitamin C).
Activated charcoal and cosmetic clay: Ingredients like clay and charcoal are excellent for clarifying the skin and drawing out blackheads—if you do have them on hand, feel free to chuck them into the mix as well.
You can opt for physical exfoliants (like granulated sugar, for instance), but proceed with caution here: There's a fine line between buffing your skin smooth and rubbing it raw. For some, physical scrubs may just be too harsh for the delicate skin on your face—you might want to stick to gentler chemical exfoliants, saving your granules for delicious body scrubs instead.
Here are four masks that do the job, depending on whatever you have in your kitchen:
1.
Turmeric, Honey & Lemon Mask
Turmeric (and its active ingredient, curcumin) is incredibly anti-inflammatory; it even has antioxidant properties that can help protect the skin from free-radical damage. Along with antibacterial honey, consider this mask a blackhead preventer and remedy.
1 tbsp. raw honey or Manuka honey
1 tsp. ground turmeric
½ tsp. lemon juice
Combine all the ingredients in a mixing bowl. Stir until it forms a paste.
Slather on and leave for 10 minutes or until the mask starts to harden.
Wash with lukewarm water, and follow with moisturizer or oil.
Here's where your activated charcoal comes into play. There's a good reason it's formulated in many market masks: Charcoal is a porous substance able to suck in oil, dead skin cells, and dirt, removing it from your pores as you wash off the goop. Paired with clay (a cleansing agent), it's quite the powerful duo.
1 tsp. cosmetic clay (bentonite, kaolin, green, pink, rhassoul)
½ tsp. activated charcoal
½ tsp. apple cider vinegar
½ tsp. water
Combine all the ingredients in a mixing bowl. Stir until it forms a paste.
Slather on and leave for 10 minutes or until the mask starts to harden.
Wash with lukewarm water, and follow with moisturizer or oil.
Perhaps the best option for sensitive skin—lactic acid gently dissolves dead skin cells while honey and oatmeal simultaneously hydrate. Oatmeal has long been touted for its anti-inflammatory effects, making your mask equally exfoliating and soothing for the skin.
1 tbsp. finely ground oatmeal
1 tsp. raw honey or Manuka honey
1 tsp. full-fat dairy or nondairy yogurt
Combine all the ingredients in a mixing bowl. Stir until it forms a paste.
Slather on and leave for 15 minutes.
Wash with lukewarm water, and follow with moisturizer or oil.
4.
Physical Honey & Lemon Mask
If you're intrigued by physical exfoliants (say, if your skin texture resembles sandpaper), feel free to give this simple mask a try. With superfine sugar granules, your skin may benefit from a little exfoliating massage. Honey simultaneously moisturizes, which can help keep your skin happy after the scrub.
1 tbsp. brown or white sugar
1 tbsp. honey (preferably raw)
2 tbsp. lemon juice
Combine all the ingredients in a mixing bowl. Stir until it forms a paste.
Apply to your face in gentle circular motions for a few minutes before rinsing off with lukewarm water.
Follow with moisturizer or oil.
As mentioned, be mindful of using physical exfoliants on your face. For some, using a mix of physical and chemical exfoliants may be the one-two punch they need to unclog those pores. But others, namely those with sensitive skin, may face irritation and redness from scrubbing in those coarse granules. Know your limits here.
If you're well-versed in chemical exfoliants (feel free to jog your memory here), you'll likely know that they, too, vary in intensity. So feel free to play around with those as well: If you find citric acid a bit irritating, perhaps opt for lactic acid instead (a way gentler AHA). Or, Blankenship notes, you can always swap out sensitizing ingredients with water.
No matter how you formulate your blackhead mask, you may want to keep it to a minimum of one to two AHAs. Less is more here: "Overusing AHAs can leave the skin with redness, photosensitivity, and, potentially, dryness," Plescia says. Ease into them slowly, and find what works best for you. As always with DIY projects, you should do a patch test before slathering on.
After your masking experience, be sure to seal in moisture with an occlusive agent (like a cream or oil) so you don't unintentionally dry out your skin. Plus, there's no better time to pile on some good-for-you formulas after all that exfoliating—those ingredients can better penetrate, and your skin will drink them right up.
While blackheads are not necessarily cause for alarm (even those with a 12-step skin care routine get them sometimes!), they sure are annoying, especially when they seem to stick around. A DIY mask may be just what you need to make those plugs a thing of the past; at the very least, experimenting in the kitchen can make you feel like a chemist—or a kid again.
Want to turn your passion for wellbeing into a fulfilling career? Become a Certified Health Coach! Learn more here.