Want To Make Your Own Coffee Body Scrub? Here's How
mbg Beauty Contributor
By Jules Aron
mbg Beauty Contributor
Jules Aron is an author living in New York City. She holds a master's in publishing from New York University, and is a certified yoga, qigong, and traditional Chinese medicine practitioner, as well as a certified health and nutrition coach.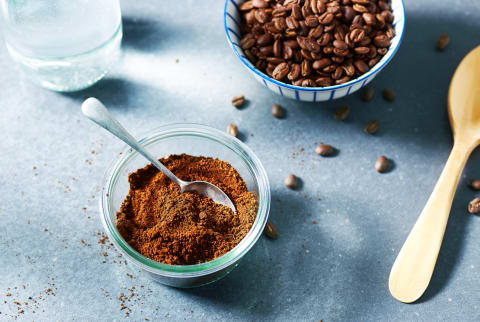 April 11, 2018
Jules Aron, a wellness expert, certified yoga teacher, and certified health coach known for her approach to clean living, just released a new book, Fresh & Pure: Organically Crafted Beauty Balms & Cleansers. Here, she shares a recipe for a coffee body scrub that's super simple and inexpensive to make at home.
Plant medicine has its roots in every culture around the world. Written records of the use of herbal medicine date back more than 5,000 years. Living in a modern world, with advanced technology and promises of youth and beauty with every jar, treatment, or injection, it is easy to understand how we've moved so far away from simple holistic herbal practices.
But it is also easy to see that we feel better when we rely on real food, spend lots of time outdoors, and bring elements of nature into our daily lives. Our plant world has bestowed on us an incredible array of fruits, herbs, seeds, and flowers that have been used for generations for beauty and well-being. Whole foods and botanicals are nourishing, pampering, cleansing, and balancing.
One way to get closer to Mother Nature is to make your own beauty and personal care products. While it's not always feasible to make all of your products, it's a nice treat for the body whenever you are able to. Coffee body scrub is a simple way to use ingredients you have easy access to, and may even already have in your home, to elevate a normal shower to spa status. The protective antioxidant benefits of coffee also extend to the skin.
When applied topically, the caffeine in coffee stimulates blood flow to the area, making your skin appear radiant and bright. It can also help reduce inflammation and swelling, resulting in a skin-tightening effect.
Cinnamon boosts the blood flow1 to the outer surface of the skin, acting as a natural skin exfoliator and helping restore shine and suppleness to the skin. Thanks to its antibacterial and antifungal properties, cinnamon also helps kill germs and heal wounds quickly and efficiently.
Revive your tired skin with this invigorating caffeinated exfoliator. The antioxidant-rich coffee grounds and warming cinnamon stimulate blood flow, while the skin-soothing coconut oil moisturizes, resulting in a scrub that will give you smoother, firmer skin instantly.
Coffee Body Scrub Recipe
½ cup brewed coffee grounds
1 tablespoon ground cinnamon
¼ cup sugar
2 teaspoons pure vanilla extract
¼ cup melted coconut oil
Mix together the coffee grounds, cinnamon, sugar, vanilla, and melted oil in a small bowl to create a spreadable paste.
Transfer to a lidded glass jar.
To use: While standing in the shower, scrub the exfoliating mixture all over your body, paying extra attention to possible problem areas. Rinse well. For a truly pampering experience, pour 1 cup of room-temperature pure coconut milk all over your body after applying the scrub. Luxuriate before rinsing off the scrub with warm water. Store in its sealed glass jar in the refrigerator. For maximum freshness and potency, please use within 6 months.
Excerpted from Fresh & Pure by Jules Aron, published by the Countryman Press. © 2018 by Julia Aronov. Used with permission of the Countryman Press. All rights reserved.
Jules Aron
mbg Beauty Contributor
Jules Aron is an author living in New York City. She's written four books: Zen and Tonic: Savory and Fresh Cocktails for the Enlightened Drinker, Vegan Cheese: Simple, Delicious, Plant-based Cheese Recipes, Fresh & Pure: Beauty Balms and Cleaners, and Nourish & Glow: Naturally Beautifying Foods & Elixirs. She holds a master's in publishing from New York University and is a health and nutrition coach certified by the Institute for Integrative Nutrition. Aron is also a certified yoga instructor and qigong and traditional Chinese medicine practitioner. She has been featured in the New York Post, BuzzFeed, and Well Good, has appeared on The Today Show, NBC, and ABC News, and is a regular contributor to Woman's World and Thrive magazines, among others.