How To Lift Your Brows For A Younger-Looking Appearance
mbg Beauty Director
By Alexandra Engler
mbg Beauty Director
Alexandra Engler is the Beauty Director. Previously she worked at Harper's Bazaar, Marie Claire, SELF, and Cosmopolitan; her byline has appeared in Esquire, Sports Illustrated, and Allure.com.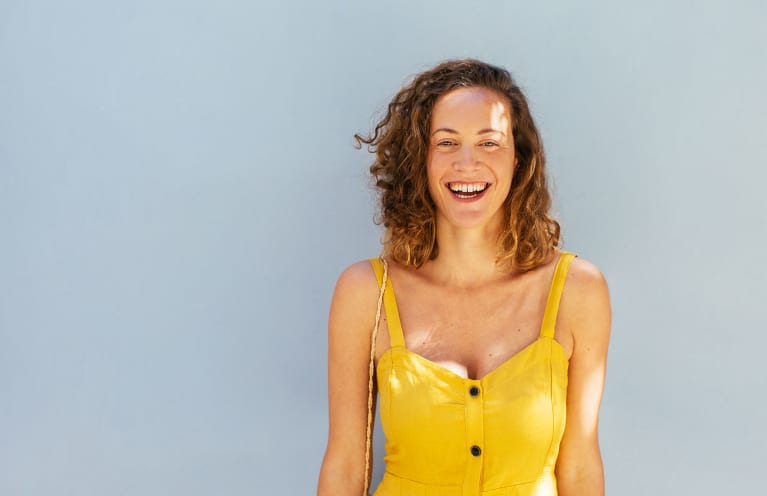 There are so many beauty tricks you can try to cheat any goal. Want larger, brighter-looking eyes first thing in the morning? There's a concealer tip for that. Or do you want to add some life and dimension back into your face while on a long day of Zoom meetings? A delightful blush-and-highlighter combo will do the trick.
Yes, makeup is able to do some pretty astonishing tricks should you be interested in that. (It's also just really fun to be playful and bold with, if that's your makeup vibe. Or you can skip it entirely should you not care for it at all!) "Makeup has this crazy amazing transformative power," says celebrity makeup artist and clean beauty expert Katey Denno in an episode of our beauty podcast Clean Beauty School. "It's not just aesthetically but psychologically, too."
How to use brow products to look younger. 
One area, in particular, is really able to do a lot of heavy lifting for overall aesthetics: the brows. Even the slightest tweak of the hairs can alter the appearance of your face shape, skin, and overall look.
And for Denno, tweaking her brows helped her as she noticed changes while going through menopause. "I never used to do my brows," she says. "I'm now in menopause—I'm young to be in menopause—and I noticed that when I started going through perimenopause, my face changed. It changed the way my face looked! So now I redraw my eyebrows a little bit higher—it makes me look like my more youthful self."
See, as we age, our overall skin sags, forehead included; as your forehead lowers, so do your brows. By cheating them up a bit, you can make it appear as if you're back to your youthful, spry self.
It's simple, too: Brush your brow hairs up with a clean spoolie or makeup brush. Then grab your brow product of choice (our favorites, should you be in the market), and apply it in an upward motion. This not only gives the hairs a soft, feathery appearance—it means your brows will appear as if they are sitting just a bit higher. You can also add a swipe of highlighter under the brows, which will also give the illusion of lifted skin.
Now that's a very simple two-step process (maybe three if you decide to add the highlight) that can change the dynamic of your face—no other products necessary.