This Habit Is A Sign That Your Tech Addiction Is Worse Than You Think
Contributing Sex & Relationships Editor
By Kelly Gonsalves
Contributing Sex & Relationships Editor
Kelly Gonsalves is a sex educator, relationship coach, and journalist. She received her journalism degree from Northwestern University, and her writings on sex, relationships, identity, and wellness have appeared at The Cut, Vice, Teen Vogue, Cosmopolitan, and elsewhere.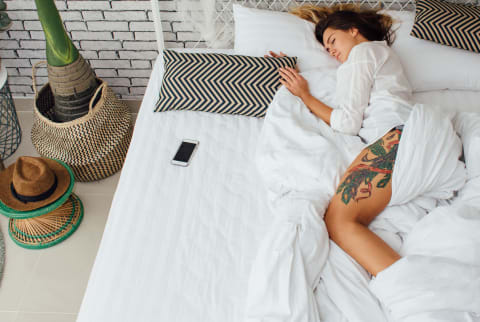 April 18, 2019
Most young adults today—even the most wellness-minded among us—use their smartphones way too much. Because it's so common for people to be utterly glued to their phones, it can be hard to tell if your tech attachment in particular is cause for concern.
Here's one way to tell: According to a new survey released this week, people who go to sleep with their phones tend to exhibit worse tech addiction than those who go to bed without it.
Advertisement
This ad is displayed using third party content and we do not control its accessibility features.
A sign of tech addiction.
Tech-focused wellness company BOLDFISH conducted a survey of over 1,000 people in their twenties and thirties and found nearly 80 percent of them take their phones to bed, spending an average of 75 minutes scrolling on their phones prior to falling asleep. More than 70 percent of people who sleep with their phones in bed with them check their phones at least every 15 minutes throughout the day.
Compared to tech-free sleepers, those who take their phones to bed tended to use their smartphones more frequently and lead more "smartphone-centric" lives. For example, 51 percent of them check social media every 15 minutes throughout the day (compared to 23 percent of tech-free sleepers), and they spend a median of 3.5 hours a day on social media total (compared to two hours a day for tech-free sleepers).
What's more, 53 percent of people who sleep with their phones also say they can't go more than an hour without their phone on them. Just 25 percent of tech-free sleepers say the same; most of them reported they can go for several hours or even several days without their phones. Meanwhile, some 31 percent of people who sleep with their phones said they cannot go a single second without their phones.
Why do people who sleep with their phones tend to have a deeper overall attachment to their devices? Jason Kingdon, BOLDFISH's CEO, suspects it has to do with the social media component. "Those who sleep with their smartphones check their devices more and use social media twice as much as those who leave it out of their personal chamber," he explains, noting past studies that've shown the mental health effects of excessive social media usage. Research shows social media actually causes depression and is linked with a host of other negative emotional consequences, and one study specifically found that teenagers' sense of tech-induced FOMO kept them up later at night, scrolling on social media to keep up-to-date with their friends.
"It is a simple domino effect that ripples throughout the rest of the smartphone user's behavior," Kingdom explains. "It's all connected. Imagine it as a small injury. If you hurt your ankle, you may put more weight on your other foot, which will tighten up your IT band, which will then cause back spasms—i.e. small things snowball."
How to kick your phone out of bed.
There's some good news here: According to the survey, 72 percent of people have tried to cut back on their phone use in the past, and 47 percent are currently working on reducing their screen time.
If you're someone who tends to sleep with your phone next to your head, it might be worth working on a digital detox. There are so many ways to do this, but one place to start might be changing your tech-related sleeping habits. Many wellness experts recommend just keeping your phone (and other technology) out of the bedroom completely. But if that sounds hard to you, don't feel too bad—according to the BOLDFISH survey, just three percent of people keep their phone in a separate room or area from where they sleep.
So what can you do? One option is to try going on airplane mode at night, a nifty idea that mindset coach and certified yoga meditation teacher Katina Mountanos recently shared with mbg. "Think of it as a blockade around your phone—it's still on, but you could rightfully consider yourself offline. That means no EMF signals, emails, or blaring red notifications can make their way to you. "Most people only utilize this feature during long bouts of travel, but I've been turning my phone on airplane mode every evening before I go to sleep and keep it on throughout my entire morning. Yes, I'm not receiving any unnecessary disturbances. But more importantly, I've been finding the importance of airplane mode is much more symbolic than that."
Consider adding grayscale mode, an iPhone setting that removes color and makes your screen into shades of gray, on top of that. You'll still have your phone next to you while you sleep, but it'll be a lot less enticing.
Advertisement
This ad is displayed using third party content and we do not control its accessibility features.
Kelly Gonsalves
Contributing Sex & Relationships Editor
Kelly Gonsalves is a multi-certified sex educator and relationship coach helping people figure out how to create dating and sex lives that actually feel good — more open, more optimistic, and more pleasurable. In addition to working with individuals in her private practice, Kelly serves as the Sex & Relationships Editor at mindbodygreen. She has a degree in journalism from Northwestern University, and she's been trained and certified by leading sex and relationship institutions such as The Gottman Institute and Everyone Deserves Sex Ed, among others. Her work has been featured at The Cut, Vice, Teen Vogue, Cosmopolitan, and elsewhere.
With her warm, playful approach to coaching and facilitation, Kelly creates refreshingly candid spaces for processing and healing challenges around dating, sexuality, identity, body image, and relationships. She's particularly enthusiastic about helping softhearted women get re-energized around the dating experience and find joy in the process of connecting with others. She believes relationships should be easy—and that, with room for self-reflection and the right toolkit, they can be.
You can stay in the loop about her latest programs, gatherings, and other projects through her newsletter: kellygonsalves.com/newsletter