How To Grow Confident In Your Own Beauty From The Most Radiant Women We Know

Contributing Wellness & Beauty Editor
By Lindsay Kellner
Contributing Wellness & Beauty Editor
Lindsay is a freelance writer and certified yoga instructor based in Brooklyn, NY. She holds a journalism and psychology degree from New York University. Kellner is the co-author of "The Spirit Almanac: A Modern Guide to Ancient Self Care," with mbg Sustainability Editor Emma Loewe.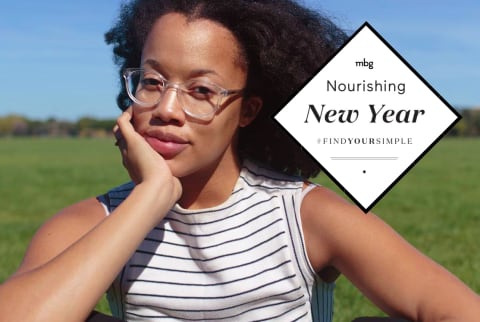 January 13, 2018
Don't you push yourself enough? This January, nurture yourself with Nourishing New Year
. Instead of focusing on flaws to fix, this January we're nurturing ourselves back to balance with simple, grounding steps. For the next two weeks, mindbodygreen will share with you a story a day inspiring you with simple ways to nourish yourself, your community, and our world through eating, moving, giving, creating, and loving. Follow these common-sense principles along with us for the next two weeks and start the new year with a calm mind, connected spirit, and balanced body. Check out the
full plan here
!
You know that feeling when you meet a person so self-assured, their confidence radiates without having to be exerted? Often, that's a person who prioritizes themselves, whether they recognize it or not. They're magnetic, engaging, and well-respected because they respect themselves. If only we could bottle up and sell that kind of confidence! For most, getting there takes time and a conscious effort to be kind to oneself, to have patience with oneself, and ultimately to accept and love oneself.
Self-care is a funny concept these days. Sometimes choosing the most nourishing option looks different depending on what you need in that moment, even in similar scenarios. For example, sometimes a night out with friends is good food for the soul. Other times, choosing to skip it in favor of a quieter evening is more restorative. The trick for Nourishing New Year isn't to always choose what's easy, but it's to identify what your body and your soul needs, and deliver.
These women have mastered the art of self-care. They're confident, self-assured, and while none claim perfection, their advice is, dare we say, bone broth for the soul:
1. Lauren Ash
"My advice for women striving to feel more confident and beautiful: First, remember that confidence is a practice and is nonlinear. Your level of confidence may rise and fall from one day to the next depending on the circumstances life presents you with. So, identify practices that help boost your confidence and cultivate them as often as possible. For me, listening to soul-lifting music sung by powerful women, getting my yoga and meditation in first thing in the morning, and overdelivering in my work and relationships helps me so much. Second, remember that beauty comes from within. Nourish your body and soul as much as possible through daily self-care rituals. My inner beauty radiates outward through all of my self-care practices but most notably drinking lots of water, breathwork, mindfulness, and sleep."
2. Bethany C. Meyers
"When I was in the jungle, I made a commitment not look at myself in a mirror or my phone for the seven days I was there. The environment made it easy, given the jungle doesn't come equipped with normal necessities such as flushing toilets, hot showers, or vanities.
At first I was daunted by the idea, but what I learned was incredibly valuable. Each day I didn't have a mirror to inspect myself was another day I spent relying on my inner self to determine what I looked like and, more importantly, what I felt like. My habit of picking at my pores in the evening quickly disappeared and I became less concerned with my eyebrows being in the right place and more concerned with my heart being in the right place.
So while it may not be attainable to ditch mirrors for a full week, what would happen if we cut our time spent analyzing our features even a small bit? Could you cut a few mirror minutes out of your routine? Could you toss your handheld mirror from your bag? Could you cover your bathroom mirror for a day or make a pact to not stay longer than a few minutes in front of one? Could we trust in how we feel that day before trusting in how we look? You may be surprised at the power of not knowing."
3. Norma Kamali
"Confidence and beauty are developed by enhancing your authentic self through good health, a diet with a strong plant base, fitness, sleep, and dreaming big dreams!"
—Norma Kamali, fashion designer, entrepreneur, and activist
4. Tara Stiles
"For me, a soulful practice using my whole self is essential to come back to that place of who we really are, remembering we are naturally confident. Daily meditation and easygoing Strala yoga. I love the practice of tuning into my breath, noticing when my attention wanders, and deciding to bring it back to the breath. Every time I decide to bring my attention back, I have another opportunity to exist in that well of natural confidence and ease, where all the answers seem to be whenever I take the time to tune in."
5. Amanda Chantal Bacon
"If your heart feels completely convicted and unstoppable, then you will be! Take care of your physical body, de-stress yourself daily with meditation, and don't stop—just don't ever stop swimming toward your vision. When fatigue or doubt arises, motive yourself with gratitude for being given the inspiration in the first place. I meditate daily, I make adaptogenic tonics multiple times a day with moon dusts, and I really like kissing, hugging, and loving."
—Amanda Chantal Bacon, chef and entrepreneur, founder of Moon Juice
6. Candice Kumai
"I've found confidence comes with time, through experience, and by adapting to both the good and bad in life.
I've found the most beautiful women are the ones who shatter the ceiling, not by way of comfort or living an easy life but because they overcome adversity...the most beautiful women are graceful, even when things don't go their way. The most beautiful women give to others their character and their most honest self, when they have nothing else to give. The most beautiful women listen to others; they have no expectations.
Stay the course; do not dim your light for anyone; they are of service to others. In serving others honorably, you will shine. And when you shine, everyone becomes more and more attracted to you. The sweeter the honey, the more bees."
7. Rose Marie Swift
"Going into the depth of your gut (soul) even if it hurts and going after what you truly want."
8. Taryn Toomey
"Invest time to get yourself ready in the morning. Not from an appearance standpoint but as a form of self-care. Rub beautiful-smelling oils and creams on your skin. Curl your eyelashes so people can see your eyes sparkle. Look in the mirror and say kind things to yourself. Brush your hair. File your nails. Pick out your clothes. Wear things that make you feel beautiful. Accessorize. Adorn yourself with things that feel good for your spirit—maybe the quartz crystal that's been sitting in your jewelry box. No need to wait for a special occasion. Take time to make yourself FEEL your best."
9. Elena Brower
feel the impact of your own attention.
they're the ones God needed to mention to you.
find the meaning in the teachings.
Investigate your leadership
(you're a woman; you're always leading).
You are the one who's never leaving.
Want more? Check out articles on other topics from the Nourishing New Year series.