How To Remove Stains In Your Clothes With Natural Cleaners + 2 DIY Recipes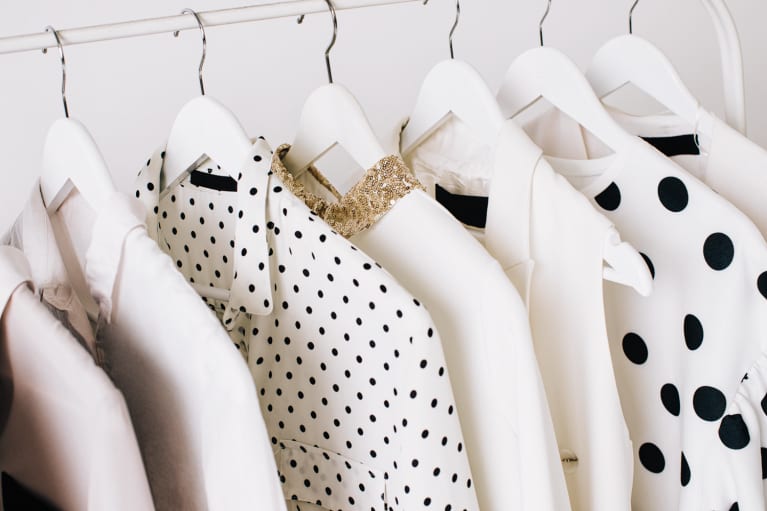 Our editors have independently chosen the products listed on this page. If you purchase something mentioned in this article, we may
earn a small commission
.
I've been making my own natural cleaners for about 18 years now—and not to toot my own horn, but the almighty stain remover is one category I've really perfected.
Before I dive into the ingredients for my spot cleaners, there are a few things to keep in mind when you spill or stain an item in your home: First, you'll want to tackle it immediately if you can, to prevent the stain from setting into the fabric. (I actually keep a "stain caddy" handy in the kitchen and downstairs washroom so I'm not running around the house frantically if a spill happens.) I'd also recommend keeping basic essentials like baking soda, hydrogen peroxide, Castile soap, rags, and a spare bottle in your home so that you can whip up your own cleaner in a pinch.
OK, on to the fun part! These stain removers should work on any kind of fabric, be it clothing or home textiles. For colored fabrics and upholsteries, though, I recommend doing a patch test first to make sure there's no discoloration.
Lemon stain remover spray
This gentle recipe is great for white textiles in particular. You can spray directly onto the fabric and leave it for a few minutes. I make this in small batches as needed since the lemon juice will not keep more than 3 days.
Ingredients:
¼ cup lemon juice
¼ hydrogen peroxide (3%)
2 drops lemon essential oil
Preparation:
Mix all the ingredients into a dark bottle. Amber bottles are handy when you're making DIY recipes because some of the ingredients, such as hydrogen peroxide, are sensitive to light.
A heavy-duty stain remover
For stains that need a little more elbow grease, you can whip up a batch of this heavier-duty cleaner.
Ingredients:
1 tablespoon dish soap
2 tablespoons hydrogen peroxide
1 tablespoon baking soda
Preparation:
Mix all the ingredients together to create a paste. Rub onto the stain gently, in a circular motion. (I use a toothbrush for this part.) Then wash it as you would normally. I have used this one on carpets and upholstery as well!