mbg Beauty Contributor
By Josh Rosebrook
mbg Beauty Contributor
Josh Rosebrook is the creator and founder of Josh Rosebrook Skin and Hair Care.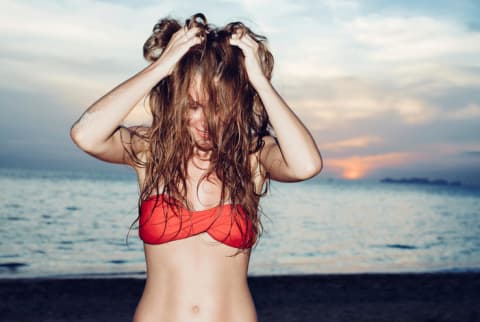 June 19, 2015
No matter how smooth your hair is naturally, most of us are likely to end up with a frizzy mess atop our heads if we don't take the time to blow dry wet hair. But now that it's warm outside, who wants to blast their scalp with hot air (or spend more time indoors when the sun is shining)?
Luckily, there's a secret to perfect, summery beach hair ... totally heat-free.
Moisturizing styling cream: You can use whatever product you're most comfortable with, but for the sake of an all-natural approach, I'd suggest a tiny amount of any of the following:
Whipped shea butter
Olive oil
Grape seed oil
Coconut oil
Salt spray: For a DIY cure to frizzy hair, combine the following ingredients, let the mixture cool and then transfer to a spray bottle for use.
1/2 cup hot water
1/8 cup sea salt
1/2 tablespoon raw honey
Wash hair and towel dry. Evenly distribute a very small amount of the styling cream (or oil) of your choice through the hair, starting at the ends and working up. Make sure to include the interior hair as well — not just on the top, outer layer.
Apply your sea salt spray all over and comb through hair to evenly distribute the product. If you have curly hair, carefully "scrunch" hair to form waves and spritz the whole head with a few pumps of hair spray, then let the hair set (no touching!). If you have straight to wavy hair, divide hair into four sections (one on each side and two in back), and lightly braid each section for waves.
Now here's the trick: don't touch your hair until it's completely dry. You can test the hair by very lightly patting it and if you feel any moisture at all, it's not done drying.
Don't shake or move your head too much while the hair is drying. This will help keep the cuticle sealed down. Moisture swells the hair shaft and we're utilizing the moisture so the cuticle dries flat and smooth. Quick movements and touching the hair will "ruff up" and disrupt the cuticle, causing frizz. The moisture allows the hairs to dry sealed together, protecting it from disturbance.
Once the hair is dry, run your fingers through the hair lightly. Spritz a little hair spray to smooth any unwanted fly aways and you're ready to go!

Josh Rosebrook
mbg Beauty Contributor
Josh Rosebrook is the creator and founder of Josh Rosebrook Skin and Hair Care. After formulating effective natural treatments for his personal use, he began sharing his knowledge and insight with friends and clients. He is a well known hair stylist in Los Angeles and began developing pure, organic skin and hair care treatments over 13 years ago. His products, tips and interviews have appeared in Vogue, Vanity Fair, Elle, W, Marie Claire, Glamour, Harper's Bazaar and on Good Morning America.