Low-Waste Fashion: How To Dye Your Clothes Using Avocado Pits & Stems

mbg Sustainability + Health Director
By Emma Loewe
mbg Sustainability + Health Director
Emma Loewe is the Senior Sustainability Editor at mindbodygreen and the author of "Return to Nature: The New Science of How Natural Landscapes Restore Us."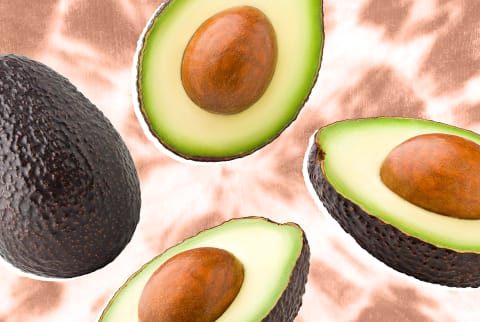 Image by mbg Creative / Various, iStock
August 11, 2020
Food waste is the pits. So in an effort to repurpose some of the 300 million avocado pits they go through annually, Chipotle is now using them to dye clothing. Three items in their new Chipotle Goods fashion line, two T-shirts and a hat, are colored with the soft pink hues of the guacamole byproduct.
Chipotle's announcement landed last week, but plant matter has a long history of being used as natural dye. Heck, until the first synthetic dye, a bright mauve shade, was discovered in Europe in the 1800s, every clothing dye was natural. Madder, native to the Mediterranean, gave fabrics a deep red blush, while in North America, indigo was cultivated for its vibrant blue hue. As for avocados, Venezuela has long grown them in abundance and extracted color from their pits.
Advertisement
This ad is displayed using third party content and we do not control its accessibility features.
María Elena Pombo is one artist ushering age-old plant dye practices into the modern day. She's been collecting avocado pits from nearby restaurants to dye textiles for her Brooklyn-based company, Fragmentario, for years. "I'm hearing a lot of people talk about how they think the future of fashion is wearable tech: shirts with batteries, heated jackets for hunting and running," Pombo told mbg when we visited her space in 2017. "But I think this—the return to the past—is the way of the future."
Considering that Chipotle's natural dye shirts are already sold out, it's safe to say she was spot-on about the technique becoming more popular.
How to dye clothes using avocado pits at home.
Since avocado pits are high in tannins, plant compounds that help color cling to fabric, they are one of the easiest ingredients to use for dye DIYs. You can store pits in the freezer until you're ready to use them, and chuck them into your compost pile after their color has been extracted. We caught up with Pombo to ask how people can try it out for themselves at home. Here's how it's done:
Choose an article of clothing to dye. It needs to be made from natural materials, so avoid any polyester or nylon blends. Chipotle opted for organic cotton, but Pombo prefers fabrics that are less water-intensive to grow, like hemp and linen.
Fill a large stainless-steel pot with distilled water, and plop in your pits. The more pits you use, the more vibrant your color will likely be. (Chipotle says it uses five pits for one T.) You can throw the avo skins in too, if you have them!
Add your fabric. If you want to make a tie-dye design, use rubber bands to tie it into a bundle before placing it in the water. Placing it straight in will leave you with a more uniform color, like Chipotle's.
"To achieve a long-lasting color, you'll need to dye things for several days," Pombo explains. Boil water and then simmer for several hours. Turn off, boil again, simmer again, and so on for one to two days. Refill water as it evaporates.
Once you're happy with the color, wring out your garment. Wash it separately from your other clothing and hang out to dry. You just need to do this for the first wash. After that, your garment should hold on to its color nicely, especially if you don't expose it to sunshine too much. "Sun is the biggest enemy of color in surfaces," says Pombo. "Picture buildings with faded color in the Caribbean, due to the sun. That said, I'm not precious about the textiles I've dyed, and they all still hold up color well, some after more than five years."
Advertisement
This ad is displayed using third party content and we do not control its accessibility features.
Avocado pits aren't the only kitchen scraps that can be refashioned: Onion skins, beets, and some berries also carry beautiful hues. Here's a step-by-step guide to extracting the color from those.
Advertisement
This ad is displayed using third party content and we do not control its accessibility features.