How To Clean & Care For Your Outdoor Furniture So It Doesn't Get Moldy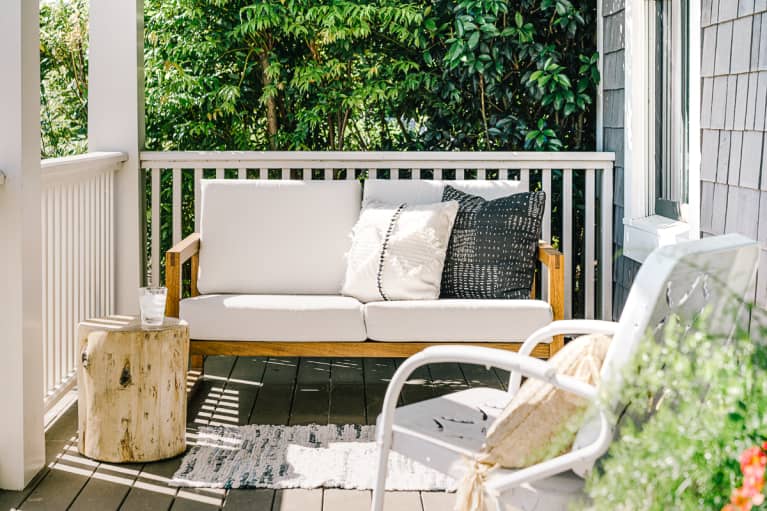 Summer may not officially kick off until late June, but with Memorial Day come and gone, we can now welcome its arrival off the record. With shelter-in-place orders still in effect across most of the country, it's safe to say that anyone lucky enough to have private outdoor space is going to be using it a lot this season.
Before you fire up the barbecue and mix your quarantine cocktail of choice, you'll want to make sure to give your outdoor seating a good cleaning. Whether you've been storing yours inside or keeping it in the elements, it has, like us, been through a lot the last few months! Here, two green cleaning experts share best practices for getting your seating ready for the summer ahead.
First things first: Check the care label.
If your seating has any sort of fabric cushiony element, you'll want to check to see if it's machine-washable before starting your clean. You can also use this as an opportunity to check on its level of water resistance. It might be labeled water-resistant, but that doesn't necessarily mean it's entirely waterproof. In this case, you'll want to store the cushions inside so they don't develop mold after rain.
For the solid components.
If you have a power washer, Becky Rapinchuk of Clean Mama says now is the time to use it. Simply remove any cushions and spray your seating down (after checking the care label to make sure it won't get damaged in a power washing), leaving some time for it to dry in the sun afterward. "The power washer will remove any mold or mildew that will build up if something's been outside for a long time," she says, adding you can use a standard hose if you don't own a power washer. Just make sure to put it on its most powerful setting and use a jet attachment if you have one.
For the fabric components.
If they are machine washable:
If your fabric covers can be washed in the machine, throw them in and run a cycle with natural detergent and cold water. (It's better for the environment than a hot-water wash and likely better for your fabric, too.) Melissa Maker of Clean My Space has a pro tip for what to do with your covers after the wash cycle is complete: "Take them out and put them right back onto the cushions instead of in the dryer so you avoid shrinkage. This also allows them to form back nicely onto the cushion itself."
If they are not machine washable:
If the fabric can't be laundered (or you don't have a washing machine at home), use a scrub brush instead. Maker recommends ones that have an iron-style handle. Combine hot water and eco-friendly Castile soap or dish soap in a bucket, and scrub the cushions with the mixture. Then let them soak for a few minutes before hosing them down completely. This soapy mix should be strong enough to get out stains too; you might just need to scrub those for a little longer.
Make sure you're doing your washing on a sunny morning so that your furniture will have the rest of the day to dry out completely. This will help keep it from getting moldy. And while you're at it, make sure the rest of your home is protected against summertime mold with this checklist.
With that, your outdoor space is ready for summertime dinners, even if the table is just set for one for the time being.