How Often To Replace Your Kitchen Sponge, According To A Toxicologist

mbg Sustainability + Health Director
By Emma Loewe
mbg Sustainability + Health Director
Emma Loewe is the Senior Sustainability Editor at mindbodygreen and the author of "Return to Nature: The New Science of How Natural Landscapes Restore Us."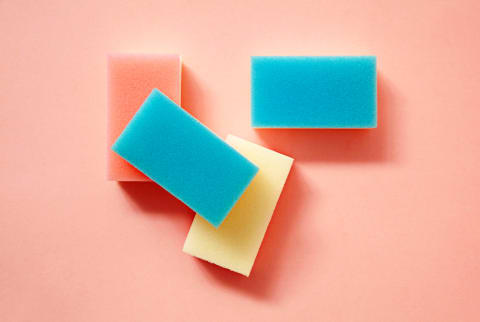 Image by Natalie Jeffcott / Stocksy
February 10, 2019
Cooking most of your food at home is great for the health of your body, less so for the health of your kitchen.
According to one now-infamous study1, kitchen sink sponges in particular are packed with potentially harmful bacteria. After analyzing 14 sponges from households around Germany, researchers identified 362 different types of bacteria total. The average sponge tested had 45 billion bacteria per square centimeter, which eclipses the amount you'd find on a toilet seat. The study catapulted sponges into the danger zone, naming them one of the "biggest reservoir(s) of active bacteria in the whole house." What's more concerning is the fact that a handful of these bacteria had "pathogenic potential," meaning they can make people sick.
Advertisement
This ad is displayed using third party content and we do not control its accessibility features.
"Foodborne pathogens introduced into the kitchen from contaminated produce (e.g., bagged greens) or raw meat are the most likely to be found on kitchen sponges," Rhea Mehta, Ph.D., a molecular toxicologist and integrative health coach, explains. She adds that while many of these are benign, some of them can cause stomach-bug-like symptoms in certain folks.
"Though exposure to these foodborne pathogens in the home is rare, those with weaker immune systems are always at greater risk," she says.
How to wash your sponge so it lasts the longest.
So what's a home chef to do? According to Mehta, washing your sponges regularly is key. "The most effective way to clean a sponge and inactivate bacteria, yeasts, and molds is to dampen it and place it in the microwave for approximately 1 minute on a near-daily basis," she says.
If you don't have a microwave, or your scouring sponge contains metallic fibers, dishwashers will do the trick too—as long they have a drying cycle so the sponge doesn't come out damp. One round in the microwave has been shown to kill 99.99999 percent of bacteria present on sponges, while dishwashing killed 99.9998 percent of bacteria. Mehta adds that there's one more effective option out there: soaking the sponge in lemon juice and deionized water or soaking it overnight in white vinegar, then air-drying.
Beyond cleaning it regularly, keeping your sponge away from hotbeds of bacterial like raw meat will also help it last longer. According to Mehta, a well-kept sponge can last up to one month. However, if yours starts smelling before then, it's best to just toss it on the spot.
When it comes to sponges, you're better safe than sorry, so always keep an arsenal of natural, eco-friendly refills on hand, like those from Sqwishful, Grove Collaborative, and Twist. Happy cleansing.
Advertisement
This ad is displayed using third party content and we do not control its accessibility features.