How To Break Through The Scarcity Mindset & Work From A Place Of Abundance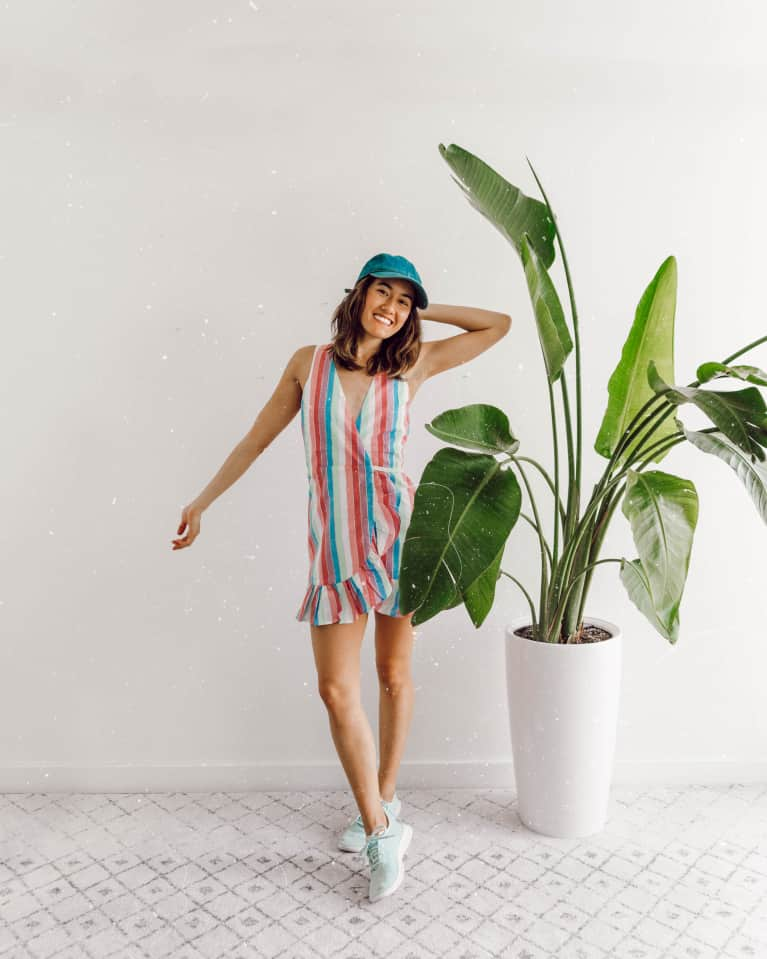 Over the six years I lived in New York City, I experienced quite the spectrum of emotions when it came to my career. I went from working full time in the fashion industry to working for a startup, and all the while trying to grow a side hustle in wellness. The work never stopped, and I'd often come home crying after yet another bad day at the office. My anxiety was through the roof. I knew the way I was living wasn't sustainable, and something had to change.
How busting through the scarcity mindset changed everything for me.
Reflecting on these times, I can see what was wrong: the ever-present fear of not being enough or falling short. It made me channel my hustle from a place of urgency and fear instead of peace. In this space, it was impossible to prioritize what was truly important, and that's why I found myself constantly working.
Fast-forward to today: My side hustle Om & The City has turned into my full-time career, and I've tripled my income since leaving my job a year and a half ago. After lots of work reframing my mindset to operate from a place of peace, I'm living a life I'm proud of and am in turn radically more productive and fulfilled. Here are my top tips for finding a workflow that is both lucrative and sustainable, so you, too, can attract abundance, joy, and creativity:
Start by asking yourself the tough questions: Who are you? Why are you doing what you do? Why is it important? Remind yourself of all the work, all the heavy lifting that brought you to where you are now.
When I feel stuck, I always remind myself of where my heart was before the outside distractions like social media. Get back to basics, and remember why you started, because that's your core, and that's what will keep you going.
2. Remember that comparison serves no one.
Ditch the scarcity mindset and trust in what you have to offer. One person's success does not have to replace yours. There is room for everyone, so focus on your mission, and don't let trivial things like comparison distract you from tapping into your own power and creativity. Put out work that you're proud of, and you'll attract the right people and opportunities into your life.
You can't be everything to everyone, so remain true to you.
Beginning and ending each day with strong intentions is a game-changer. Sandwich your day with empowering rituals so no matter how messy all the things in the middle are, you can go to sleep knowing you did your best with what you can control. For me it's waking up early, meditating, and enjoying a matcha. In the evening I shut off technology before bed and spend time reading, reflecting, or chatting with loved ones.
4. Do what you're best at.
You can't be everything to everyone, so remain true to you. Find your niche and really home in on those skills. Otherwise, you'll end up with a watered-down version of your business. You will be so much more effective and intentional once you focus your lens on where you think you can really serve.
5. Dream it, believe it, achieve it.
Visualize your best life, and trust the process. In order to get what you want, you have to visualize already having it. What do you want your bio to read? How do you want your audience to see you? Write it down; speak it into existence.
At the end of the day, finding a healthy hustle is all about trusting that you have time to accomplish what you want. You are worthy. You are enough. Go get 'em.
This mbg class on guided visualizations is a game-changer.