I Reached A Minimalist Plateau & This Advice Got Me Through It

mbg Sustainability + Health Director
By Emma Loewe
mbg Sustainability + Health Director
Emma Loewe is the Senior Sustainability Editor at mindbodygreen and the author of "Return to Nature: The New Science of How Natural Landscapes Restore Us."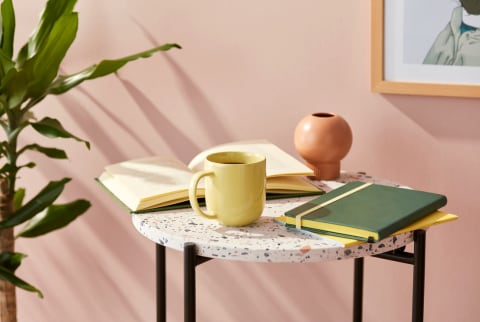 August 16, 2018
I'm what you'd call a maximalist in reform. Growing up, I was the one who collected Beanie Babies, rocks, and Pokémon cards and kept every school report card "just in case." Every year of college, I'd somehow return home with twice as much stuff as I'd left with, my car packed within an inch of its life with school newspapers and dollar-store finds.
Maybe hearing more about the benefits of minimalism finally got to me, or perhaps I have my teeny-tiny NYC apartment to thank, but recently I've been bitten by the decluttering bug. I've dedicated entire days to sifting through my stuff, driven almost maniacally by the idea that, when all is said and done, I'll be left with the things I love the most and nothing more. These apartment edits always feel wonderful in the moment, but then I'm somehow always left feeling weighed down with possessions just a few weeks later. And I'm not alone. A 2016 IKEA survey of 21,419 people across 22 countries found that having too much stuff was the biggest cause of stress in the home.
What gives? To find a way to overcome this minimalist rut and set better boundaries on what I allow into my life, I figured it couldn't hurt to call on the experts. Tara Button is a London-based simple living advocate who founded BuyMeOnce, an online marketplace that identifies the longest-lasting products in different categories, and she wrote A Life Less Throwaway: The Lost Art of Buying for Life, a primer on "resisting a world trying to make us broke and lonely." Joshua Becker is a minimalist in Arizona who has penned a handful of books on how to part ways with your stuff, including the upcoming The Minimalist Home.
Even though the two live across the world from each other and have very different approaches to minimalism (Button is all about tapping into your emotional connections to objects; Becker is more pragmatic), they actually offered up the same analogy—and it's completely changed the way I view my surroundings.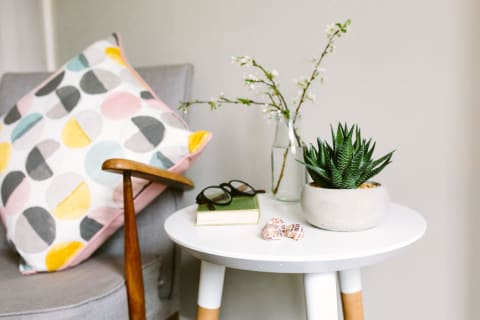 The golden rule of minimalism? Curate your life like you would a museum.
For anyone who has ever fallen victim to the "I'll use this one day" or "This is too good of a deal to pass up" mentality, Button and Becker have one simple piece of advice: Treat your home like a museum.
No, you don't need to clear away all your furniture except a bench or spend your savings on a gallery wall. Instead, it's all about mindfully curating your home like an art curator would an exhibition. "They pick each individual piece of art to go in an exhibition, but they've also thought about what they want the entire exhibition to look like and mean to people," Button explains. "It's about thinking about what you want the whole picture to look like and therefore what your focus should be within it."
Making these decisions requires being honest with yourself about your dreams and desires and asking if what you're buying is in line with this vision. "It's about identifying the things in you that bring you not just fleeting excitement but that long-term feeling of well-being," she says. Drawing a road map to your dream life can be easier said than done, but Button recommends starting by asking yourself questions like: What would you do if you knew you wouldn't fail? What brings you strength and calm when you think about it? When did you last look up and find that time had flown by?
And that's just the first step. Curating a museum also means actively choosing the best of the best "artwork" to display. So if you find out that you're an aspiring author, that doesn't mean you should be surrounding yourself with piles and piles of every type of book under the sun. "What makes a museum great is not that every piece of artwork is hanging on the walls but that it displays the best, finest, most representative pieces," Becker says. "So hold on to a few items that are your absolute favorite."
What it looks like in practice.
Excited by this idea, I didn't want to wait until I got home to put it into action, so I started with decluttering my desk. I'll admit it had gotten a little out of control recently—an in-between area for books I would one day take home, products I would one day try, and plants that would one day (maybe?) come back to life.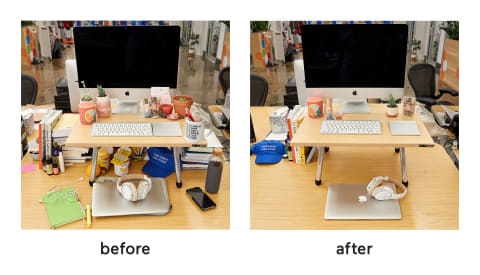 I found the decluttering process to be surprisingly painless—It took way less time than the 30 minutes allotted for my work neighbors to start greeting my desk with an impressed look. By first deciding the vibe I wanted my desk to convey—environmentalist who is intrigued by all things spiritual—I was able to find a new home for the objects that weren't serving it, keeping only one or two little trinkets that really represented these themes.
And it's no Met Museum, but I like to think my roomy new desk space is its own little work of art.