5 Surefire Tips To Nail Dewy Makeup When Your Face Is Flaky & Peeling

Beauty & Health Editor
By Jamie Schneider
Beauty & Health Editor
Jamie Schneider is the Beauty Editor at mindbodygreen. She has a B.A. in Organizational Studies and English from the University of Michigan, and her work has appeared in Coveteur, The Chill Times, and Wyld Skincare.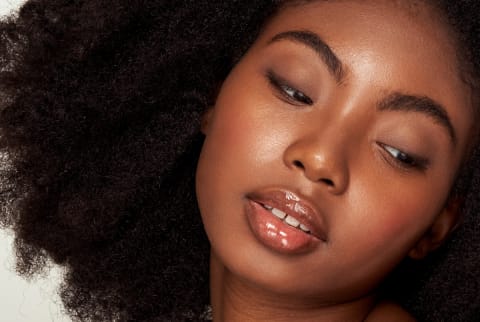 Image by HANNAH CRISWELL / Stocksy
August 18, 2021
We carefully vet all products and services featured on mindbodygreen using our
commerce guidelines.
Our selections are never influenced by the commissions earned from our links.
Shedding skin is no fun, regardless of the reason (sunburns, general dryness, et al.). And when it's on your face? It adds another layer of frustration: Not only does peeling skin feel itchy and uncomfortable, but it can also make your makeup experience, well, less than enjoyable. Who wants to apply an airy foundation, only to have it flake off mid-sweep? Not you, we'd assume.
Of course, you can always avoid makeup altogether while your skin barrier heals—the best lesson for peeling skin is to focus all your energy on moisture, anyway. But for those who want to achieve an immaculate face beat, nary a flake in sight, we've got you covered, too. Here, we tapped experts for their tips:
1.
Prep the canvas with skin care.
Unsurprisingly, a smooth makeup application starts with skin care. "The more moisturized your skin is, the less noticeable any flakes will be," says makeup artist Alexandra Compton, product development manager at clean beauty retailer Credo. (She's not wrong.)
Make sure you take the proper steps to hydrate your skin supple, and if you are experiencing dry, itchy skin at the moment: You might want to pause on the exfoliation and stick to gentle, fragrance-free products. The underneath layers of your skin (which becomes exposed when your top layer peels) are super sensitive, and they can be more vulnerable to irritation. The best thing you can do is replenish them with supportive ingredients—think milk or cream washes featuring ceramides, hyaluronic acid, and colloidal oat.
Silicones provide an occlusive film over the skin, and they repel water. ("Their main function is to create a physical barrier coating on the skin and hair that is resistant to water and air," board-certified dermatologist Zenovia Gabriel, M.D., FAAD, once told us.) And sure, a silicone-based skin care product does provide a sensorially appealing slip, but given their water-resistant nature, know that these products do not play nice with water-based makeup: Compton recommends skipping the silicones to avoid any pilling.
Not to mention, these particles can accumulate in our water supply, which is enough of a reason to avoid them even when you aren't facing flaky skin.
"Powder will cling to any dry areas and enhance them," says Compton. Best to grab your creamiest concealers, blushers, and highlighters for a dewy finish. If your makeup is a little too dewy for your liking (perhaps toppling over to sweaty), simply wrap a damp beauty sponge in a tissue, pull the tissue taut, and gently bounce wherever you notice the most shine. That way, you can blot the skin without sweeping on a powder and, in turn, accentuating dryness. (We explain the trick in full, here.)
4.
Mix your makeup with oil.
One of the oldest tricks in the book: To add more slip and shine to your complexion products, mix them with a drop or two of face oil before applying. Bonus tip: To amp up the glow, try mixing your foundation or concealer with Maya Chia's Highlight of the Day; it's chock-full of oils, like chia seed and sunflower oil, to moisturize the skin and adds a subtle, pearly highlight.
When applying your base products, "don't rub because you may disrupt any peeling areas," says Compton. Pat the product in with your fingers or, better yet, bounce a beauty sponge across your skin to blend. If you're partial to brushes, we suggest stippling your makeup with a flat-top kabuki brush—the super-dense bristles provide the most velvety finish.
The takeaway. 
Above all: Be gentle with your peeling skin—this includes coddling it with gentle skin care ingredients and perhaps tweaking your makeup routine to focus more on moisture. Even the creamiest, most hydrating products can flake off without the proper steps, so it's worth taking the extra time to prep.

Jamie Schneider
Beauty & Health Editor
Jamie Schneider is the Beauty Editor at mindbodygreen. She has a B.A. in Organizational Studies and English from the University of Michigan, and her work has appeared in Coveteur, The Chill Times, and more. In her role at mbg, she reports on everything from the top beauty industry trends, to the gut-skin connection and the microbiome, to the latest expert makeup hacks. She currently lives in Brooklyn, New York.