How To Apply Highlighter For Your Face Shape & Help Your Features Glow

Beauty & Health Editor
By Jamie Schneider
Beauty & Health Editor
Jamie Schneider is the Beauty Editor at mindbodygreen. She has a B.A. in Organizational Studies and English from the University of Michigan, and her work has appeared in Coveteur, The Chill Times, and Wyld Skincare.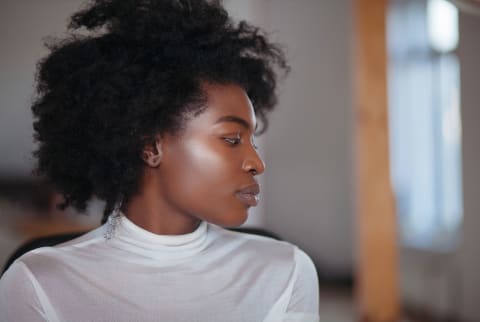 Image by Sergey Filimonov / Stocksy
April 28, 2021
We carefully vet all products and services featured on mindbodygreen using our
commerce guidelines.
Our selections are never influenced by the commissions earned from our links.
Say it with us: Makeup has no rules, and you can play with products however you please. Push the boundaries! Have fun with your face beat! At the end of the day, your makeup is for you—you should use it in whatever way makes you feel most comfortable.
That said, experts do have a few strategies up their sleeves to enhance your individual features. One of their most beloved tools to carve your face shape? A transformative sweep of highlighter.
Highlighter, by definition, accentuates the high points of your face—you know, wherever the sun would naturally hit and leave you glimmering. However, those "high points" do look different on everyone, depending on your specific bone structure. And that's where these tips come into play.
The best way to apply highlighter for each face shape. 
"You simply want to add light to where you're trying to draw attention," says celebrity makeup artist Mary Irwin. Say, if you'd like to create the illusion of sculpted cheekbones or add some "width" to your features. Not everyone follows the same routine, even if they have similar facial structures, (we repeat: You can ultimately apply product however you like!), but feel free to use the below as a general guide:
Because round faces have no sharp angles, a hit of highlighter on your cheekbones and along the jawline can create some definition, similar to how you might use a strategic sweep of blush to sculpt the face. Although, you might want to skip the shimmer on the jaw and opt for a lighter shade of concealer to add brightness.
"The point is to give the face a shape using light, even if you aren't contouring," says Irwin. "It's like a reverse contour."
Square faces have sharp, defined features, so Irwin suggests focusing highlighter on the perimeter of the face to enhance those natural angles and add height. "Add some to the chin as well for balance," she notes. Blend super well to achieve a natural look that softens out some of the sharpness.
Oval faces tend to have curved outer edges with no sharp angles (think of an upside-down egg), so there's not really a need for more balance. However, you can always carve out the cheekbones, if you please, with a sweep of highlighter. Apply on the inner corners of your eyes, dab on your cupid's bow, blend along the brow bone—endless possibilities, here.
Heart-shaped faces have a wider forehead with a more pointed chin, so you can create "width" at the jaw by highlighting your upper jawline. You can also apply on the bridge of your nose and cupid's bow to bring the focus inward.
Apply your product on the highest point of the cheekbones—this reflects the most light and enhances them even further. Since diamond faces also have a narrower hairline, you can also highlight the middle of the forehead—just make sure to blend super well and don't go too overboard with the shimmer, as it can read greasy.
Rectangular faces tend to be longer than they are wide with angular features. To create width, "Focus on the upper-outer part of the cheekbones, and don't put it along the jawline," Irwin says. You can also "shorten" the face by drawing the attention center—like a tap of highlighter on the tip of your nose.
At what point should you apply highlighter? 
It seems straightforward, but it's a question beauty experts receive all the time: Should you apply highlighter before blush and bronzer, or after all is said and done?
Most of the pros recommend using highlighter as your final sculpting step. "I personally like to do my highlighting last," says Irwin. "I'll do the skin—foundation, concealer, blush, bronzer—and then look where I still want to add glow." See here for our all-time favorite picks.
The takeaway. 
Highlighter is the perfect product category to have some fun with—not only does it offer megawatt shine, but it helps accentuate your features, too. That said, if you simply want to tap on some shimmer and let your skin sparkle? Please, shine on! Just know that your playful highlighter has tons more to offer, if you so choose.

Jamie Schneider
Beauty & Health Editor
Jamie Schneider is the Beauty Editor at mindbodygreen. She has a B.A. in Organizational Studies and English from the University of Michigan, and her work has appeared in Coveteur, The Chill Times, and more. In her role at mbg, she reports on everything from the top beauty industry trends, to the gut-skin connection and the microbiome, to the latest expert makeup hacks. She currently lives in Brooklyn, New York.