Air-Dry Your Hair? The Best Expert-Approved Air-Drying Tips, Based On Your Hair Type

Beauty & Health Editor
By Jamie Schneider
Beauty & Health Editor
Jamie Schneider is the Beauty Editor at mindbodygreen. She has a B.A. in Organizational Studies and English from the University of Michigan, and her work has appeared in Coveteur, The Chill Times, and Wyld Skincare.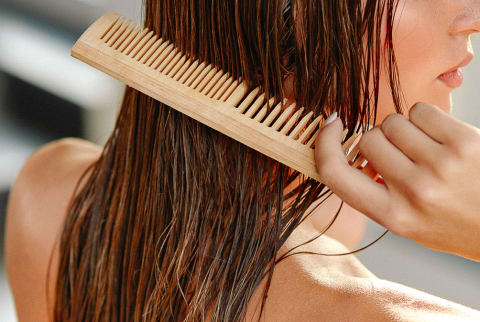 April 15, 2020
We carefully vet all products and services featured on mindbodygreen using our
commerce guidelines.
Our selections are never influenced by the commissions earned from our links.
Think of air-drying as a journey—not a destination. In addition to testing serums and leave-in stylers to find one that's right for you, there are so many other variables at play, like the weather, a too-rough towel, or even if you have a habit of messing with it too much while it's drying.
Trials and errors aside, now might be the time to consider honing the art of the air-dry. Just as you might be going au naturel with your makeup and skin care (and there are major benefits to both), air-drying can also offer benefits. Here, experts offer sage advice on air-drying hair, from coarse coils to stick-straight strands.
Air-drying basics.
A general rule of thumb is that air-drying begins in the shower, with what shampoos and conditioners you use. If your hair naturally lies flat at the root, a thorough shampoo is just as important for lift as a styling mousse might be. Or if your curls are traditionally dry and frizzy, you need a potent conditioner just as much as you need a hydrating curl cream.
From there, you should evaluate hair both on overall type (straight to kinky) and individual strand texture (fine to thick), says hairstylist Clay Nielsen, who works at the salon Spoke&Weal. Someone with fine, limp hair might gravitate toward a product that supports fullness, no matter whether their hair is curly or stick-straight. And someone with thick, dense strands might need to use smoothing products, even if their hair dries relatively straight as is.
No matter your natural pattern, try not to get too worked up about product labels marketing to certain types. Rather, "feel the products in your hands," he says. "Things that dry tacky are best for fine hair, while products that are slick and oily are best for coarse hair."
For curly and coarse hair.
Air-drying soft, frizz-free curls takes precision. To begin, says Nielsen, you should use a heavy conditioner after shampooing. After stepping out of the shower, you'll then want to apply a cream or oil-based product to soften and condense the hair shaft. Using cream-based curl-defining products can help keep frizz at bay while adding some shine and vibrancy to your curly mane. Curls can also dry out fairly easily, so scope out products that are moisturizing and hydrating—your curls will drink them right up.
Hairstylist Alicia Miller, national master trainer for Davines North America, says you should also resist the urge to over towel dry. If you simply must twist your hair into a towel wrap, make sure to, "use a towel that is soft and less likely to activate frizz," she says, like a microfiber wrap.
After you rake product into your hair, be sure to leave it alone. Trust that the product is doing its job; while you might be itching to run your fingers through those soft strands, try to resist the urge: "The more you touch your curls, the more likely your hair will frizz," Miller notes.
For wavy hair.
To keep your waves soft and shiny, you'll need the right product. ("When air-drying any type of hair, product is key!" says Miller.) Similar to curly hair—they are looser curls, after all—waves thrive on curl-defining and moisturizing products to give them that relaxed, effortless bounce. We're talking hydrating curl creams, moisturizing serums, maybe even a fine-mist spray with a scrunch to give your waves a more textured, just-left-the-beach look.
And again, you want to refrain from touching your hair: "Too much movement will reduce the product's efficiency, and your result will not be as good," celebrity colorist Rita Hazan says.
For straight hair.
For slick, straight hair, "shampoo twice and condition at the ends only—this will help build volume," says Nielsen. "Then, choose a product with little to no oil."
Enter your volumizers, dry mousse, and sea salt sprays: Make these texturizing products your new best friends. Instead of facing flat, dull hair, your strands will have a little tousled body to hold you over until your next wash cycle. "Adding a little texture will likely give you more time between shampoos," Miller mentions.
The take-away.
Here's the bottom line: When it comes to the art of air-drying, don't shy away from using product. No matter what hair type you have, using in-shower products and then applying some sort of styler is key—whether it's an oil-based cream or texturizing spray. From there, let your hair do its thing. Some days, you'll be enamored with the outcomes, and some days, maybe less so. That's OK (especially now when so few of us are actually leaving our homes). Just know the most important thing is taking good care of your hair health.

Jamie Schneider
Beauty & Health Editor
Jamie Schneider is the Beauty Editor at mindbodygreen. She has a B.A. in Organizational Studies and English from the University of Michigan, and her work has appeared in Coveteur, The Chill Times, and more. In her role at mbg, she reports on everything from the top beauty industry trends, to the gut-skin connection and the microbiome, to the latest expert makeup hacks. She currently lives in Brooklyn, New York.