The Foolproof Guide To Organizing & Cleaning Your Closet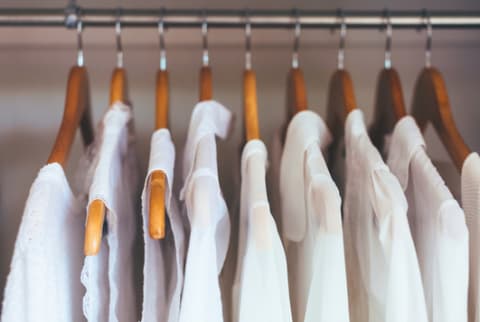 April 29, 2017
Do you approach closet organization like you're going into battle? Armed with fear and shame-based energy, ready to finally attack that clutter once and for all? How often have you given up halfway through the process and just surrendered to your clutter altogether?
As a professional organizer, I know that this happens all too often. Today, I'm revealing my favorite tips for organizing and maintaining your closet:
1. Set a positive intention.
Clutter creates its own negative energy, whether we're aware of it or not. Combat this with a positive, specific decluttering intention, such as "This Saturday, I am committed to releasing items that no longer spark joy or fit my current lifestyle." Beginning with a clear head and open heart will give you natural momentum.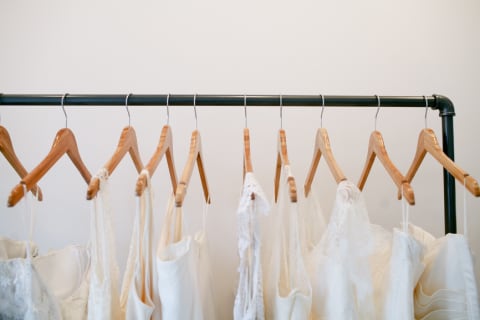 2. Visualize the outcome.
General statements like "I want to get rid of everything I own today" can create anxiety. Instead, use Pinterest and Instagram to gain closet inspiration and analyze the specific details that light you up. Do color-coded shirts make you feel calm? Do you prefer your jeans folded or hung? Does file folding in drawers speak to you? The more specific you get, the more likely you are to replicate those details in your own closet. I also recommend creating a sketch or a list of where all of your items will live before you put anything back in your closet.
3. Make time and take time.
Set aside a Saturday or Sunday afternoon and take everything—and I mean everything—out of your wardrobe. Then, separate every item into piles, placing like with like. For example, place all your T-shirts in one big pile, and then sort them by style (regular tees, graphic, sleeveless, etc.) and finally by color. Do the same with your sweaters, your jackets, and so on.
4. Edit your wardrobe.
This is possibly the most important step in this process. Toss or donate any items that do not spark joy or have gone out of style. Not only will this free up space and energy in your wardrobe, but it will help you determine what you really need and remind you of the importance of high-quality pieces. Much like that notorious little black dress, every wardrobe should have a crisp white tee, bluejeans, black pants, and a gray or black cashmere sweater. And no one will know whether you purchased a cashmere sweater in 2004 or yesterday. Jean Gordon, Cuyana, and the Effortless Closet are great Instagram accounts to follow to see what pieces continuously come back into style.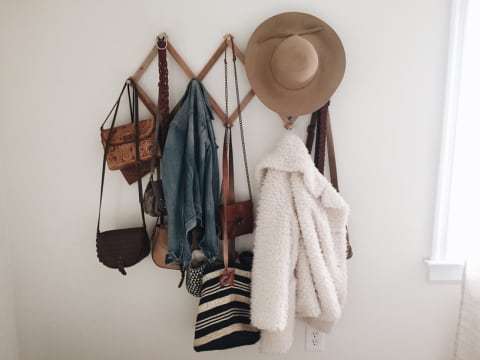 5. Manifest your visualization.
By now, you've brought positive energy into your space, visualized your end result, and made the time to edit your wardrobe, clearing away items that no longer serve you. Now it's time to put that visualization to work! If your closet has a double closet rod, I suggest hanging your clothing the way you'd plan an outfit: tops on top and pants on the bottom. This way, wardrobe options are already laid out in front of you.
Pro tip: Keep a bin in your closet for future donations. When it's time to retire a piece, save that closet real estate by promptly moving it to the donation bin.
6. Use the right tools.
Many people waste time and money anticipating what they'll need to get organized. Save yourself trips to the Container Store and look at what you already have instead. In the process, you may discover you don't need more hangers after all.
Here are a couple of my favorite closet organizing staples that I use at Clutter Healing:
Huggable hangers by Joy Mangano. They take up less space and keep clothing put.
Baskets, baskets, baskets. Hats, sandals, offseason clothing, and many other goodies can be neatly corralled into a basket. I love to place them in that awkward space above hanging wardrobes or below hanging clothing, if space allows.
Spring-loaded drawer dividers, like these bamboo ones, are the answer to successful file folding. The spring-loaded style allows flexibility as your drawer contents change.
7. Maintain your new space.
Life happens and we don't always follow our organization plans, but setting an appointment in your calendar every day or once a week is mandatory. Your closet needs your love and attention post-organization. If you put energy and effort into maintaining your refreshed space, you will wake up to a clean and serene, Zen-like closet that will make getting dressed pleasant and set the tone for the rest of your day.

Lili Pettit
Clutter Healer Lili Pettit matches expert organization with intuitive energetic cleansing to evaluate, coordinate, and completely rejuvenate the home. Trained in a series of respected and time-honored traditions, Pettit works one-on-one with clients to identify and uncover emotional attachments to their possessions and embark on a gentle yet effective path toward releasing and removing them from the home. Pettit leaves spaces clean and clients feeling relaxed, energized, and inspired to begin a new lighter way of living.
Combining 12 years in fashion and styling with a keen organizational acumen from childhood, Pettit transforms and restores clients' living spaces while clearing the air for positive energy to flow freely.
A born organizer, Lili Pettit discovered her planning skills at a very young age rearranging her childhood bedroom and finding new ways to fold and fit her clothes perfectly in every drawer. She sought out junk drawers and cluttered closets and categorized their contents just for fun, and before long Pettit had honed an incredible skill that would later become her passion.
Pettit next underwent extensive professional training in the healing arts, including shamanic house blessing and pranayama breathwork meditation, to complement her decluttering skills with spiritual healing. She uses these unique tools during many of her organization processes to clear the mind and body while cleansing the home once needless possessions have been removed from clients' spaces. These techniques also are helpful prior to starting the organization process to help ease resistance, tension, and stress.
Clutter Healing offers a variety of services that help clients balance their clutter while recognizing and understanding what they need—and let go of the rest. Pettit's positive attitude, clear logic, and gentle energy help guide clients through the cleansing process and establish a sense of calm, clarity, and consciousness in their emotional and physical space.