How Runners Can Benefit From A Collagen Supplement*
mbg Beauty Director
By Alexandra Engler
mbg Beauty Director
Alexandra Engler is the Beauty Director. Previously she worked at Harper's Bazaar, Marie Claire, SELF, and Cosmopolitan; her byline has appeared in Esquire, Sports Illustrated, and Allure.com.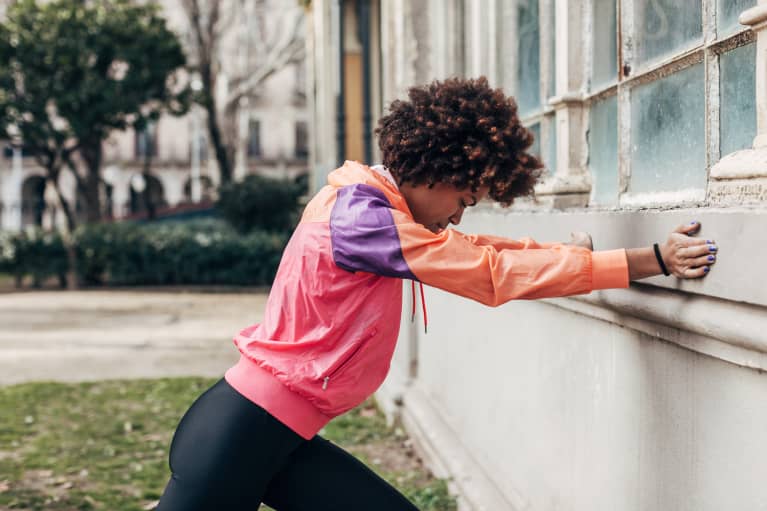 This article was produced to support the mindbodygreen supplements+ line. Our supplements adhere to the highest standards of ingredients and quality. We hope you enjoy these products, for more information
click here
.
Last updated on June 29, 2021
Now that it's summer and we're emerging, eager to get back to normal life, perhaps you've committed to spending more time outdoors and moving your body. For many people, that means picking up a running habit. A worthy goal, to be sure: It improves your cardio fitness, muscle health, and maybe even get that beloved runner's high people so often talk about. And with a new running routine may come new gear—like the right sneakers for your feet and, perhaps, even a collagen supplement.*
While collagen is most famous for its role in the skin—it's the most prominent protein in the skin and the mechanism that keeps it firm—it also has a very important role in joint health. And for this reason, many avid runners consider it a vital part of their routines.* Here, we break it all down.
Collagen and joint health: A quick recap. 
See, collagen is found in connective tissue all over the body, not just in the skin. And when you take a collagen supplement, the powder's hydrolyzed collagen peptides are broken down in the gut, where they are absorbed and travel throughout the body encouraging collagen production naturally.*
"Having the building blocks of these [cartilage] tissues—namely, collagen—is vital to the ability to support joints," says registered dietitian Scott Keatley, R.D.* So, if joint health is top of mind for you or tend to do workouts that put a lot of pressure on your joints—which running can be for some—a collagen powder blend might be worth considering.*
In fact, a 6-month study in athletes found that those who took collagen supplements experienced better joint comfort over time.* One randomized clinical trial found that participants who consume a type II collagen supplement for 180 days saw improved support in their physical function and joint mobility.*
Even as little as taking 2.5 to 5 grams of collagen daily can be enough to show improvement.* Read: You don't need too much to get the benefits.* However, it may take up to 4 to 6 months for you to see the benefits. But stick with it, it's worth it.*
And while expert opinion and studies are convincing in their own right, sometimes you just need to hear from the source: Runners. Our very own Emma Loewe, senior sustainability editor and longtime runner, uses collagen supplements as part of her overall running routine: "Since getting in the habit of taking mbg's beauty & gut collagen+, I've noticed that the standard aches and soreness following a hard workout don't stick around for as long.* Although running two days back-to-back used to be enough to make me sore, I've been able to train three to four days in a row and still feel fresh.* It helps that my energy levels have been feeling more steady, and I'm not relying on the snooze button as much in the mornings.*"
Collagen is a protein that's useful overall for your body, not just skin. Yes, that means joints included. So consider adding a collagen peptide powder to your routine if you've decided to up your running game this year.*