How The 3 "Bombshell" Stars Stay Healthy (Spoiler: It's All Very Doable)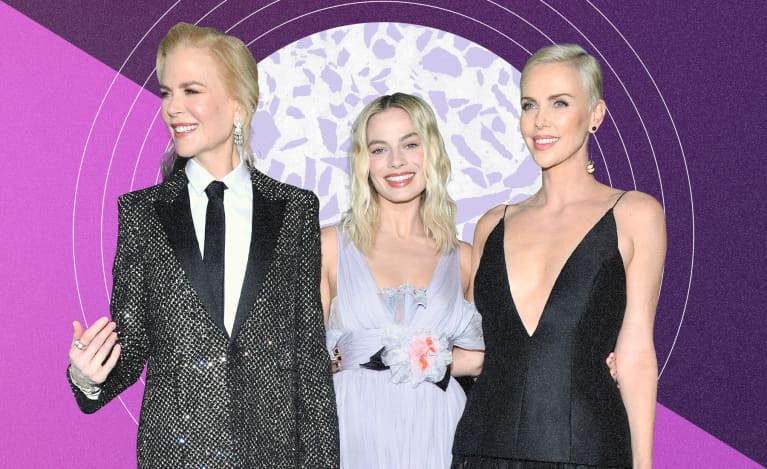 In the lead-up to Oscar season, all eyes have been on Nicole Kidman, Charlize Theron, and Margot Robbie. They joined forces on the movie Bombshell, which portrays the true story of a sexual harassment scandal at Fox News and is up for three awards this year.
It's a power trio if we've ever seen one, and we were curious about how some of Hollywood's most beloved leading ladies approach wellness. It turns out they all use simple, affordable tools such as sunscreen, essential oils, and herbal tea to feel their best on and off the screen.
Maybe stars really can be just like us?
Nicole Kidman loves essential oils and doesn't skimp on sunscreen.
As a mother of four with a bustling career, Kidman is a busy woman. One essential thing that she prioritizes when it comes to wellness is mental health. She says in an interview, "My father was a psychologist, and he would always say, you're responsible for your emotional health, so each individual can make choices that make them feel better and behave in a better way—and we choose how we manage that."
Kidman also cites essential oils as a way to ease symptoms whenever she's feeling unwell, or just as a boost on a typical day. "I use aromatherapy in my everyday life," Kidman says. "I'll add essential oils to the bath: eucalyptus if I'm not feeling well or lavender, bergamot, or jasmine—I love a good scent."
When it comes to skin care, Kidman is never afraid to slather on all the sunscreen she can. "When I was a kid, I wore straight zinc to the beach—and would get made fun of," she says. "Now I use sunscreen even while filming."
Another important part of how the actress stays mentally and physically well is by getting in as much sleep whenever she can—she mentions using an app to help track her patterns.
Charlize Theron avoids alcohol and prioritizes sleep.
The Oscar-winning actress practices wellness with a combination of diet and exercise. She recently mentioned in an interview that she tries to exercise as much as she can. "I'm always calculating my activity," she says. "If I haven't been moving a lot, I can't eat a lot. Or maybe it's a cheat day. But I'm honest with myself."
Theron also practices a plant-based diet, focusing on plenty of green foods while avoiding alcohol whenever she can. "I have juices and kale and green salads every day. When I'm eating healthily, getting enough sleep and not drinking alcohol, that's when I look my best. That's when I'm happiest, and I think it shows."
In terms of skin care and beauty, Theron utilizes the time she has once her kids are asleep to focus on taking care of her face. "It's not something I did in my 20s and 30s," she says. Getting a facial once every three weeks is how she prioritizes her skin, along with her top three beauty products—serum, eye cream, and a "really good" moisturizer.
Margot Robbie loves eating clean and staying active—but she doesn't "dwell on it" too much.
The Bombshell actress has had a busy year as well, starring in not one but two of the Oscar-nominated films of the year (Robbie plays Sharon Tate in Quentin Tarantino's Once Upon a Time in Hollywood).
In a profile following the actress for 24 hours, we learned some unique things about her wellness practices. For example, Robbie starts every morning with what she calls "green stuff"—she doesn't know the name, but says, "It's an immune-boosting powder that you mix in with a bit of juice." She also makes sure to bring tea with her anywhere she goes.
At the end of the day, the actress explains that when practicing wellness, she tries to not get too caught up in the mechanics of it all. "Eating well and exercise need to be prevalent in my life so that I can feel my best, but I don't want to dwell on it too much," she says.
That's an Oscar-winning approach to wellness if we've ever heard one.