Eating *This* Every Day Can Seriously Boost Your Brain Health

mbg Beauty & Wellness Editor
By Jamie Schneider
mbg Beauty & Wellness Editor
Jamie Schneider is the Beauty & Wellness Editor at mindbodygreen. She has a B.A. in Organizational Studies and English from the University of Michigan, and her work has appeared in Coveteur, The Chill Times, and Wyld Skincare.

Expert review by
Ashley Jordan Ferira, Ph.D., RDN
mbg Vice President of Scientific Affairs
Ashley Jordan Ferira, Ph.D., RDN is Vice President of Scientific Affairs at mindbodygreen. She received her bachelor's degree in Biological Basis of Behavior from the University of Pennsylvania and Ph.D. in Foods and Nutrition from the University of Georgia.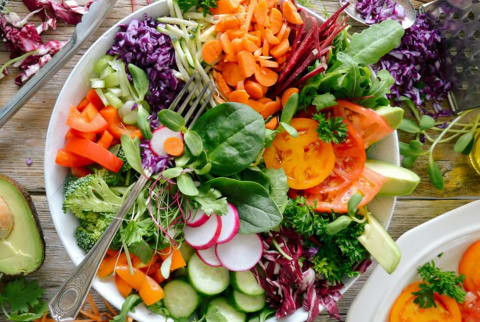 Image by Nadine Primeau / Unsplash
November 4, 2021
Of all the foods you can eat to support a healthy brain, tons of nutrient-dense veggies fit the bill: broccoli, kale, spinach, and the list goes on. And according to nutrition and physiology expert Simon Hill, incorporating them all into your daily meals can seriously fuel your brainpower. In fact, he makes the case for a daily salad on the mindbodygreen podcast, with some pretty promising science backing it up.
Below, Hill explains how daily salads can keep your brain sharp, and, of course, shares some nutritious recipe inspiration.
Advertisement
This ad is displayed using third party content and we do not control its accessibility features.
The benefits of a daily salad for brain health. 
Essentially, the brain-supporting benefits of salads are thanks to carotenoids, particularly lutein and beta-carotene (a form of vitamin A), which are found in dark, leafy greens. Hill references a study conducted by Chicago's Rush University Medical Center: According to the research, out of 960 participants, those who ate at least one serving of leafy green vegetables per day had brains that were operating 11 years younger than they actually were, compared to those who rarely ate those greens. The researchers propose it's the high content of antioxidants (like lutein, beta-carotene, and alpha-tocopherol [aka, vitamin E]) that makes these greens so brain-healthy.
"That is a strong case for a daily salad," says Hill. In terms of which greens to fill your salad bowl, Hill is partial to spinach (which is also high in other brain-supporting nutrients, like vitamin K and folate1), arugula (a cruciferous vegetable that contains the phytonutrient antioxidant sulforaphane), and collard greens (which are rich in fiber, calcium, folate, and a host of vitamins), but you can choose any dark, leafy base you please. We've listed the benefits of 16 healthy greens here if you'd like to browse.
And if you want to level up your daily bowl, feel free to sprinkle on a veggies powder—like mbg's organic veggies+—to sneak even more dark, leafy green ingredients into the meal. In addition to those brain-healthy superstars (broccoli, spinach, kale, and cabbage, to be specific), our specific blend is USDA-certified organic and packed with hard-to-find organic sea vegetables, like kelp and chlorella, as well as organic berries, herbs, prebiotic fiber, and more. The blend delivers a good source of fiber in each tablespoon and supports detoxification and healthy blood sugar levels.* It truly elevates any recipe—it's like the cherry (literally, organic veggies+ features organic acerola cherry) on top of a dense, brain-healthy salad.*
As for other fun toppings, Hill makes a case for some healthy fats: "We know that lutein is fat-soluble," he says. "So when you're having that salad, some olive oil, avocado, or nuts and seeds on it is going to help you absorb those carotenoids." Nuts and seeds also give the salad some texture (who doesn't love a good crunch?), and a glug of olive or avocado oil makes a pretty stellar dressing base, if you ask us.
Advertisement
This ad is displayed using third party content and we do not control its accessibility features.
The takeaway. 
According to Hill, eating a dark, leafy green salad every day can help fuel your brain and keep it sharp. Plus, there are tons of ways to customize your own brain-healthy bowl: Check out these tips to upgrade your greens.
If you are pregnant, breastfeeding, or taking medications, consult with your doctor before starting a supplement routine. It is always optimal to consult with a health care provider when considering what supplements are right for you.