How Demi Lovato Realized She Was Addicted To Exercise & How She Recovered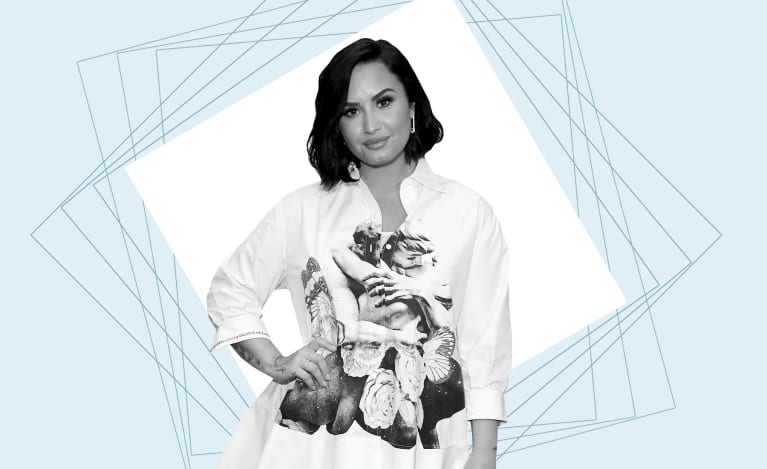 February 19, 2020 — 23:22 PM
When speaking to supermodel and body image activist Ashley Graham on her Pretty Big Deal podcast yesterday, Demi Lovato revealed her recovery from an eating disorder actually wasn't a recovery at all.
The 27-year-old singer has spoken publicly about her battle with bipolar disorder, depression, addiction, and bulimia. And while she "thought the past few years was recovery from an eating disorder...it actually was just completely falling into it."
Bulimia is an emotional disorder involving body dysmorphia, which leads to periods of overeating followed by purging or excessive and unhealthy fasting. The compulsion to control weight gain can take other less obvious forms, though, which is what Lovato experienced.
"There were days when I lived at the gym—I would take business meetings at the gym on my breaks from my workouts," she told Graham in the interview. "I'd be gross, but at least I didn't have to leave and shower. I could go right back into my workout."
While the symptoms of exercise addiction are less obvious than bulimia and might even be viewed as healthy by outsiders, the psychological and physical toll it takes can be just as damaging.
"I'd eat a meal, go workout, eat a meal, go workout," Lovato recalled. "And...that's just not happiness to me; that's not freedom."
How common is exercise addiction?
A recent study, published in the journal Psychotherapy and Psychosomatics, found people with eating disorders often use excessive exercise to treat the depressive symptoms attached to their disordered eating.
Researchers from Karlsruhe Institute of Technology (KIT) in Germany and the University of Freiburg studied the electronic diaries of 29 participants with eating disorders and 35 healthy controls.
The patients with eating disorders experienced a more heightened mood immediately following exercise, compared to the healthy patients; they also felt less pressure to be thin. However, those effects began to decline after only one to three hours.
"This may result in a vicious circle, in which more and more exercise is needed to feel good," said Markus Reichert, Ph.D.—an experience that Lovato has battled and understands all too well.
How can people break this cycle? 
Making people who are suffering with or in recovery from eating disorders aware of their susceptibility to exercise addiction can encourage them to seek treatment proactively. Additionally, educating others on the less obvious signs of eating disorders and excessive exercise can lead to intervention and prevention.
After years of "running [herself] into the ground with workouts and extreme dieting," the singer has committed to changing her mindset on body image and hopes to advocate for all body types.
"Someone needs to stand up for people who don't naturally look that way," Lovato said. "I had to work...every day at the gym six days a week to maintain that figure. That only led me one way, and I don't want to go down that path again."