Skip The Sweaty Makeup — This Supplement Will Give You A Real Glow*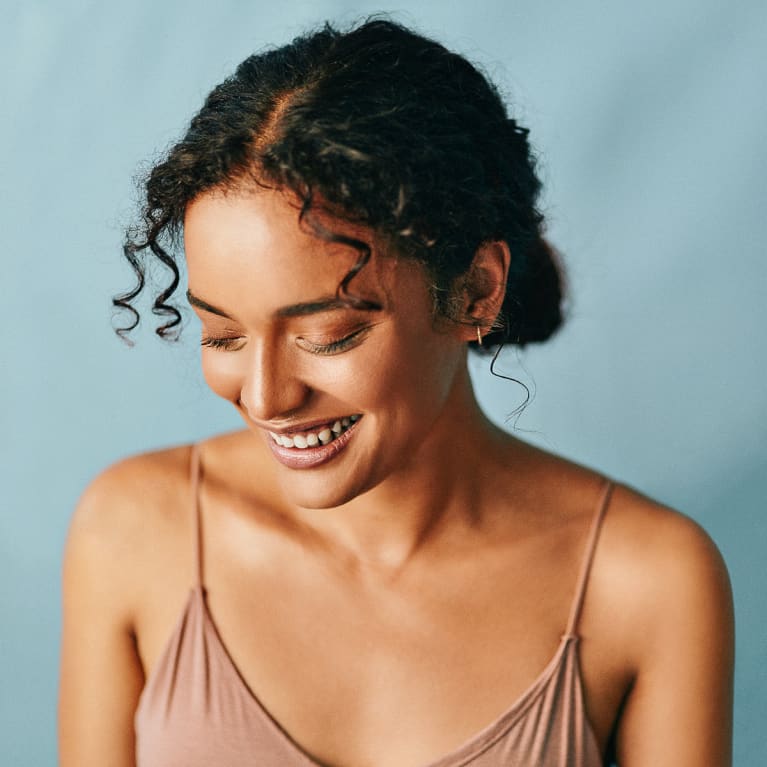 Our editors have independently chosen the products listed on this page. If you purchase something mentioned in this article, we may
earn a small commission
.
Last updated on June 25, 2021
The quest for dewy, glowing skin is truly a balancing act. As many makeup artists warn, there's a fine line between a subtle hit of highlight on your cheekbones and a glazed sheen that just looks, uh, sweaty. That line becomes even thinner in the sunshine: Your makeup may look impeccable in the mirror, but a couple of hours in the summer heat can transform your refreshed, dewy skin into a hot, greasy mess.
No sweat (literally): mbg's supplement has a cutting-edge formula that helps you glow from the inside out.* Like you just so happened to wake up even-toned and radiant rather than finding your makeup dripping down your face midday.
Why supplementing with collagen can help give you a makeup-free glow.*
Here's the thing: You can't really achieve a healthy glow without starting internally. Sure, you can fake it with makeup, but makeup is temporary, and a real glow is internal. As makeup artist Elyse Frieri, store manager at clean beauty retailer Credo, notes regarding glass skin, "Makeup is magical and transformative, but there are two things it cannot hide: texture and dimension." Aka, two crucial components for the dewy, supple glow we yearn for.
That's where mbg's beauty & gut collagen+ comes in: Collagen is crucial for keeping your skin firm and taut, and studies have shown that hydrolyzed collagen supplements can support skin elasticity and smooth the appearance of texture (like fine lines and wrinkles).* See, we all naturally produce collagen via our cell's fibroblasts. But it starts to decline with age and from environmental stressors—like the summer sun, for example.
Supplementing with collagen can deliver key building blocks to help delay the process, even smoothing out some of the finer, more shallow lines. "It can help with skin wrinkling, providing the skin one of its basic ingredients to stay firm," says Taz Bhatia, M.D., an integrative medicine physician and mbg Collective member.*
And this isn't your typical collagen. The formula is filled with amino acids, biotin, antioxidants, and other powerful bioactives that support skin health internally and enhance overall tone and quality.* For example: It contains antioxidants like vitamin C, vitamin E, turmeric, and sulforaphane glucosinolate, which can help neutralize free radicals and combat oxidative stress.* Oxidative stress, specifically when fueled by UV radiation, can trigger cell damage and contribute to leathery, wrinkled skin that can't necessarily be covered with makeup.
Finally, you can't have naturally glowing and dewy skin without some hydration: That's why mbg's beauty & gut collagen+ adds hyaluronic acid to the mix, which helps enhance your skin's natural moisture levels.* "Hyaluronic acid is a naturally occurring type of sugar that is produced by the body and found in the highest concentrations in our skin, connective tissue, and eyes," says board-certified dermatologist Jennifer Chwalek, M.D. "It functions to retain water and keeps our skin looking firm and youthful. It also helps support healing by regulating inflammation levels and blood vessel formation, and can support collagen production, which is another way it can help our skin as we age." *
Each of these aforementioned ingredients work in tandem to make the others stronger and more effective, helping you achieve naturally glowing skin well before sweeping on a highlighter.*
While a hit of makeup here and there can help enhance that luminescence, there's something to be said about a natural beauty. That's not to say you have to forgo your makeup bag in place of supplements (sometimes a bold red lip is just what you need to dial up the drama). Just know that glowy skin starts internally, with skin-supporting ingredients for a smooth canvas.*