I Struggled With Dark Spots For Years & This Is What Finally Helped My Skin Clear

Beauty & Health Editor
By Jamie Schneider
Beauty & Health Editor
Jamie Schneider is the Beauty Editor at mindbodygreen. She has a B.A. in Organizational Studies and English from the University of Michigan, and her work has appeared in Coveteur, The Chill Times, and Wyld Skincare.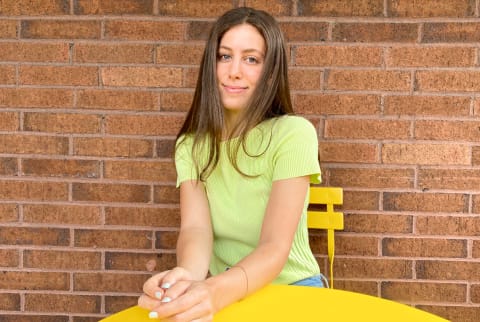 Image by Jamie Schneider / Contributor
September 17, 2020
Figuring out my perfect skin care routine has been a delicate dance, to say the least. See, I have combination skin, which means I face clogged pores around my nose and chin (and dryness along my cheeks), and any breakouts that crop up tend to cluster in a couple of unlucky areas. And even though I tailored my routine to get those blemishes under control (thank you, salicylic acid), I was less than enamored with the goodbye present said blemishes left behind: dark spots, and lots of 'em.
Technically speaking, I have a mix of hyperpigmentation and post-inflammatory erythema—meaning, my marks are dark in color as well as red from dilated blood vessels. And I've tried virtually everything to get rid of these spots—retinol, color-correcting serums, hydrocolloid patches, et al.—but the marks never seemed to fade completely. The frustration of it all only made things worse, with stress-induced breakouts leaving even more dark spots in their wake—but I digress.
The answer wasn't just through topicals—I needed to approach my dark spots internally.*
I'm likely not the first to tell you: Fading dark spots ultimately takes time (some marks can even last up to two years—sigh), but there are tried-and-true methods to help speed up the process. While I had attempted my fair share of surface-level fixes, I hadn't tried approaching those spots from the inside out.
Enter, mindbodygreen's grass-fed collagen+. I'll be honest: I didn't have dark spots in mind when first starting out with the supplement. I only added it to my regimen after reading about how quickly collagen levels deplete as you age (your 20s are all about preventive care, after all, and I want my skin to remain healthy and plump for as long as possible—who doesn't?). What I didn't expect, though, was for collagen to target my biggest skin care woe. Before I knew it, the pesky spots had started fading like a memory.*
When you think about the science, it makes total sense: The hydrolyzed collagen peptides in mbg's formula support and stimulate the skin cells' fibroblasts1, enhancing natural collagen and elastin production—this process helps generate new, unpigmented skin cells more quickly.*
The powder also contains vitamin C (known for brightening up the skin), coupled with vitamin E—incorporating both nutrients helps the other become "supercharged" and penetrate the skin cell. I use both of those vitamins topically already (á la a vitamin C and E serum), but supporting my natural, internal levels became the one-two punch I needed for glowing skin. In fact, vitamin E has been shown to promote cellular restoration when used topically or ingested as a supplement2.*
Finally, the key to keeping hyperpigmentation at bay is to quell the inflammation that cranks those melanin-producing cells into overdrive; mbg's powder also contains curcumin, which can help manage inflammation at the cellular level.*
Now, my skin truly glows.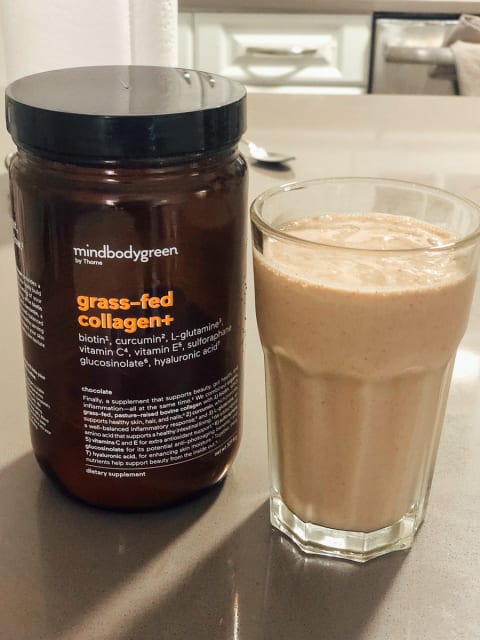 Image by Jamie Schneider / Contributor
I like to say my skin care routine doesn't stop at the bathroom sink. After applying the usual suspects (cleanser, a sweep of toner, then my vitamin C and E serum, moisturizer, and sunscreen), I head to the kitchen for my all-time favorite morning sip: In a blender, I combine two spoonfuls of mbg's collagen powder with half a frozen banana, a spoonful of almond butter, a teaspoon of maca powder, some Greek yogurt, ice cubes, and almond milk.
The result? A frothy, nut butter confection that tastes like a treat. Imagine a frosty milkshake, only it's good for your skin.* And in my case, it's good for fading dark spots, too.
Now, I truly understand what it means when people say their skin glows. (Trust: The radiance is very much real). Of course, I still get the occasional spot—I'm human!—but with my new morning repertoire, I no longer feel a sense of dread when a mark makes its way to my jawline. I'm now well equipped to tackle those spots head-on—all it took was nourishing my skin from the inside out.*
*If you are pregnant, breastfeeding, or taking medications, consult with your doctor before starting a supplement routine. It is always optimal to consult with a health care provider when considering what supplements are right for you.

Jamie Schneider
Beauty & Health Editor
Jamie Schneider is the Beauty Editor at mindbodygreen. She has a B.A. in Organizational Studies and English from the University of Michigan, and her work has appeared in Coveteur, The Chill Times, and more. In her role at mbg, she reports on everything from the top beauty industry trends, to the gut-skin connection and the microbiome, to the latest expert makeup hacks. She currently lives in Brooklyn, New York.