There Are 1,000s Of Plants Your Pet Won't Love As Much As You Do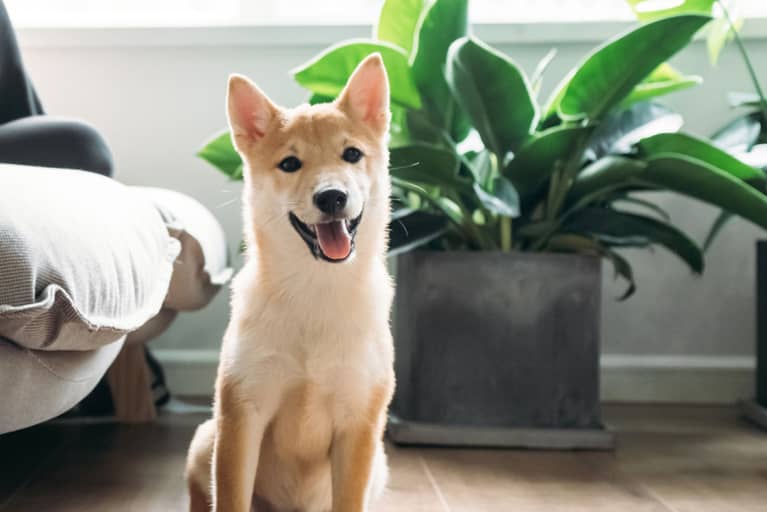 Dogs may be man's original best friend, but houseplants are giving them a run for their money. Sadly, our pets may not love indoor greenery, in all of its mood-boosting, air-clearing glory, as much as we do.
A laundry list of plants can be toxic to dogs and cats when ingested, according to the ASPCA. While your four-legged friends should be fine smelling indoor and outdoor plants, when they get a little too curious and take a bite, it can have serious consequences.
"Most common signs include vomiting, diarrhea, depression, and seizures. In severe cases, ingestion of poisonous plants can lead to liver failure, kidney failure, and cardiovascular problems," Laura Stern, of ASPCA's Animal Poison Control Center, tells mbg. "For example, for a dog, chewing on sticks from a Japanese yew can be enough to cause heart problems and a cat drinking water from a vase with lilies in it can have kidney failure."
What other plants are toxic to pets?
The ASPCA has a public database listing plants that your pet shouldn't be eating (and eek, there are thousands!). It includes of-the-moment houseplants such as snake plants, fiddle-leaf figs, and philodendrons. Stern says that Sago Palms, small trees native to Japan, and lilies, a popular bouquet add, are especially dangerous to animals, so pet owners should consider steering clear of them altogether.
What can I do to make sure my pet and my greenery get along?
If your pet is curious and prone to eating just about anything, it doesn't hurt to consult the list and move any plants in your home that could be toxic to harder-to-reach areas. (Hanging pots, anyone?) This is especially important if you have a cat who loves to jump. And if you're shopping to expand your plant collection, maybe pull up the list on your phone before you check out.
If you do suspect your pet has gotten its paws on a houseplant and is showing signs of illness, contact your veterinarian or call the ASPCA Animal Poison Control Center (APCC) at 888-426-4435.
Here's to a world where pets and plants can grow together.