Do Yourself A Favor & Frame This Day-By-Day Home-Cleaning Checklist

mbg Sustainability + Health Director
By Emma Loewe
mbg Sustainability + Health Director
Emma Loewe is the Senior Sustainability Editor at mindbodygreen and the author of "Return to Nature: The New Science of How Natural Landscapes Restore Us."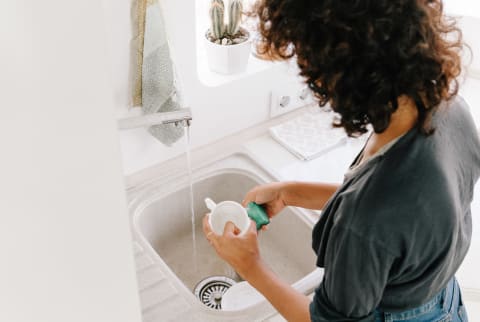 Image by Milles Studio / Stocksy
January 1, 2020
Saving all your cleaning for Sunday was so 2019. Experts agree that it's much more productive to do a little something around the house every day, even if you only have a few minutes—the idea being that if you make a consistent routine out of cleaning, you'll never be overwhelmed by a super-dirty space.
"If you're making messes all week long, you should be cleaning up all week long," says Becky Rapinchuk of Clean Mama. The Chicago-based natural-cleaning expert came to this realization when she and her husband first got married and declared Saturday their weekly cleaning day. Even though they lived in a small one-room apartment, Rapinchuk remembers that doing everything at once quickly became overwhelming and put a damper on the weekend.
From there, she decided to split up her routine into daily, weekly, and monthly tasks and hasn't looked back since. Here's a rundown of how she structures her days for maximum cleanliness and minimum effort. Bookmark her tips, then grab a pen and add "Keep the house eternally spotless" to your resolution list this year.
Once a day:
Do the bare minimum.
Rapinchuk recommends starting a list of five little tasks that absolutely need to get done every day. They can be as simple as making the bed, putting coats in the coat closet, or wiping down the kitchen counter after eating, but you should be doing them every single day.
Once a week:
Monday: Clean the bathroom.
Get this less-than-glamorous task out of the way early in the week. It's tempting to reach for conventional heavy-duty cleaners in the bathroom, but check out this guide to freshening yours up using more natural ingredients like white vinegar and baking soda.
Tuesday: Dust around the house.
Lightly dampen a reusable cloth and quickly go over all your home's surfaces. Don't forget about hidden spots like vents, filters, and the inside of cupboards. Beyond irritating allergies and asthma, house dust has actually been linked to weight gain in kids, so don't skip this step!
Wednesday: Vacuum.
Today's task is to vacuum or sweep your floors (carpet and hard surfaces) to prime them for tomorrow's washing.
Thursday: Wash your floors.
Thursday is the day to wash all your hard-surface floors with soap and water. Use a mop if you have one, or just go with a microfiber cloth. If you're in the market for a homemade cleaner, Rapinchuk's recipe calls for 1 to 2 drops of Castile soap, 2 cups of warm water, and 2 to 5 drops of your favorite essential oil.
Friday: Have a catchup day.
If you missed a task any day this week, Friday is your opportunity to get back on track and cross it off the list.
Saturday: Clean sheets and towels.
We're all guilty of going way too long without washing these, but setting aside a day to do it could help. Don't forget to throw your pillows into the mix too.
Sunday: Rest up.
Besides the daily tasks, Sunday's schedule is all clear.
Once a month:
Deep clean your appliances.