5 Places In Your Home A Toxin Expert Wants You To Clean This Summer

Environmental Toxin Expert
By Tonya Harris, M.S.
Environmental Toxin Expert
Tonya Harris is an award-winning environmental toxin expert, the founder of Slightly Greener, and the creator of the Slightly Greener Method. She is Board Certified in Holistic Nutrition and has a Master's degree in holistic nutrition from Hawthorn University.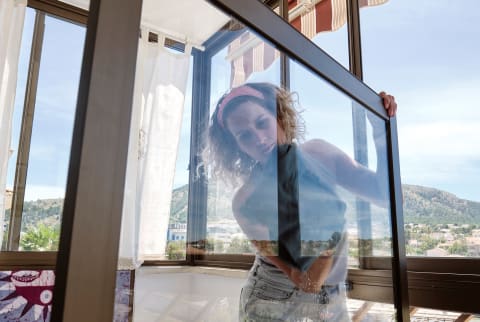 Image by Jose Coello / Stocksy
July 1, 2021
Our editors have independently chosen the products listed on this page. If you purchase something mentioned in this article, we may
earn a small commission
.
While taking time out of your summer to deep clean your home sounds less than ideal, it's important to do so. Since heat and humidity can contribute to germ buildup, we all need to stay diligent during the warmer months. Luckily, it's not all that hard to do. Here are five areas that tend to attract the most grime this season and easy ways to keep them sparkly clean all summer long.
Advertisement
This ad is displayed using third party content and we do not control its accessibility features.
The furnace filters
If you have central air, it's important to change furnace filters every couple of months throughout the summer (just as you would in the winter) since air conditioning often flows through the same ducts as heat.
Changing the filters will help trap allergens and pollutants, reduce the risk of mold, and help your AC run more effectively.
The shower and/or bath
Mold loves to form in warm, wet conditions—making the areas around your tub or shower susceptible during summer. Instead of using intense bleach to treat mold, I like to spray it with white vinegar as I find it works just as well (if not better in some cases!).
While bleach can brighten the area and kill the mold at the surface, it doesn't get to the roots of the issue. If you have one small patch of mold on a hard, nonporous surface like tiles or shower walls, simply pour white vinegar into a spray bottle (or remove the cap and attach a spray pump to the bottle it came in) and thoroughly spray the spot. Let it sit for an hour. Rinse the area with a damp cloth with warm water; don't soak it with water. If the spot needs scrubbing, you can make a paste of baking soda and water in a bowl and scrub with a sponge.
You can also use a mold remover spray on small spots of mold, but for larger areas, it's always best to contact a professional.
Advertisement
This ad is displayed using third party content and we do not control its accessibility features.
The indoor air
Indoor air can become stagnant in summer, allowing odors to linger in small spaces such as closets. Areas where you keep shoes and sports equipment can also get extra smelly during summer, when moisture levels tend to be higher. Moisture leads to bacteria growth, which can produce odor. It's important to address the odor by addressing the moisture rather than trying to cover up the scent with a spray.
Baking soda is great for this, as it absorbs moisture and helps trap odors. To clear the air, simply place an open box of baking soda in the smelly area, adding a few drops of refreshing essential oils for a little extra scent if you'd like. Shake this once a week to refresh the scent and activate the odor-absorbing qualities of the baking soda. You can also sprinkle baking soda into your shoes for a quick refresh. Let it sit for a few hours or overnight before dumping it out.
Bonus tip: When we exercise outside during summer, moisture with odor-producing bacteria can become a problem on clothes, too. Washing clothing as soon as you can (and not putting it into a laundry hamper with other clothing) will help with odors. To fight extra smelly clothing (who doesn't love being around a campfire on a warm summer night, right?), pour half a cup of vinegar into the rinse cycle of the wash.
The windows
Summer is the perfect time to finally get your windows clean and let the sun in! For a homemade window cleaner, combine a 50/50 blend of distilled water and white vinegar in a spray bottle. You can also add a few drops of lemon or orange essential oil for extra scent and degreasing power.
Another easy way to clean taller windows is with a handheld steamer with an extension hose and window squeegee. Simply fill the steamer and gently squeegee the windows, wiping excess water away with a microfiber cloth. The steamer will also help steam away those stuck-on messes that formed on your windows throughout the last year.
Advertisement
This ad is displayed using third party content and we do not control its accessibility features.
The garbage cans
Hot weather and garbage don't get along: In summer, be sure to regularly wash your garbage cans out with soap and water, and dry completely. Sprinkle a thin layer of baking soda on the bottom of the can before putting in a new bag. Dump the baking soda every couple of weeks, and start with a fresh new layer to help absorb odors.
The bottom line.
Overall, summer is also a great time to clean with windows open and get to those outdoor jobs that are impossible in the winter. Although the heat and humidity can pose a new set of problems with odor and mold growth, they should be easier to treat with these tips and tricks.