Collagen Supplements Are Superior To Collagen Creams — Here's Why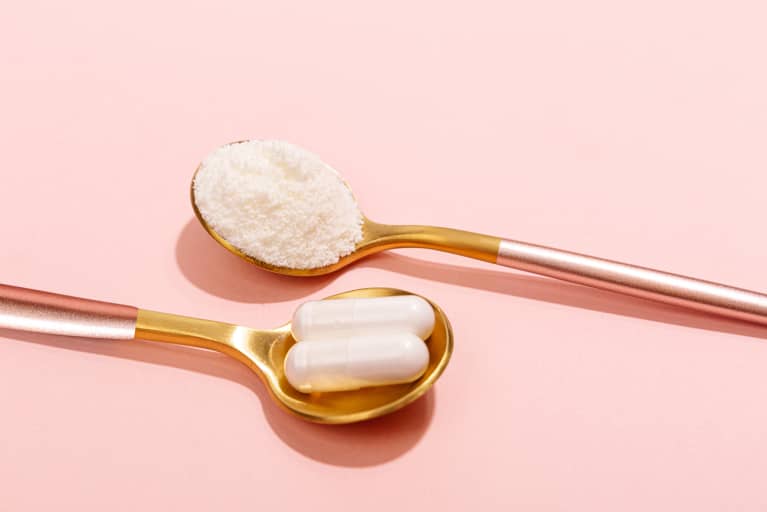 Last updated on June 30, 2021
Collagen is a vital part of our skin structure. It is the reason our skin stays equal parts firm and plump when we are young—essentially it is the structural part that keeps our skin in place. When it declines, that's when we see sagging, wrinkles, and sallowness.
As you likely know, we lose it slowly over time. This happens naturally starting in our late 20s, and then continues at about a 1% decline every year after that. But it also happens due to lifestyle habits, such as sun exposure, poor diet, stress, and other environmental aggressors. Particularly, individuals who go through menopause see a dramatic decline in their natural collagen production during that time—around 30% in fact.
It's no wonder people spend so much time, energy, and money trying to figure out how to keep collagen production robust and the collagen we do have in tact.
But know this: Not all ways to support your collagen levels are equal. And with so many creams, serums, powders, gummies, and tonics that all boast "collagen" on the label, you may be confused as to which one is your best bet. Here, we break down the options for you.
Collagen creams vs. supplements.
Let's start off with the the topical versus internal debate. Here at mindbodygreen, we believe in helping your skin from multiple angles. And while some ingredients play double-duty quite well (for example, phytoceramides are great in both topical treatments and supplements), others have a clear avenue of use.* Collagen is one of those ingredients.
"Collagen" as a beauty product marketing tool is fairly common. You'll see it pop up on creams, serums, body washes, and scalp treatments, all in the hopes of younger, healthier-looking skin. And collagen does hydrate when used topically. However, it's not actually doing more than that—and it's certainly not aiding in collagen production. For that, you have to go internal.
"Collagen is a huge molecule that sits on the surface of the skin and cannot be absorbed into the dermis," board-certified dermatologist Dendy Engelman, M.D., previously told us about collagen creams. "When applied topically, it is not possible for collagen to penetrate, which is why we use other actives to stimulate collagen production."
If you're looking for topical treatments that can encourage collagen production, retinol, glycolic acid, and vitamin C all do wonders topically. But as for collagen as an ingredient itself, it's best to find a collagen supplement instead.
Why collagen supplements work best.*
Collagen supplements are your best bet for promoting collagen production.* Here's why: Collagen supplements are actually made with hydrolyzed collagen peptides, or short-chain peptides made of amino acids that can actually be absorbed by the body when ingested.* From there it travels throughout the body; in the case of your skin, the peptides are able to aid your skin's fibroblasts—or what makes collagen and elastin—so your body is able to promote collagen production naturally.* Science backs this up: Research shows that these collagen peptides are able to support skin elasticity and dermal collagen density.*
And it makes sense as to why your stomach is better able to absorb collagen, versus your skin. Remember: Your gut is supposed to absorb nutrients and deliver them throughout your body. Your skin, on the other hand, is supposed to act as a barrier and thus, isn't as permeable.
What collagen supplement types are best?
So you've decided to try a collagen supplement. Great! Now you have to decide what sort of collagen supplement you'd like to take, as they come in gummies, powders, tonics, drinks, capsules, and so on. If you want the most effective, potent option—the answer is clear: Powder.
Powders are the most likely delivery form to contain a high, potent dosage of collagen itself, and sometimes, synergistic nutrients or bioactives, too. Additionally powders are also very convenient and easy to add to most dishes or drinks: Whether blending into a sweet smoothie with colorful fruits or mixed into your morning coffee or latte. If you prefer other delivery methods—you know, drinks, tonics, capsules, gummies—that's fine; just know that you're not getting as much collagen in these products.
For a full breakdown on how to find the best collagen supplements out there, plus our best selects, visit our guide.
If you care about promoting collagen, first and foremost: Start a collagen supplement routine.* This will help your body create more on its own.* Now you can also further enhance your natural collagen levels with topical products—just via different ingredients like vitamin C or glycolic acid. See, these topicals are better absorbed by the skin and skin cells, where they can actually help your body produce more collagen instead of sitting on the surface. If you want more info on a full collagen-enhancing skin care routine, check out our guide here.