Close Banner
Advertisement
This ad is displayed using third party content and we do not control its accessibility features.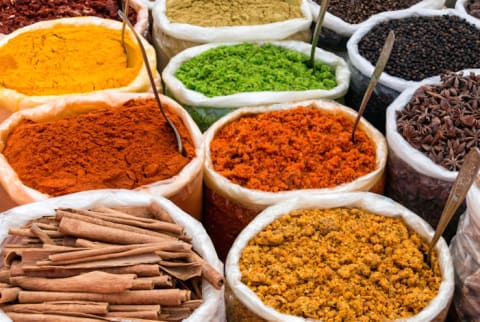 Parsley, sage, rosemary, and thyme — and ginger and cumin and cloves: You can't go wrong with the beauty benefits of fresh herbs and spices. Spicing up your meals could be the easiest way to amplify their beautifying benefits.
Here are 16 of the essential herbs and spices in my eat pretty pantry:
1. Basil contains flavonoids that protect your cells from oxidative damage.
2. Cardamom relieves indigestion and detoxifies the body.
3. Cayenne boosts immunity and metabolism, and helps curb cravings.
5. Cloves aid in digestion and contain a strong anti-inflammatory oil.
6. Cumin is a good source of iron and a digestive booster.
7. Fennel seeds are high in the UVB-protective phytochemical quercetin.
8. Ginger is a proven reliever of muscular aches and pains brought on by exercise.
10. Nutmeg helps you achieve more restful beauty sleep.
11. Oregano has antioxidant, antimicrobial properties that make it a popular cold-fighter.
12. Parsley is packed with iron and is a blood cleanser.
13. Rosemary boosts mood and memory.
14. Sage helps regulate bile flow for healthy digestion.
15. Thyme contains powerful antioxidant, anti-inflammatory compounds.
16. Turmeric reduces inflammatory pain and speeds up healing.
Jolene Hart
Jolene Hart, CHC, AADP is a Health Coach certified by the Institute for Integrative Nutrition, a former magazine beauty editor, and the founder of the pioneering beauty coaching practice Beauty Is Wellness. She is the author of Eat Pretty, a seasonal guide to looking and feeling beautiful using nutrition and self care, and the upcoming guided journal Eat Pretty, Live Well (2016 Chronicle Books).
In 2015, Jolene co-founded the Nutritional Aesthetics AllianceTM, an educational organization with a mission to advance an integrative approach to healthy skin, and serves as its Director of Education. Her beauty and health writing has appeared in a wide range of national and international publications, including InStyle, Allure, Organic Spa, Delicious Living, and The Huffington Post. Putting beauty nutrition into practice, she cooks, bakes, ferments, and blends from her kitchen in Philadelphia, PA, where she lives with her husband and son.