Close Banner
Advertisement
This ad is displayed using third party content and we do not control its accessibility features.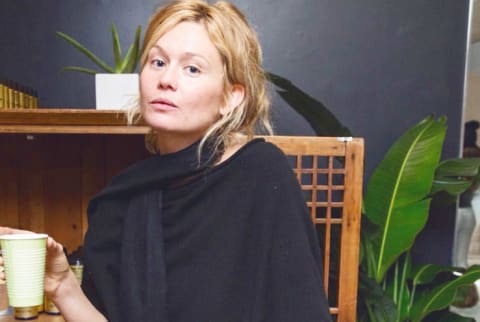 Beauty starts from the inside out, and no one knows that more than artist and creative director of Sun Potion | Transformational Foods Nitsa Citrine. Read on for how she takes care of herself internally and externally. Glow on, Nitsa!
I'm a lover of beauty in all her expressions and am always grateful for moments of self-care and beauty.
MORNING RITUAL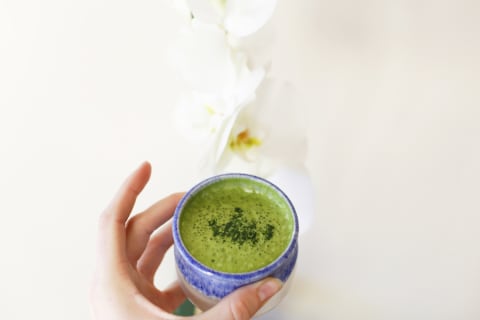 First thing upon waking, I take a moment to meditate and consciously articulate my gratitude for all the blessings of this life. Then I drink a large glass of alkaline water.
Lately, I cannot seem to get enough matcha and have been blending the ceremonial-grade organic Matcha from Cap Beauty with our Ashitaba, Pine Pollen, Reishi, and Tocos and some raw cashew or coconut milk — it keeps me bright and humming with positivity all day long!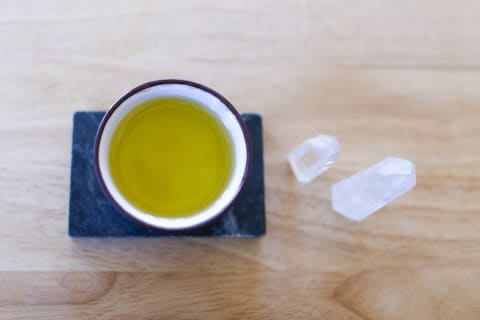 Before showering, I like to dry brush (always toward the heart) to exfoliate, increase circulation, and activate the lymphatic system while (simultaneously) oil pulling.
An ancient Ayurvedic ritual, oil pulling is wild! I like to use an organic cold-pressed sesame oil and will swish it around for 10 minutes. The oil acts like a nourishing cleanser for the mouth (portal to the body), pulls out toxins, and even whitens teeth. (Note: if you try this at home do not swallow any of the oil — it's full of things you want out of your body.)
Then I hop in the shower. I like to finish with a few cold-hot-cold shower pulses, which work to promote circulation and is highly energizing!
MIDDAY RITUAL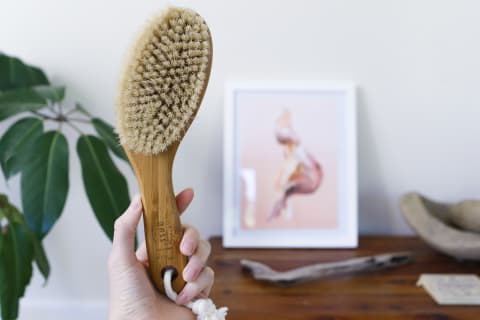 I am definitely the type who is attracted to the "less is more" approach to the decorative beauty regimen. Of course, my ideal would be to only have to splash my face with cool spring water in the morning and night to be a glowing example of radiant and effortless beauty, but I am not quite there ... yet!

This being said, I honestly try to avoid wearing makeup as much as possible. My philosophy is that the skin eats, and so I choose to put products on my skin that are, essentially, safe to ingest.
After my morning shower I like to let my skin breathe. I will mist myself generously throughout the day with rosewater or a hydrosol immortelle. If my skin is feeling dry, I use Benshen Serum No. 2 or Shiva Rose's Rose Face Oil and Glow Face Balm blended up with some Sun Potion Shea Butter in my palm. I love to press this into my eyes in the middle of the day: it smells divine and really clears my vision/mind while visibly reducing under-eye puffiness.
When I am in Santa Barbara, it is a pretty low-key existence, and so I will keep up this natural vibe for the daily run into town for meetings, errands, farmers market, yoga, etc.
However, if I am attending a special event, feeling public/at risk of being documented in a compromising state, on a date night with Scott or simply in a spicy mood, I like to spruce up my look by applying some RMS "un" cover-up for under the eyes, brows, and any devilish spots.
My friend Gloria Noto makes a great highlighter I'll put a little dab of on my lids and in the center of my cupid's bow for a dewy look , and then I will apply Living Libations' Maiden Fern Blushing Balm on my cheeks and Poppy and Someday Peppermint Herbal Lip Stain.
If I want to really go for it, I apply Dr. Hauschka's Mascara (in brown) to my upper lashes. Then I put castor oil on my brows, which doubles as a brow-definer and thickener. (My goddess/friend Shiva Rose taught me this!)
With or without makeup (and thank you, Universe, that we have all some stellar and pure makeup options now!), I like to seal in this inner/outer beauty ritual with essential oils. My signature scent is wild vetiver with rose. I source my oils from Floracopeia, Living Libations, and Enfleurage.
AFTERNOON RITUAL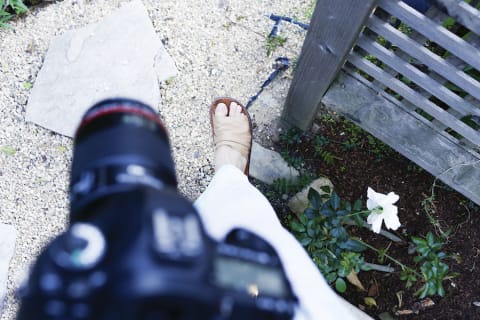 Every day, I make a point to do something that nurtures my creative self. This is possibly the most powerful and intimate ritual through which I experience beauty.
Some days I will go for a walk with my camera (I'm fortunate to live near some beautiful hiking trails and nature); other times I will shoot for pleasure at home, with friends, flowers, books, clothes ... whatever inspires in the moment.
I like to fill my home with beautiful objects and art made by friends; simply being in the presence of something made with love by someone you love is such a luscious and beautiful feeling.
EVENING RITUAL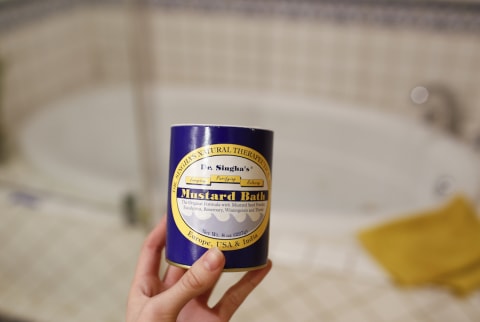 I love to wind down from the day with a hot sauna or bath. I was raised in a community that celebrates the culture of bathing and am happiest in a body of warm water.

I am obsessed with this Mustard Bath from Dr. Singha and will add a few drops of lavender and eucalyptus oil along with a good shake of this to the tub. It's heaven!
NIGHT RITUAL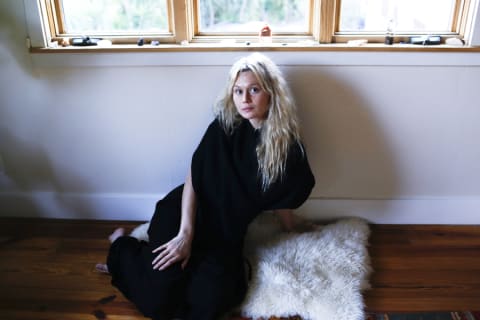 To quote myself (or at least according to my partner, Scott, who I have apparently said this to many a time when he tries to wake me), "I am a good sleeper."
Regardless of when I go to bed (the earlier the better!), I try to always get at least eight hours. Enough sleep and water are the two things that I have learned I cannot afford to sacrifice, regardless of how busy I am.
In addition to them having an obvious impact on my mental and physical state, I feel that I actually process a lot of information in my dreams and so aim to honor this time as much as possible, whether I am traveling, at home, on a deadline ... anywhere!

Beyond that, I like to make myself a little He Shou Wu + Reishi Tonic to enjoy before bed. If I feel my digestion is slow or off (especially if I am traveling/eat anything questionable), I will add a little Triphala into the mix. It's gently cleansing so is a great way to soothe and tone the digestive system while the body rests.
The He Shou Wu is deeply rejuvenative and nourishes hair, skin, and nails, while the Reishi supports stress relief and a clear mind (great for dreams).
WEEKLY RITUAL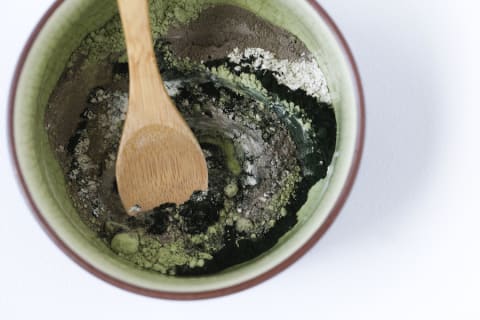 While the mask is on, I usually pair it with La Tierra Sagrada's Treatment. It's a deeply nourishing and healing blend of herb essential oils in coconut oil, which I will massage into my scalp and braid down to my ends. (Daily, I use their Jojoba Oil daily and it works wonders on my frizz.)
"WHENEVER POSSIBLE" BEAUTY RITUALS
Sex: seriously, a good orgasm can transform the whole situation, inside and out.
Self-love. all ways.
Green juice: I drink 16 ounces of organic pressed green juice almost every day (I like to get mine from AH Juice in Santa Barbara, and whenever I land someplace new, one of the first things I do is look up the local organic juicery).

Nitsa Citrine
Nitsa is an artist, lover of tea, high-vibe foods and holistic lifestyle, currently serving as the Creative Director of Sun Potion | Transformational Foods. She lives in Santa Barbara, CA with her fiancé Scott Linde (founder of Sun Potion) and their many beloved houseplants.