This Healthy Pancake Cereal Recipe Is Packed With Nutrients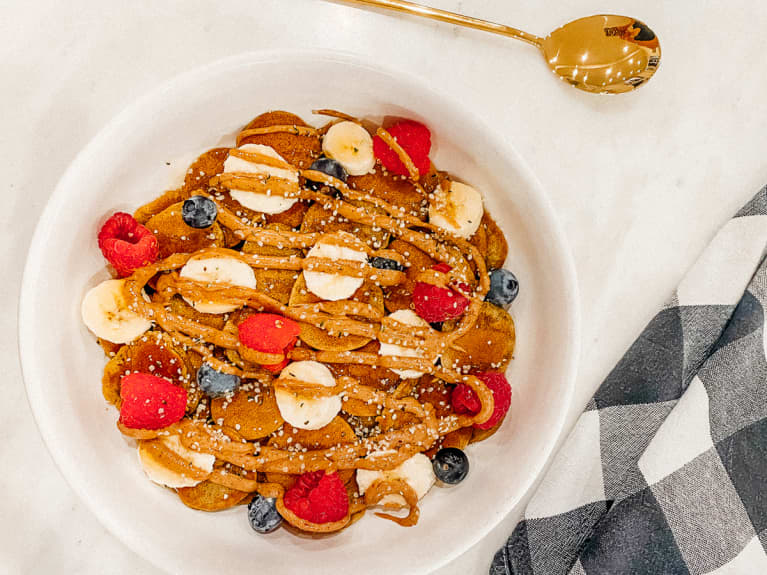 There have been a number of new food trends popping up during quarantine—like healthy banana bread, whipped coffee, and even focaccia gardens. A lot of these recipes have been making the rounds on TikTok and Instagram, to bring a little extra fun and joy to our days. And the latest trend to hit our feeds is one that has us all looking forward to breakfast: pancake cereal!
This new spin on the classic short stack is basically just a lot of mini pancakes, around the size of a nickel or quarter, cooked in a pan, arranged in a bowl to look like cereal. There's a lot of different recipes floating around, but since most have refined flours and other not-as-healthy ingredients, I created a clean version that's paleo, gluten-free, and absolutely delicious.
The secret ingredient is mbg's organic veggies+ powder, which features all kinds of nutritious ingredients like broccoli, spinach, and sea vegetables, which are rich in magnesium, calcium, iron, and vitamin C.* It's also packed with potent antioxidants like ginger and turmeric, which help decrease inflammation and enhance your immune function.*
Plus, it features vegan digestive enzymes, to support healthy digestion and help your body absorb nutrients.* Not to mention, organic veggies+ powder actually tastes delicious, so it makes a great addition to this nutritious pancake cereal recipe.
Ready to give these cute little flapjacks a try? Check out my recipe for healthy and delicious pancake cereal!
Healthy Pancake Cereal Recipe
Serves: 4
Calories: 250 per serving
Ingredients
1 cup of almond flour
1 tablespoon of grass-fed ghee (melted)
¼ cup vanilla unsweetened almond milk (plain unsweetened almond milk works, too, but won't be as sweet)
2 organic pastured eggs
1 teaspoon of vanilla extract
1 to 2 tablespoons of raw organic honey (depending on taste)
1 tablespoon of mindbodygreen organic veggies+
½ teaspoon of baking soda (this will help them rise)
Coconut oil or ghee to cook
Toppings
Organic berries (raspberries, blueberries, strawberries)
Sliced organic banana
Raw almond butter
Raw organic honey
Hemp seeds
Method
Mix all ingredients together in a bowl until you have a smooth consistency.
Transfer mixture to a small pouring jug.
Heat 1 teaspoon of ghee or coconut oil in large frying pan on medium heat.
Once hot, pour coin-size portions of pancake mixture into pan, keeping a good distance between each one.
Once you start to see bubbles, use a thin spatula to flip.
When done, remove from pan and add to a clean plate.
Repeat until mixture is gone.
Arrange in a bowl and serve with desired toppings.
Note: To make these Whole30-approved, simply nix the honey. Enjoy!