Certified Personal Trainer
By Krista Stryker, NSCA-CPT
Certified Personal Trainer
Krista Stryker, NSCA-CPT is the author of The 12-Minute Athlete: Get Fitter, Faster, and Stronger Using HIIT and Your Bodyweight and a leading expert on HIIT and bodyweight fitness. She lives in Venice, California, and is a certified personal trainer through the National Strength and Conditioning Association.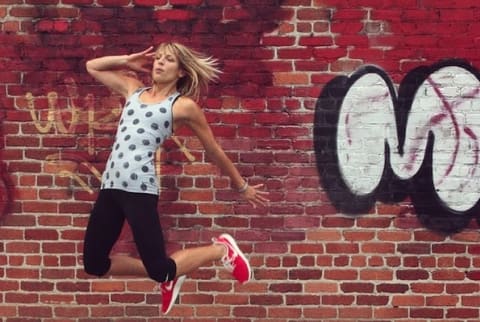 May 15, 2014
If you're anything like me, nothing gets you feeling motivated and pumped up to accomplish all your health and fitness goals like a really awesome app.
As a self-confessed fitness and technology nerd, it's been so exciting to watch over the past few years, as the app market has exploded to make it easier to get healthier and in better shape than ever before. But with so many apps available today, how do you know where to start?
Here are 5 health and fitness apps that make my life better:
If you have a major sweet tooth yet still want to eat healthy (like I do), you need the Protein Pow app. Filled with amazing, healthy and protein-packed recipes, the Protein Pow app is hands down my favorite recipe app out there.
From protein cheesecakes to vegan brownies to out-of-this-world homemade protein bars, the recipes are both easy to make and delicious. As a major bonus, the fun illustrations and drool-worthy photography done by Anna Sward (Protein Pow's awesome creator) will never cease to brighten your day.
I'm a huge fan of all things Nike (I love how their clothes are actually made for athletes), and the Nike Training Club app doesn't disappoint. With cool photos, videos, and workouts designed by Nike athletes and trainers, it's great for beginners and for those with specific goals in mind.
And though I often think the NTC workouts are a little too long (and not as intense as I'd like), even just watching the videos of the athletes can give me the inspiration I need to gear up for my workout.
My biggest complaint with the app is how much space it takes up — since all the videos are included in the app download, it occupies about 42 MB, an annoyingly large size for those of us with limited space on our phones.
Though not exactly a health and fitness app itself, Lift makes all your workout and personal goals easier by helping you establish the habits you've ever wanted. It's one of the apps I constantly find myself using to keep on track with my goals.
You can use Lift App to set up 21-day goals to do things like practice your handstands, do 20 pull-ups, or meditate every morning. If you forget to check into your daily habits, the app will send you a cheerful reminder so you don't forget. And if you make your habits public, you can get props from other users to help keep you motivated — a nice little incentive if you need an extra boost of motivation!
Although as an athlete, I'm fully aware of the benefits of yoga, I have a hard time actually committing to a 90-minute class multiple times a week to work on my strength and flexibility. (Twelve-minute HIIT workouts are much more my style.) That's why I love the Pocket Yoga app — it helps me practice yoga whenever and wherever I want, even if all I have is 10 minutes.
Although I prefer to go through the poses and do the ones I find most fun (there are over 200 poses included in the app!), other users will like the fact that you can pick a duration and difficulty level and go through a yoga practice using just the app and its cute illustrations.
I especially like that Pocket Yoga includes different levels of difficulty, as well as more advanced poses like inversions and arm balancing variations.
Whether you're trying to improve your athletic performance or you just want to work off last night's dessert in a hurry, if you're like me, you don't want to spend a lot of time working out. And if you want to build strength, burn calories and get fit in the most efficient way possible, high intensity interval training (HIIT) is the way to go.
That's where the 12 Minute Athlete HIIT Workouts app comes in. With over 185 HIIT workouts that focus on strength, cardio, interval and core training, options to add minimal equipment or work out using just your own body weight, the 12 Minute Athlete HIIT Workouts app will get your muscles shaking, sweat pouring and heart pounding, all in around 12 minutes.
(Full disclosure, I may be biased about how awesome this app is since I created it!)