By Jen Broyles
mbg Contributor
Jen Broyles is a Certified Health Coach who helps people regain their health through the use of natural solutions, such as diet, stress-management, essential oils, and supplements.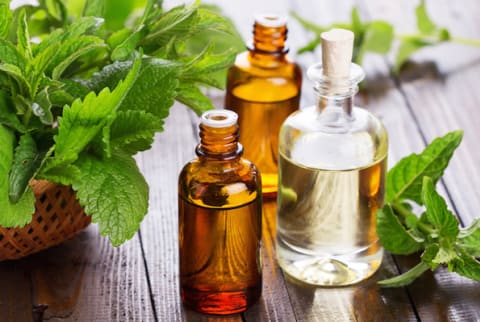 Photo by Shutterstock.com
July 24, 2014
You may have heard about essential oils as they continue to gain popularity in the natural health world, but what are essential oils exactly and what can they do for you?
Essential oils are powerful plant extracts that have been used for thousands of years for their health, cosmetic, and emotionally uplifting properties. Pure, therapeutic-grade essential oils have numerous medicinal properties and can virtually replace many over-the-counter medications.
With pure essential oils, you are using an all-natural product without any harmful, chemical ingredients. They are nontoxic and extremely effective. You can feel safe using essential oils for your whole family.
While there are many different essential oils and oil blends, there are three basic oils that can be used in a variety of ways to treat many different ailments. I have these three oils on hand at all times.
Just imagine, what if you could replace 20 of your medications with just three essential oils? Well, I'm going to explain how you can do just that.
Disclosure: I am an independent distributor of essential oils through my website.
Lavender is one of my favorite essential oils. I love the smell, and it has great calming properties.
Lavender is beneficial for healing and soothing the skin, promoting sleep, and alleviating allergies and sinus problems. Lavender can be used in place of the following medications.
Neosporin
Aleve
Advil Sinus
Tylenol PM
Unisom
Zyrtec/Claritin D
Benadryl
Calamine Lotion
Peppermint is another powerful oil that smells wonderful and is very healing. Peppermint is great for a number of digestive issues ranging from heartburn to diarrhea. Peppermint is also great to use for cramps and headaches. Try using peppermint oil in place of the following over-the-counter medications.
Pepto-Bismol
Imodium A-D
Tums
Mylanta
Prilosec/Zantac
Tylenol/Motrin
Beano/Gas-X
Midol
Lemon is such a functional oil. It has a wide range of uses from flavoring water to treating acne. It also has antibacterial and disinfecting properties that make it so versatile. Below are some of the medications that can be replaced with lemon essential oil.
Chloroseptic
Imodium AD
Pepto-Bismol
Children's Tylenol
Children's Motrin
Mucinex
Acne medication
Azo Cranberry
Pure, therapeutic-grade lavender, peppermint, and lemon purchased from a reputable company can be applied topically, diffused, or taken orally. I do not recommend buying oils from your health food store and ingesting them. Many companies distill their oils with chemicals which adds a toxic element to them.
It's best to find a company that guarantees the purity and quality of the oils. Be sure to read the label to see how it can be used.
Wouldn't it be great to clean out your medicine cabinet and replace those products with something pure, and natural? Plus, it's a huge money saver! What's not to like about that?
Are you ready to swap your medications for essential oils? Do you already use essential oils? I would love to hear from you!
Want to turn your passion for wellbeing into a fulfilling career? Become a Certified Health Coach! Learn more here.

Jen Broyles
Jen Broyles is a Certified Health Coach who helps people regain their health through the use of natural solutions, such as diet, stress-management, essential oils, and supplements. Jen has a special interest in gut health, detox, and mood and hormone imbalances. Her personal story is what inspired her to educate and guide others. She dealt with chronic IBS, anxiety, and hormone imbalances for over 10 years, and it was significantly affecting her quality of life. She left her career in pharmaceutical sales and returned to school to study nutrition and train with functional medicine practitioners. She is a firm believer in the roles that nourishing food, a balanced lifestyle, and a positive mindset play on overall health. You can visit her website for healthy living advice, essential oils info, and delicious recipes at jenbroyles.com.