Hand Sanitizer vs. Soap: What Should You Be Using To Stay Safe?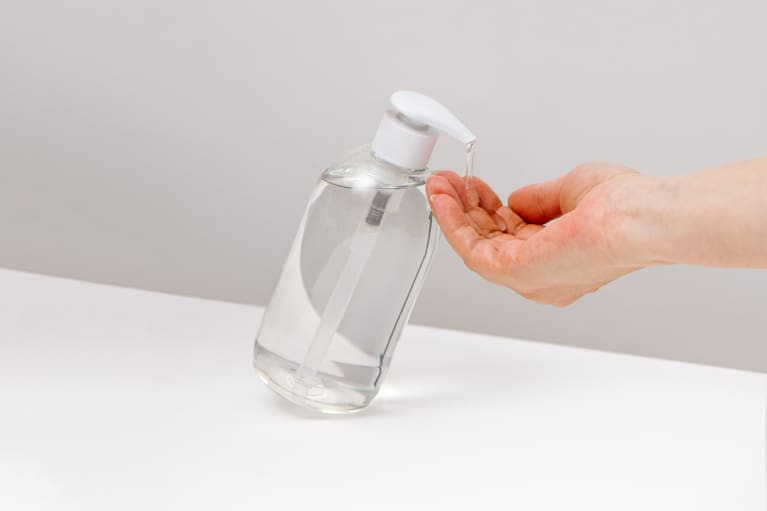 Knowing the best ways to keep healthy and safe during COVID-19 isn't always straightforward, with recommendations on behavior changing nearly daily. Part of that is hand hygiene. Of course, early on we were all told we needed to up our hand-washing and sanitizing practices. But have you ever questioned which one is better for you, hand soap versus sanitizer?
The CDC does have a set of criteria about tending to hygiene in a health care setting, but for us regular folk, what's the best option? Well, we break down the benefits of using both, as well as our expert-approved tips.
In order for a hand sanitizer to meet the CDC guidelines to protect you against COVID-19, it must contain 60% alcohol to maintain efficacy. The rest of the formula is usually some form of buffer or carrier, like aloe vera, for example. Some even add in a touch of fragrance to tone down the pungency.
Pro: Mini hand sanitizers are portable and therefore perfect to use in a pinch and while on the go. They're also effortless and quick—a simple squirt and a few rubs and you've gotten the job done.
Con: Because of their high alcohol content, they are very drying and damaging to our skin microbiome. "Hand sanitizers that are effective at preventing the transmission of COVID-19 are, by definition, biome-unfriendly. To kill the virus we are all trying to protect ourselves from, they must contain alcohols, which are incredibly effective germ killers, meaning they can kill many disease-causing bacteria and viruses within seconds," board-certified dermatologist Whitney Bowe, M.D., has warned us. "The problem is these types of alcohols do major damage to the natural lipids and fatty acids on the surface of your skin, so they damage your skin barrier."
There's certainly more variety in hand soap than hand sanitizers. To make sure you are using an option that can effectively kill COVID-19, do look for options that contain surfactants (or cleansing agents) even if you are someone who avoids sulfates in general. Other than that, find options that contain hydrating ingredients, too (like oat, oils, or butters), so you are nourishing your hands as you wash. Finally, always be sure you are washing your hands vigorously for at least 15 to 20 seconds.
Pros: Soaps are better for skin and microbiome health, which should be their biggest draw. Your skin barrier has many important functions (keeping moisture in, keeping all the bad environmental aggressors out, for example); if compromised you can introduce a host of other issues, like inflammation and even eczema.
Cons: It's not always available, and it takes a bit more effort and time, given you need to be diligent about how you wash your hands, but a few 20-second pauses in your day really isn't that bad, no?
As long as you get well-formulated options, both get the job done when it comes to keeping you safe from COVID-19, and thus you can use both when interacting with others and leaving the home. However, always opt for hand soap and warm water when available. It'll be the best for your skin, microbiome, and overall health long term.
Of course, there will be times when you don't have access to restrooms or a sink, so in those moments, feel free to rely on your hand sanitizer of choice (we recommend finding one with hydrating agents to lessen the dehydrating effects of the alcohol).
Following either, you should also opt for a nourishing hand cream. This will help replenish your lipids and skin barrier, as both soap and especially hand sanitizer can be drying.
Want to turn your passion for wellbeing into a fulfilling career? Become a Certified Health Coach! Learn more here.