Collagen Supplements Can Support Hair Growth After Increased Shedding

mbg Beauty Director
By Alexandra Engler
mbg Beauty Director
Alexandra Engler is the Beauty Director. Previously she worked at Harper's Bazaar, Marie Claire, SELF, and Cosmopolitan; her byline has appeared in Esquire, Sports Illustrated, and Allure.com.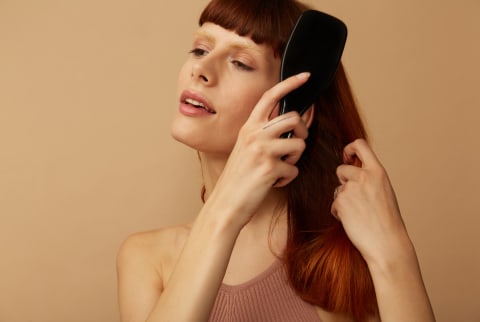 Image by ohlamour Studio / Stocksy
November 16, 2020
For those thinking of taking a collagen supplement, perhaps you've heard the laundry list of reasons people say prompted them to give it a go: Sagging skin due to youth-driven sun damage, tending to poor gut health, or looking to find a solution to stiff joints. Here's another signal it may be time to incorporate the powder into your routine: increased hair shedding.
We all lose hair every day—in fact, some 50 to 100 strands daily. So strands accumulating in your brush or elsewhere is normally no cause for alarm. However, increased shedding (as in more than 100 strands per day) is a phenomenon that many people encounter for a variety of reasons. And when it starts happening to you, it may be a sign you need to incorporate a healthy hair supplement (like collagen and biotin) into your routine.
Advertisement
This ad is displayed using third party content and we do not control its accessibility features.
Here's what you need to know.
Increased hair shedding: The pull test.
Increased hair shedding can happen naturally (our hair goes through cycles, and sometimes we just shed more than normal for no underlying reason whatsoever), lifestyle reasons (like overprocessing) from stress (stress triggers hair loss—it's a fairly well-documented fact), nutrition deficiencies, or even underlying health conditions. (For the latter, a visit to your doctor is warranted.) But it can be difficult to tell if you are, in fact, shedding more than normal. So here's one very quick test from Megan Taylor, stylist at Gloria and Company in Fairhaven, Massachusetts.
"A good way to test your shedding, whether it be normal or too much, is to take a small section of clean dry hair and lightly pull down on that section from the mid-lengths to ends of your hair," says Taylor. "Normally you might notice that none or a strand or two might come out as you pull. If you notice more than a few strands coming out it might be something you want to look into further."
If this is you, and you've ruled out more serious underlying causes, it might be a signal that you should incorporate a hair supplement into your routine.
How collagen and biotin support hair growth.
Collagen and biotin supplements are two of the most famous options for hair health. Collagen supplements are made of hydrolyzed collagen peptides—which are basically just short-chain amino acids.* Amino acids are the building blocks of keratin, the protein that makes up your hair. By supplying your body with adequate nutrients, you encourage scalp health and ideally overall hair health.*
Biotin, a form of vitamin B, has several strong hair health claims. (Actually, thinning hair and hair loss are very common symptoms of biotin deficiency and can be supported with a supplement.*) See, it is believed to naturally promote healthy hair growth because it is also involved in the production of keratin.* In one small study, women with thinning hair reported significant regrowth when supplementing with biotin as compared to those given a placebo.*
You can also consider adding antioxidants—like vitamins C and E—to help manage oxidative stress.* Oxidative stress happens as a result of chronic inflammation and wreaks havoc on the body, hair loss included (stress is a very common trigger for chronic inflammation). So by helping neutralize the free radical damage associated with oxidative stress, you may be able to prevent some of its side effects.*
Advertisement
This ad is displayed using third party content and we do not control its accessibility features.
The takeaway. 
Hair shedding is annoying for anyone who is going through it—even if it's not always cause for alarm. If you want to find ways to support your hair growth, however, you can look for a collagen and biotin supplement for help.

Alexandra Engler
mbg Beauty Director
Alexandra Engler is the Beauty Director at mindbodygreen. She received her journalism degree from Marquette University, graduating first in the department. She has worked at many top publications and brands including Harper's Bazaar, Marie Claire, SELF, and Cosmopolitan; her byline has appeared in Esquire, Sports Illustrated, and Allure.com. In her current role, she covers all the latest trends and updates in the clean and natural beauty space, as well as travel, financial wellness, and parenting. She has reported on the intricacies of product formulations, the diversification of the beauty industry, and and in-depth look on how to treat acne from the inside, out (after a decade-long struggle with the skin condition herself). She lives in Brooklyn, New York.