10 Best Hair Rollers For Any Type Of Curl, From Soft Waves To Stunning Ringlets

mbg Beauty & Wellness Editor
By Jamie Schneider
mbg Beauty & Wellness Editor
Jamie Schneider is the Beauty & Wellness Editor at mindbodygreen. She has a B.A. in Organizational Studies and English from the University of Michigan, and her work has appeared in Coveteur, The Chill Times, and Wyld Skincare.
February 25, 2021
Our editors have independently chosen the products listed on this page. If you purchase something mentioned in this article, we may
earn a small commission
.
While there is no shortage of high-tech innovations in hair care, there are a few mainstays that truly withstand the test of time. Hair rollers fall into that category—these versatile curlers have been perfecting styles since the 1930s, whether you have a straighter strand pattern and are gunning for volume, or you have curls already and are looking to define your spirals. Better yet, many rollers of today use elevated, hair-healthy materials to smooth frizz and minimize heat damage.
Depending on your style goals, you may reach for a different set: Velcro rollers are great for loose, buoyant curls; spongy options offer fluffy springs; flexirods yield defined ringlets; and so on. We've rounded up all the timeless options below.
Advertisement
This ad is displayed using third party content and we do not control its accessibility features.
T3 Volumizing Hot Rollers
For efficient, gentle heat styling, hot rollers are sublime. Simply heat them up (this option has two heat settings to choose from), wrap your sections of hair around the rollers, clip them in place, and let them cool for about 15 minutes. These luxe curlers come in both 1½-inch and 1¾-inch sizes—the former is perfect for softer waves, the latter offering more volume.
Volumizing Hot Rollers, T3 ($119)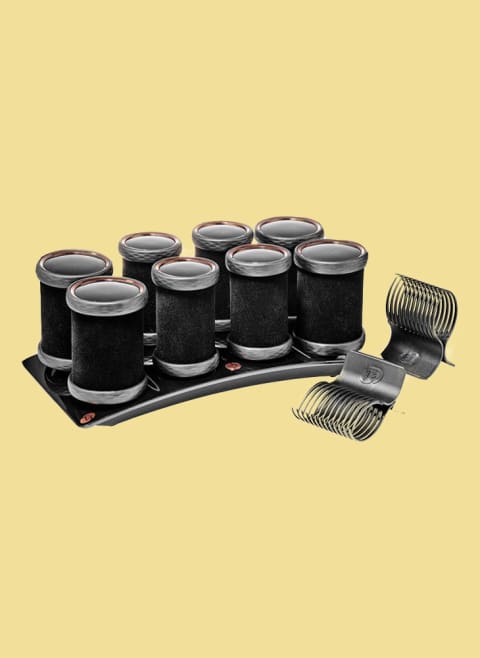 mindbodygreen
Goody Style Curl Finish Foam Rollers
These weightless foam rollers are super gentle on the hair, as they won't pull down on the strands. Plus, they come in a variety of diameters so you can achieve your level of tousled texture—the bigger the roller, the looser the curl.
Style Curl Finish Foam Rollers, Goody ($7.79)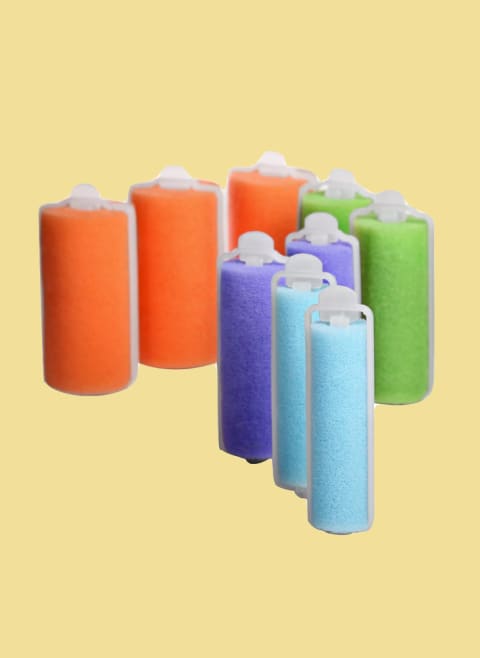 mindbodygreen
Drybar High Tops Self-Grip Rollers
Velcro rollers help you achieve that voluminous, bouncy blowout look. You can either wrap them around the hair post-blow-dry, when the strands are still warm, or put on slightly damp hair for heatless curls. Section the hair to around the same width as the roller (these come in two sizes), stretch the hair out from your head, and roll from the ends all the way up to the crown.
High Tops Self-Grip Rollers, Drybar ($10)
mindbodygreen
Hot Tools Spongy Rod Rollers
Flexirods are A+ for tight, defined ringlets. No pins or clips necessary, which means they're super gentle on the hair (you can even wear these spongy rods overnight) and minimize creasing. You can use rods with the same diameter as your natural texture to define your curl pattern, or use one slightly wider to stretch the curls.
Spongy Rod Rollers, Hot Tools ($14.99)
mindbodygreen
Spoolies Medium Spoolies Hair Curlers
These retro curlers are making a comeback. Beloved in the '50s and '60s, these rubber-based spools offer immaculate pin curls without the use of clips or bobby pins, so they're comfortable enough to leave on while you sleep. The updated version keeps the same promise of pin curls by morning but ups the ante with heat-resistant, nonslip silicone. Wrap sections of hair around the stem of the spool, fold the top over, and let it set.
Medium Spoolies Hair Curlers, Spoolies ($17.99)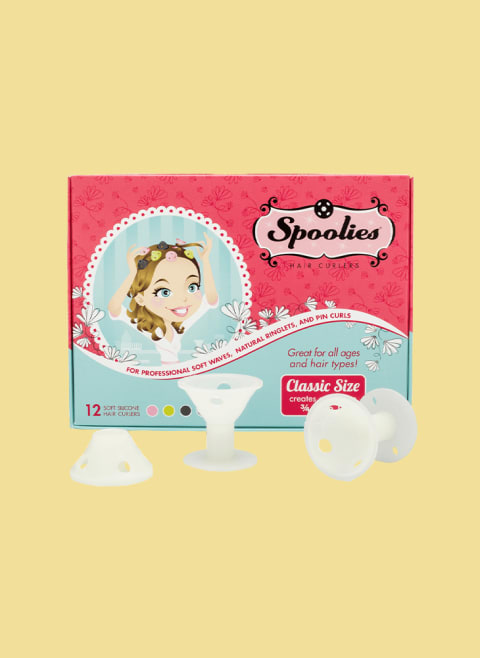 mindbodygreen
Caruso Molecular Steam Hairsetter
Similar to hot rollers, only steam rollers add an extra shot of steam to strongly set the curls. And unlike hot rollers, you'll only use one at a time—heat the foam barrel over the mini steamer before wrapping each section of hair. This set includes 30 rollers in a variety of sizes, from petite ringlets to jumbo curls.
Molecular Steam Hairsetter, Caruso ($36.99)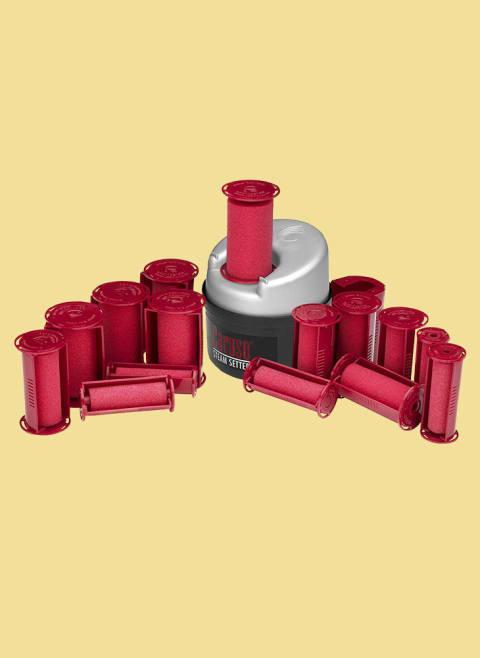 mindbodygreen
Conair Satin Foam Rollers
To set your curls overnight, foam rollers are a great material of choice. The soft material is never harsh on your tresses, and it's especially helpful for air-drying—the spongy material can soak up excess moisture without roughening up the cuticle.
Satin Foam Rollers, Conair ($21.49)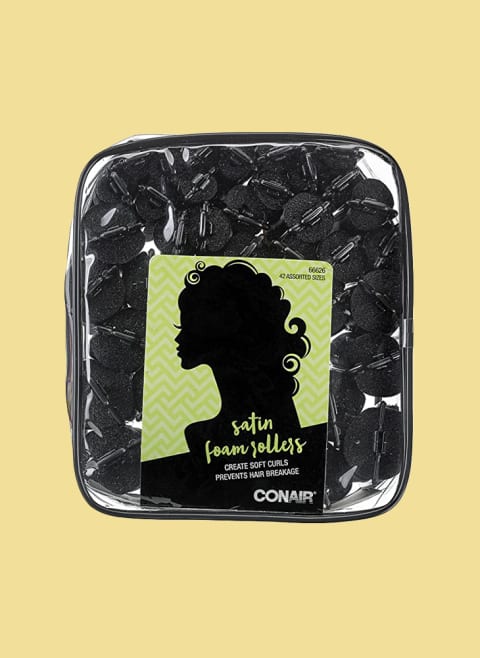 mindbodygreen
KITSCH Ceramic Hair Roller Variety Pack
If you're using rollers post-blow-dry, a ceramic material is ideal for achieving smooth, shiny curls with less heat damage. Ceramic diffuses heat evenly throughout the strand rather than scorching just the surface of the hair (that's why experts typically recommend hot tools with ceramic plates as opposed to titanium).
Ceramic Hair Roller Variety Pack, KITSCH ($14)
mindbodygreen
Remington Pro Hair Setter
Speaking of heat damage, the thermal technology with these hot rollers heats from both inside and out, as opposed to creating hot spots on top of the strands. Plus, these rollers take only 90 seconds to heat up and a mere five minutes to set the curls—you'll be out the door in no time with a full head of bouncy spirals.
Pro Hair Setter, Remington ($33.49)
mindbodygreen
Annie Snap On Magnetic Rollers
Can't get the snap just right? Magnetic rollers are a great option for hair-roller newbies (and those of us with shaky fingers). The only caveat is there are no magnets involved; they're simply plastic rollers that cling to wet hair for a "magnetic" effect. That said, they're best for an air-dry.
Snap On Magnetic Rollers, Annie ($3.02)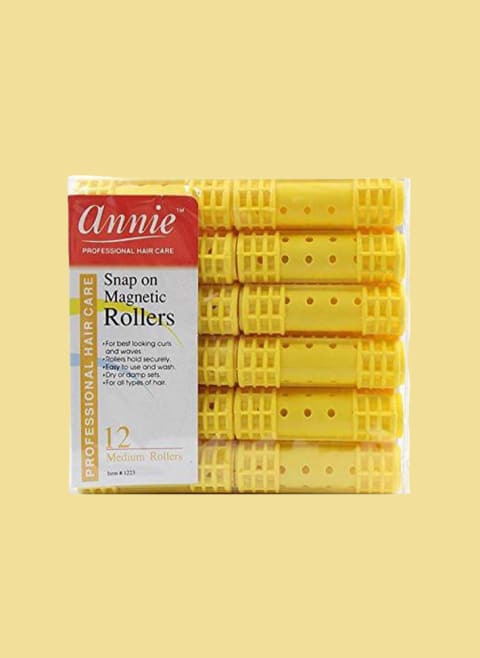 mindbodygreen
Advertisement
This ad is displayed using third party content and we do not control its accessibility features.