A Gut-Soothing Kitchari With A Sneaky Addition Of Veggies To Spice Up Your Meal Plan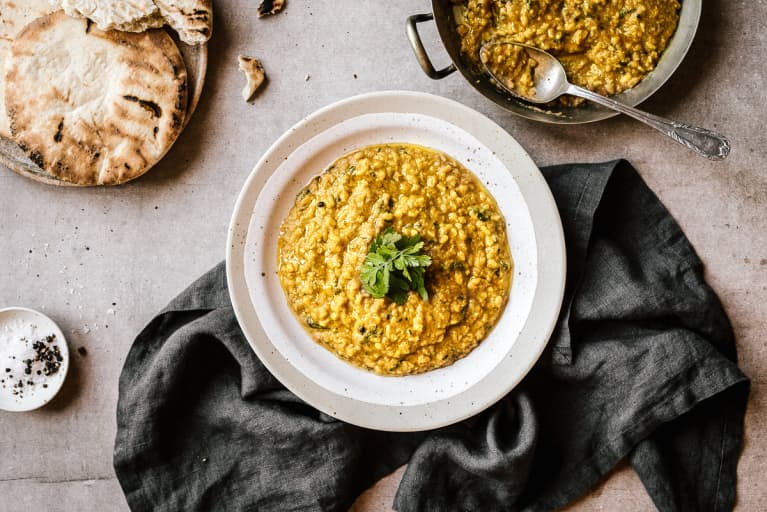 Recently, I've found myself in a rut of making the same bland meals over and over, using the same grains and produce, and generally becoming bored in the kitchen. But one thing I've learned is that there's no reason to lean into this laziness when thousands of recipes exist on the internet that are packed with diverse, nutritious ingredients that can feed your gut microbiome and entice your taste buds.
One such recipe is this Ayurvedic Cleansing Green Kitchari from mbg Collective member Phoebe Lapine of the blog Feed Me Phoebe, who shared this dish on Instagram as a delicious option to support your gut. "Kitchari is traditionally made from either yellow lentils or split peas, basmati rice, a mixture of digestive spices, and ghee," she says in the caption. "But I have a low-FODMAP version that uses just rice."
The ingredients in this particular recipe are excellent for fueling your body on the whole, and long-grain brown rice is a great carb source to keep you full and satiated long after eating. The turmeric in this dish has potent anti-inflammatory properties, and baby spinach is loaded with vitamins K, A, C, and riboflavin.
But just because this dish is already packed with healthy ingredients doesn't mean it can't get any better. In fact, we recommend adding a tablespoon of mbg's organic veggies+ to the mix of seasonings to incorporate a diverse blend of organic sea veggies, berries, herbs, prebiotic fiber, and probiotics—to further promote a healthy gut microbiome and aid in digestion.*
If you're tired of basic salad and pasta dishes for the summer and are looking to add some variety to your meal plan, here's how to make Lapine's green kitchari recipe, with a twist.
Ayurvedic Cleansing Green Kitchari
1 cup dried yellow split peas or lentils
½ cup long-grain brown rice
3 tablespoons ghee or coconut oil
1 tablespoon grated fresh ginger
2 teaspoons ground cumin
1 teaspoon ground coriander
1 teaspoon fennel seeds
1 teaspoon ground fenugreek
1 teaspoon ground turmeric
1 teaspoon sea salt
5 cups vegetable stock or water
1 small crown broccoli finely chopped into an almost rice-like texture (about 2 cups total)
1 medium zucchini coarsely grated (about 1 cup)
1 cup packed baby spinach roughly chopped
¼ cup cilantro leaves
Plain full-fat Greek yogurt for serving
1 tablespoon organic veggies+ (mbg addition)
Rinse the yellow split peas or lentils and rice in a fine-mesh colander under cold water until the water runs clear.
In a large lidded saucepan over medium-high heat, heat the coconut oil or ghee. Add the ginger and cook, stirring, for 30 seconds. Add the cumin, coriander, fennel seeds, fenugreek, and turmeric. Cook for another 30 seconds, until fragrant.
Add the split peas or lentils and rice, and stir to coat in the spices. Add the salt and pour in the water or vegetable stock. Bring to a boil, cover, and reduce the heat to medium-low. Simmer for 35 to 45 minutes, stirring occasionally, until the peas/lentils are tender but not mushy and most of the liquid has been absorbed. (You may need to add more water if the mixture becomes too dry or begins to stick to the bottom of the pan.) Sprinkle in a tablespoon of organic veggies+.
Stir in the broccoli. Cover and cook for another 4 to 5 minutes. Stir in the zucchini and spinach, then remove from the heat and leave to stand for 5 minutes. Serve warm scattered with the cilantro and plain yogurt, if desired.
To make low-FODMAP-friendly: Double the rice and skip the split peas or lentils, and limit the broccoli to 2 cups. The mixture doesn't have onion or garlic, so for once, you're covered in that department. And you can serve without the yogurt topping.