A 4-Ingredient Guacamole Recipe With A Stealthy Serving Of Veggies
Assistant Managing Editor
By Abby Moore
Assistant Managing Editor
Abby Moore is an assistant managing editor at mindbodygreen. She earned a B.A. in Journalism from The University of Texas at Austin and has previously written for Tribeza magazine.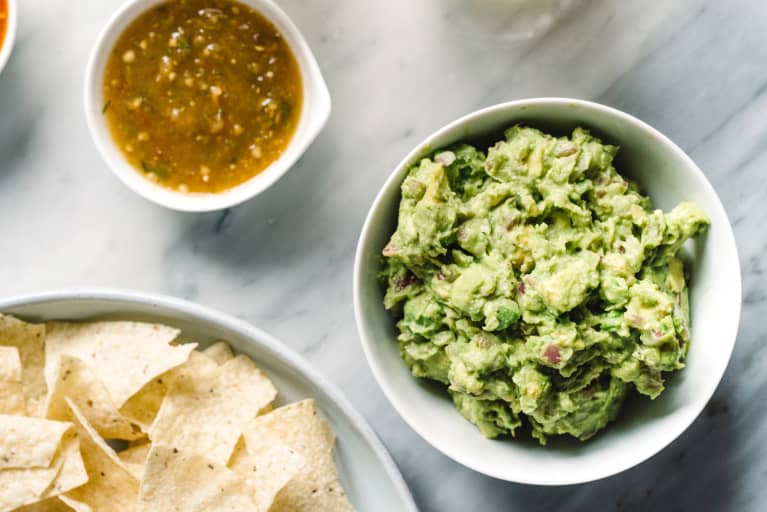 This article was produced to support the mindbodygreen supplements+ line. Our supplements adhere to the highest standards of ingredients and quality. We hope you enjoy these products, for more information
click here
.
Not only is guacamole a creamy, craveable dip—it's also full of nutrients. While the specifics vary per recipe, all guacamole contains healthy fats and antioxidants from avocados, which have been shown to lower cholesterol. To amp up the health benefits even more, mbg created a four-ingredient guacamole recipe starring mbg organic veggies+ greens powder.
"Adding veggies+ to your guac basically supercharges it with more nutrients, anti-inflammatory benefits, and gut-friendly probiotics," registered dietitian Maggie Michalczyk, R.D., tells mbg.*
The greens powder is also packed with sea veggies and dark leafy greens, which Michalczyk says are good sources of vitamins and minerals, including magnesium, calcium, and potassium.* "Adding it to a dip like this is a not-so-sneaky way to give yourself a nutritional boost in a fun way," she adds.
Along with three ripe avocados and organic veggies+, this recipe combines purple (aka red) onion and garlic. These allium vegetables can help manage blood pressure and support the immune system with their antimicrobial properties.
3 whole avocados, peeled and mashed
¼ cup purple onion, diced
2 cloves garlic, minced
1 Tbsp. organic veggies+
Optional: add sea salt and lime for taste
In a medium bowl, mash avocado, organic veggies+, sea salt, and lime.
Mix in onion and garlic.
Optional: Garnish with cilantro.
Pair this extra-healthy guacamole with veggies, or scoop it onto vegan tacos—however you serve it up, know that you're getting a healthy snack or meal with ample nutrients.