We Asked Plant Experts Everything You Need To Know About Grow Lights

mbg Sustainability + Health Director
By Emma Loewe
mbg Sustainability + Health Director
Emma Loewe is the Senior Sustainability Editor at mindbodygreen and the author of "Return to Nature: The New Science of How Natural Landscapes Restore Us."
Last updated on January 11, 2023
Our editors have independently chosen the products listed on this page. If you purchase something mentioned in this article, we may
earn a small commission
.
When the sun isn't on your side, grow lights can come to the rescue. Whether you're looking to get a leg up on vegetable growing season or just help your houseplants survive the winter, here's how to find the best grow light for your needs and space.
Advertisement
This ad is displayed using third party content and we do not control its accessibility features.
How grow lights work.
Unlike the bulbs in chandeliers or sconces, grow lights emit a spectrum of light that's similar to the sun.
"Grow lights let indoor growers of any scale bring the right spectrum of light to their plants," says Roger Buelow, the chief technology officer at AeroFarms, a high-tech vertical farming company that grows produce indoors year-round.
"Technically, plants don't need sunlight. They need the appropriate spectrum of light," he explains, adding that plants are actually quite choosy in this regard. Their chloroplasts only conduct photosynthesis for a narrow bandwidth of light, which a grow lamp can deliver.
Grow lights also give off less heat than traditional light sources, making them less likely to scorch your plants.
You can use grow lights to start seeds indoors before spring, care for outdoor plants that have moved inside for the winter, or grow plants indoors all year long. They can also act as stand-in windows for those who live in darker homes and need some help keeping sunlight-loving houseplants alive.
Advertisement
This ad is displayed using third party content and we do not control its accessibility features.
LED vs. fluorescent lights.
Fluorescent pros: Inexpensive & easy to use.
Of the two categories of grow lights, fluorescents are the more basic option. They're great for beginners because they're inexpensive, easy to use, and they get the job done.
"They do not provide a specialized color range like some of the LED lights, but they can be used on all manner of plants efficiently," Kevin Espiritu, the founder of Epic Gardening, tells mbg. "I especially like them for seed-starting and microgreens, but they work just as well for indoor houseplants in need of a little extra light."
They come in a variety of sizes, from extremely small to industrial-level huge, giving green thumbs plenty of options to choose from.
Advertisement
This ad is displayed using third party content and we do not control its accessibility features.
Fluorescent cons: Short lifespan & not recyclable.
Fluorescent lights are less energy-efficient than LED bulbs, so they may be more expensive to run over time even though the initial investment is lower.
They also contain mercury, making them impossible to recycle and potentially dangerous if shattered.
Fluorescents have a much shorter life span than LEDs, so if you anticipate running your bulbs year-round, they're probably not the best option for you.
"If you are growing plants to maturity indoors, you may need full-spectrum LED lighting instead," says Angela S. Judd, master gardener and author of How To Grow Your Own Food.
LED pros: Energy efficient & customizable.
LEDs are an increasingly popular alternative to fluorescents—in part because they give you more control over your light source.
"The benefit of LED lights for your plants is that it offers a full spectrum of lights, including blue light, which promotes the chlorophyll and leaf production in leafy vegetables and herbs; and red light, which benefits the blossom production of flowering or fruiting plants," Allison Vallin Kostovick, the organic gardener behind Finch & Folly farm, tells mbg.
AeroFarms chose to go with LEDs to power their operations because they allow them to get granular with the spectrum, intensity, and frequency of light they give each crop.
"LEDs have a much longer life span and are more energy-efficient than fluorescent bulbs," Buelow adds. This means that although they're more expensive up front, they'll pay for themselves over time if you use them enough.
Advertisement
This ad is displayed using third party content and we do not control its accessibility features.
LED cons: Expensive & not as attractive.
As mentioned, LED bulbs can be a shock to the wallet at first. They also cover a relatively small area, meaning you may have to buy more than one depending on the size of your plant collection.
The range of colors that some LEDs give off—bright blues, reds, and purples—aren't for everyone. Some consider LEDs too distracting and unappealing for home use.
What to consider when choosing your grow lights.
The decisions don't stop once you choose between LEDs and fluorescents. There are many types of grow lights on the market these days, but these considerations can help narrow your search:
When you'll be using them for: Again, fluorescent lights tend to be better for beginners who are using grow lights on a small plant collection for a limited time window (i.e., to start seeds). Kostovick estimates that a light that holds two 40-watt T12 fluorescent bulbs would be plenty in this case. If you are a more advanced grower looking to keep plants alive year-round, or you're working with a finicky crop you really want to see succeed, go with LEDs.
How much room you have: Do you have room for an entire shelving unit with built-in grow lights, or are you looking for a single bulb that can fit into an existing clamp light? Consider vertical space, too. "LED lights need to hang at least 14 to 24 inches above the plants, whereas fluorescent lights can hang as little as 3 inches above the plants, making it easy to hang several shop lights on one stacked shelving unit," Kostovick explains. The more lumens a light has, the brighter it is and the farther away you can position it from your plants.
What you're growing: Generally, lights that have a bluer hue (5,000 to 7,000 Kelvin) promote vegetative growth while red ones (3,500 to 4,500 Kelvin) are better for fruiting and flowering. The former tends to be better for leafy vegetables and herbs, while the latter is better for flowers, as Kostovick mentioned earlier. Plants that need a lot of sunlight will require brighter bulbs that have a higher wattage number.
Your sensitivity to light: If you experience any photosensitivity (or just don't want bright, colorful lights in your living space), urban gardener Marie Viljoen recommends choosing white, full-spectrum bulbs.
Advertisement
This ad is displayed using third party content and we do not control its accessibility features.
Our picks.
And with that, you're ready to shop the grow lights that expert gardeners use in their home setups. These are the crème de la crème for cultivation, and there's something on this list for everyone:
Best budget: VIVOSUN 6500K 2FT T5 HO Fluorescent Grow Light
Judd uses this fluorescent grow light to start her seeds indoors every year. The unit comes with either two, four, or eight tube lights that can be hung from a ceiling or attached to a shelving unit. She says that for the price, it does a great job at distributing light to all her seedlings and keeping them from getting too leggy before their journey outdoors.
6500K 2FT T5 HO Fluorescent Grow Light, VIVOSUN ($81)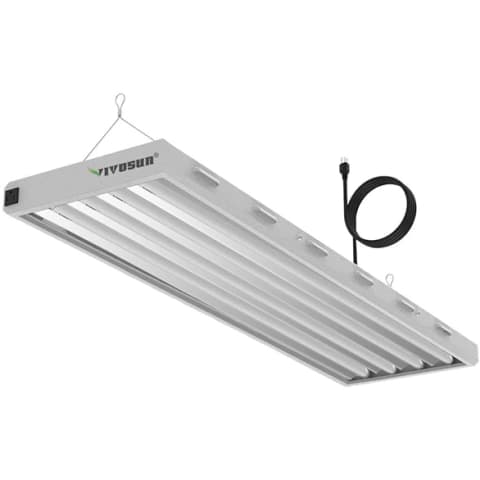 VIVOSUN
Best starter light: EZORKAS 9 Dimmable Levels Grow Light
Bendable LEDs can be adjusted to direct light where it's needed, and both Thomas and Kostovick note that they're great for keeping larger houseplants happy all year long. This affordable model also comes in multiple red-blue color modes with adjustable brightness. As an added bonus, it runs on a set-it-and-forget-it timer, making it a convenient pick for anyone who's new to using grow lights.
9 Dimmable Levels Grow Light, EZORKAS ($20)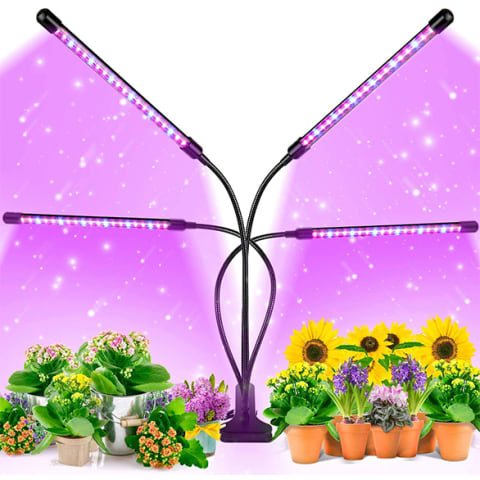 EZORKAS
Best for seed starting: Gardener's Supply Co. Tabletop Sunlite® Garden
In her home setup, Christy Wilhelmi, the organic gardener behind Gardenerd, opts for this Sunlite garden that takes up 4 feet of table space. "I use it for starting all my seeds in trays before planting them out to the garden. I'm not sure it's ideal for long-term plant care, but it's perfect for getting a jump on the season," she says of the fluorescent unit. She appreciates that its lightweight lights can be lowered and raised as needed with an attached pull chain, making it well-suited to different types of plants.
Tabletop Sunlite® Garden, Gardener's Supply Co. ($299)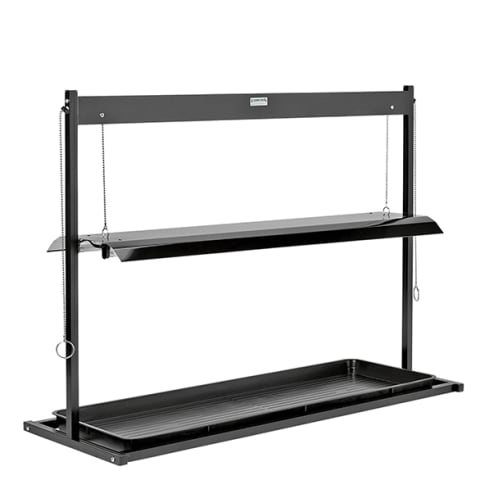 Gardener's Supply Company
Best LED: EXLENVCE 1500W LED Grow Light
This high-wattage unit from EXLENVCE will give you a good sense of the power of LEDs: It comes in red mode and blue modes—both of which are bright but surprisingly energy efficient—and hangs on chains for easy maneuvering. Kostovick likes to use it for starting taller, more finicky plants like tomatoes.
1500W LED Grow Light, EXLENVCE ($98)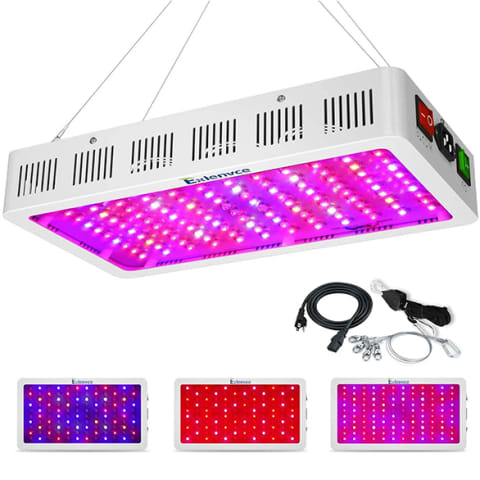 EXLENVCE
Best for winter growing: LED Full Spectrum Grow Light Bulb
This LED bulb is full-spectrum, so it delivers multiple frequencies of light that come together to appear white. Viljoen appreciates that the bulb is unassuming and screws into a standard bulb socket. She has two of them screwed into desk lamps perched on a tall piece of furniture; she places her light-loving Meyer lemon tree underneath the light when she brings it indoors for winter and throughout the rest of the year, she can just use those lamps as normal. One note of caution: "The bulbs are heavy, so make sure the lamps are sturdy enough and don't tip over," she says.
LED Full Spectrum Grow Light Bulb, SANSI ($30)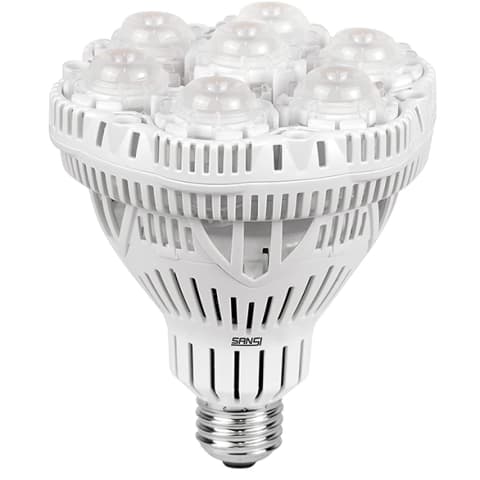 SANSI
Most versatile: Hydrofarm Agrobrite FLT48 T5 Fluorescent
Espiritu says his Agrobrite T5 fluorescent light systems are "very energy-efficient, long-lasting, and don't put out a lot of heat that could damage plants." He chose it over an LED model because it was less expensive up front, and he knew its replacement bulbs were affordable and readily available. "If you want to have a hybrid system, you can even buy LED bulbs for your T5 light fixture," he adds, making this a versatile pick that can grow with you over time.
Agrobrite FLT48 T5 Fluorescent, Hydrofarm ($278)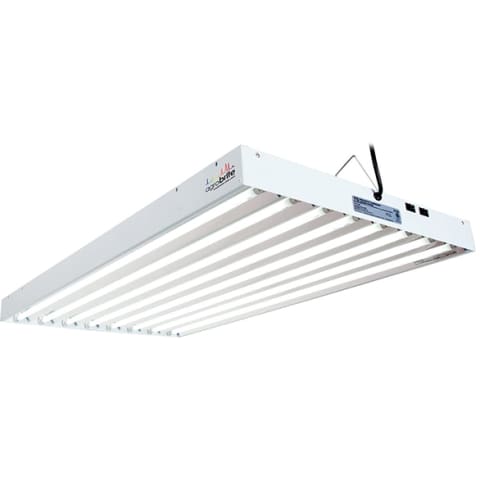 Hydrofarm
Most stylish: Oslo 2-Tier LED Grow Light Garden
If you're ready to "bat in the big leagues," Kostovick says this is a great splurge. It comes with two removable shelves and magnetic LED fixtures that can be adjusted as needed. At 6,400 Kelvin, the lights appear white and are suitable for most plants. While it can be used year-round, this undercover grower can also store other items in the chance of an offseason.
Oslo 2-Tier LED Grow Light Garden ($289)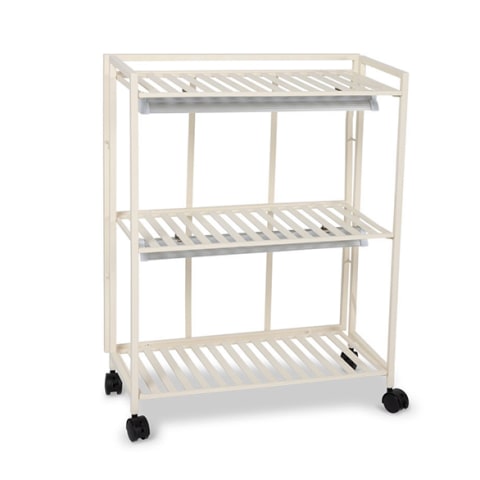 Gardener's Supply Company
The bottom line.
These gardener-tested grow lights can help any plant bask in the "sun" and grow to its full potential. Just be sure to keep up with watering and stay on the lookout for signs of plant distress once you invite all that extra light in.