An Aromatherapist's Absolute Favorite Essential Oil Blend For Bedtime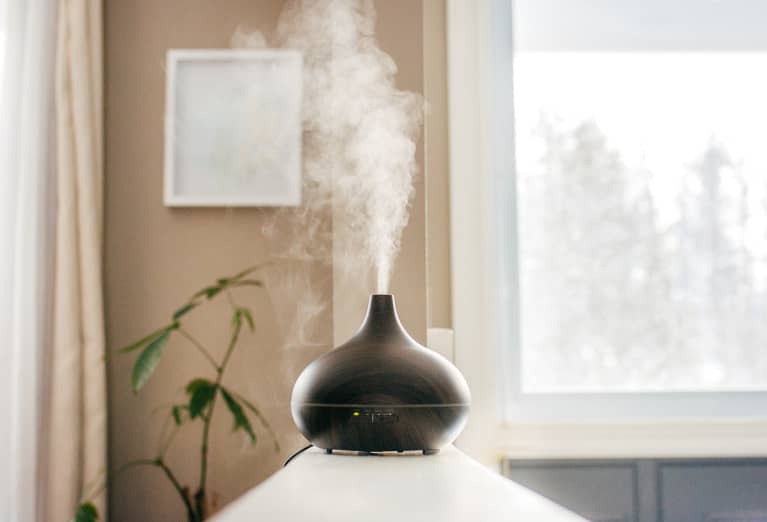 This article was produced to support the mindbodygreen supplements+ line. Our supplements adhere to the highest standards of ingredients and quality. We hope you enjoy these products, for more information
click here
.
An essential oil blend for bedtime.
According to Cohen, lavender is definitely a good place to start, and when you pair it with citrus blends, which are simultaneously refreshing and relaxing, you've got a great bedtime blend. "My favorite clean, fresh, and light combination is Lavender and Orange Lavender," she tells mbg, adding, "It's known for its sedative, anxiety relieving, and calming properties that help your body relax into a restful sleep."
She explains that a key constituent in lavender, called linalool, helps activate the calming neurotransmitter GABA, which helps calm your mind and body. "Similarly, citrus oils like orange demonstrate strong mood-enhancing and stress-reducing effects that can help calm the mind to support a restful sleep."
If you're a fan of more floral scents, and/or you struggle with waking up during the night, Cohen says you can also add eight drops of geranium or rose geranium to this blend. "Geranium is a wonderful oil to help alleviate night waking," she says, and it has been linked to a significant decrease in blood sugar levels.
Whether you add a few drops to your shower or bath, use it in a diffuser, or simply take a few whiffs before bed, Cohen says this blend is her favorite when it's time for bed.
Other sleep tips to keep in mind.
Along with essential oils, there are plenty of other things you can do to help ensure you get the best sleep possible. For one thing, making sure your bedroom temperature is around 65 degrees Fahrenheit has been found to improve sleep quality and mitigate restless sleep.
In addition to that, magnesium-rich bedtime snacks like nuts and seeds, or a piece of dark chocolate, can also help you start to unwind. But really, anything that helps you relax, be it a bedtime meditation, reading a book rather than scrolling on your phone, or doing a calming yoga flow, can help you signal to your body and mind that it's time to rest.
The bottom line is, good sleep can be hard to come by if you're feeling particularly stressed, or you struggle to fall asleep in general. But thanks to their specific properties, essential oils like lavender and citrus scents can be just what we need to start relaxing, so we can fall asleep, stay asleep, and wake up feeling rested.