The 12 Best Products For Glowing Skin: Serums, Supplements & More

Contributing writer
By Emily Rekstis
Contributing writer
Emily Rekstis is a freelance writer who has worked at Harper's Bazaar, Self, And UsWeekly. Her bylines appear in Healthline, Byrdie, Women's Health, MyDomaine, BuzzFeed, The Cut, Allure and many more.
January 31, 2022
We carefully vet all products and services featured on mindbodygreen using our
commerce guidelines.
Our selections are never influenced by the commissions earned from our links.
Glowing skin is essentially the be-all and end-all of an exceptional complexion. Not only does it mean that skin is clear and smooth, but it also means that your complexion is so beautifully healthy, it emits a radiance. The best is when it's so impressive that people start asking, "What is your skin care routine?"
This is where we come in! If it's a glowing complexion that you're after, there are a lot of key ingredients that can help you achieve this level of skin care success: From the classic, go-to favorite vitamin C to anti-aging powerhouse retinol to common underdog niacinamide. But we don't stop at topicals—we also think skin health takes a holistic approach, so we also included supplements and a relaxing face roller. Keep scrolling to see all the different ways you can implement these ingredients in your skin care routine for seriously impressive results.
Best face wash: Indie Lee Brightening Cleanser
It's always good to start your routine with a beneficial face wash that not only cleanses but also delivers a boost of good-for-your-skin ingredients. This one is formulated with lycopene to provide antioxidant and exfoliating benefits without irritating or stripping the skin. That "without" is key here, since over-exfoliation can lead to dull, angry skin. And after all, there's nothing worse than a cleanser that leaves your skin tight and dry.
Brightening Cleanser, Indie Lee ($34)
Indie Lee
Best toner: Whamisa Organic Flowers Toner Deep Rich
There's nothing like a toner to efficiently brighten your complexion. However, many are formulated with alcohol, leaving skin dehydrated. Not this one, though! It's formulated with aloe vera leaf extract and oat kernel extract for a calming, moisturizing effect that leaves skin radiant and plump. Plus, the bouncy serum-like texture feels luxe, and the Damask rose essential oil smells absolutely fabulous. We know these may not be the most important thing, but they don't hurt!
Flowers Toner Deep Rich, Whamisa Organic ($43)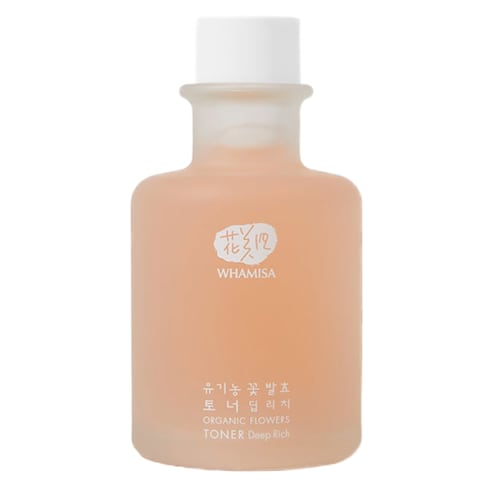 Whamisa
Best vitamin C serum: True Botanicals Vitamin C Booster
Vitamin C is a go-to skin brightener, simultaneously minimizing hyperpigmentation, combating oxidative stress, and fighting against photodamage. As a result, skin appears smoother, plumper, and more even. Sounds like a powerhouse ingredient, right? Well, you're definitely not wrong, but its biggest downside is that it's notoriously unstable, losing its chemical power when formulated in a cream, liquid, or serum. That's why we love this powder formula so much. You can add it to any moisturizer or serum. Another bonus: It's formulated with ferulic acid, so the two ingredients work together seamlessly to only enhance their antioxidant benefits.
Vitamin C Booster, True Botanicals ($90)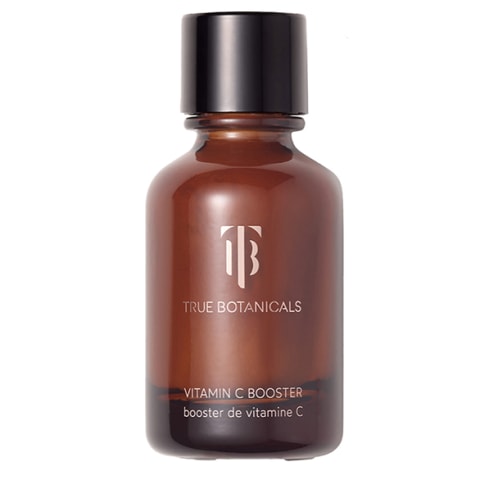 True Botanicals
Best retinol: Marie Veronique Gentle Retinol Night Serum
Retinol is known for its healthy aging abilities, promoting collagen product and cell turnover. With these credentials, you can expect skin to appear brighter and more youthful. But not only does this serum use a microencapsulated retinol for a gentle approach, but it's also paired with vitamin C with the help of vitamin E to help stabilize the two for an impressively smoother, luminous complexion.
Gentle Retinol Night Serum, Marie Veronique ($110)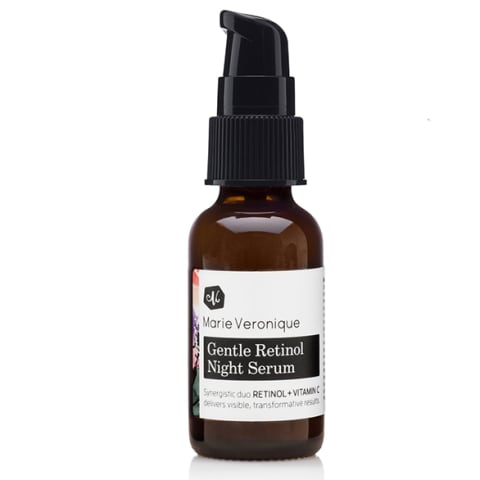 Marie Veronique
Best niacinamide serum: Follain Brightening Serum
Niacinamide and vitamin C make for an unstoppable combination, providing many of the same benefits such as evening out skin tone and texture. So it's no wonder this serum is a must-have when it comes to boosting radiance for all skin types. Beyond the pairing of vitamin C and niacinamide, this serum is also formulated with yuzu and tangerine extracts to help reduce the appearance of pigmentation, as well as prebiotic to help support a balanced skin microbiome.
Brightening Serum, Follain ($38)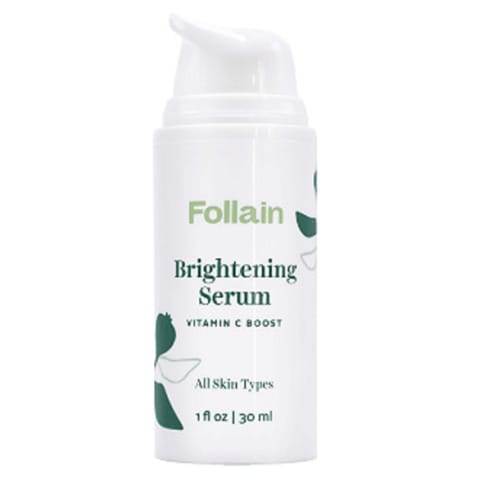 Follain
Best face cream: Origins Ginzing Energy-Boosting Gel Moisturizer
Caffeine and ginseng work together to wake up the skin by decreasing puffiness, irritation, and redness. Then the finely crushed mineral pearls deliver an immediate illumination—all while hydrating the skin!—making this moisturizer an ideal addition to any morning routine.
Ginzing Energy-Boosting Gel Moisturizer, Origins ($32)
Origins
Best highlighter: RMS beauty Mini Living Luminizer Highlighter Glow Quad
Whether you're trying to make your cheekbones pop, your eyelids sparkle, or your cupid's bow shimmer, this creamy palette can do it all. Unlike other highlighters on the market, this one won't leave a glittery finish on the skin. Instead, it delivers a naturally dewy hue that still has a wow factor you're sure to love.
Mini Living Luminizer Highlighter Glow Quad, RMS beauty ($28)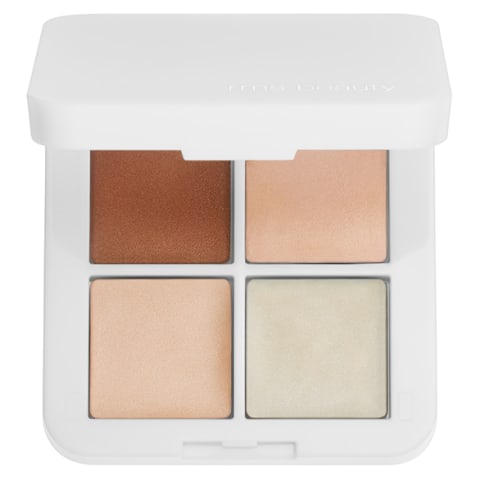 RMS beauty
Best supplement: mbg cellular beauty+
No matter how many creams and serums you slather on your skin, good skin needs some help from within. Enter: this beauty supplement. Made with astaxanthin, phytoceramides, ubiquinol CoQ10, and whole-fruit pomegranate extract, these premium botanicals and bioactives help to reduce wrinkles, support skin elasticity, and support cellular rejuvenation. The results? A healthy, glowing complexion.*
cellular beauty+, mbg ($76)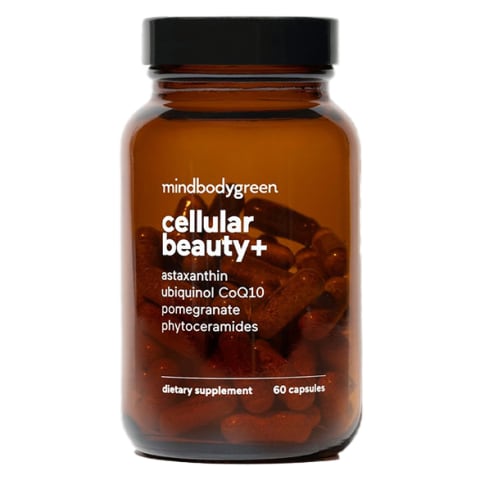 mindbodygreen
Best tool: Skin Gym Goldie Face Roller
If you've always wanted to give microneedling a try but are scared of the whole "wounding" skin thing, this is the tool for you. Unlike your average microneedling roller, this one is made with noninvasive edges for a face massage that doesn't puncture the skin (a concept we can get behind). However, the refreshing, glowing results are still the same.
Goldie Face Roller, Skin Gym ($68)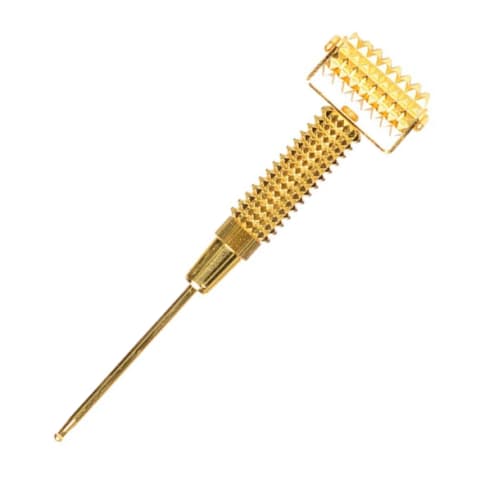 Skin Gym
Best mask: Tata Harper Resurfacing BHA Glow Mask
Improve the texture and appearance of your complexion with this elegant face mask. Formulated with white willow bark extract, pomegranate enzymes, and pink clay, this gel mask delivers a deep, exfoliating cleanse, sloughing away dead skin cells while absorbing the buildup, delivering a soft radiance that's envy-worthy.
Resurfacing BHA Glow Mask, Tata Harper ($65)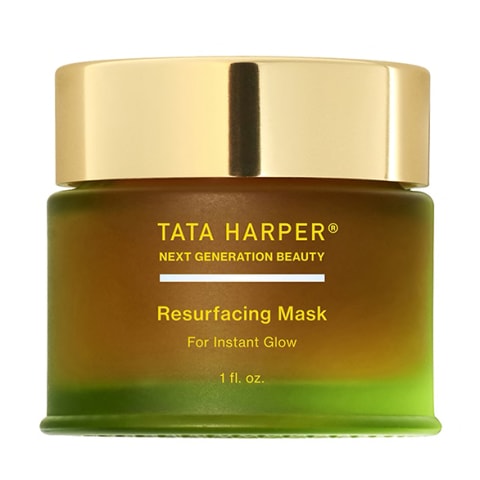 Tata Harper
Best peel: Dr. Dennis Gross Skincare Alpha Beta® Universal Daily Peel
These peel pads are a classic for a reason. They gently, but effectively, reduce dullness and uneven skin tone thanks to BHAs and AHAs like glycolic acid, salicylic acid, and lactic acid. While the glycolic acid helps skin appear smoother by decreasing hyperpigmentation and photoaging, salicylic acid gently encourages exfoliation and cleans out the pores. Meanwhile, BHA lactic acid minimizes breakouts without irritating the skin.
Alpha Beta® Universal Daily Peel, Dr. Dennis Gross Skincare ($88)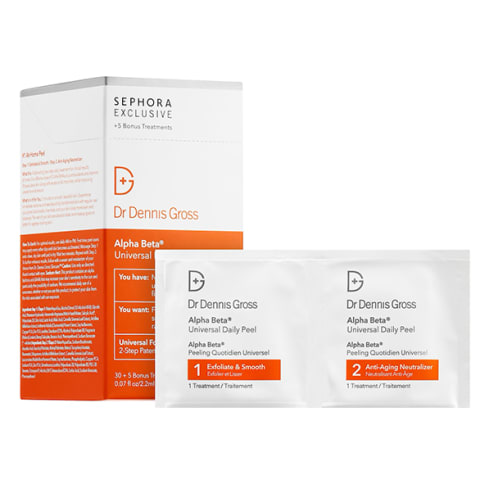 Dr. Dennis Gross Skincare
Best eye care: Tatcha The Pearl
Brightening your under-eyes is key to appearing awake and healthy. This tinted treatment not only color corrects the under-eye area for an immediate effect, but it also uses key ingredients like niacinamide for long-term results. It's also formulated with light-refracting pearl pigments for an instantly brightening finish.
The Pearl, Tatcha ($48)
Tatcha The Pearl
mbg's review process
At mbg, high standards are earned—and there are no shortcuts. Our beauty editors stay up to date on the latest ingredient research and innovation. It's a dynamic, continuously evolving space, and it's important we look into the science so we can make informed choices about which formulas earn our stamp of approval (figuratively speaking).
Our high standards also come from testing products—many, many products. Our editors and writers rigorously test and research the products featured in our roundups to offer you the best, most informed recommendations. When we write reviews, you can trust we spend quality time with the formulas: We don't simply rave about products we've slathered on the back of our hand. We endorse products we've tried and loved.
Learn more about our testing process and clean beauty standards here.
If you are pregnant, breastfeeding, or taking medications, consult with your doctor before starting a supplement routine. It is always optimal to consult with a health care provider when considering what supplements are right for you.

Emily Rekstis
Contributing writer
Emily Rekstis is a freelance writer, editor and content creator. After serving as the beauty assistant at Harper's Bazaar and Self magazine, she went on to cover celebrity beauty and fashion as UsWeekly's Style Editor. Consistently curious and always willing to learn, she indulges in her variety of interests writing about everything from beauty trends to health habits to design tips for publications like Healthline, Byrdie, Women's Health, MyDomaine, BuzzFeed, The Cut, Allure and many more.