How To Actually Keep Your Glass Shower Clean + 5 Products To Help

mbg Sustainability + Health Director
By Emma Loewe
mbg Sustainability + Health Director
Emma Loewe is the Senior Sustainability Editor at mindbodygreen and the author of "Return to Nature: The New Science of How Natural Landscapes Restore Us."
January 11, 2023
We carefully vet all products and services featured on mindbodygreen using our
commerce guidelines.
Our selections are never influenced by the commissions earned from our links.
The shower is where we go to feel fresh and clean, making it just about the last place you want to see dirt and grime. We asked cleaning experts about the no-fail strategies and go-to products that help them keep their glass showers spotless.
The best ways to clean your shower door.
As many of us know all too well, glass shower doors attract soap scum and mineral buildup over time if they are not well maintained. "About 85% of US households are affected by hard water, which results in the buildup of mineral deposits, mixed with soap scum, that can make it difficult to keep shower doors and walls clean," explains Alexandra Wojenski, a cleaning expert and "Grove Guide" at Grove Collaborative.
Beyond excessive soap scum buildup, professional cleaner Lisa Sosa of Clean Happy Co adds that the large size of glass showers can make them difficult for some people to clean. Glass is also easily scratched and scuffed, meaning harsh abrasive cleaners are out of the picture.
These experts agree that regular maintenance is the key to keeping glass showers looking good. Here's the cleaning schedule they recommend for staying on top of it:
After every shower: Use a squeegee to remove any water left over on your glass after each shower. (Keep the squeegee in a place where you can see it so you don't forget!) You can then spray with a cleaning product designed to prevent buildup from forming. Be sure to turn on your exhaust fan or open a window to keep mold from settling in your shower.
Once weekly: Spray an acidic glass cleaner (like those below) onto the shower door, let sit for 10 to 15 minutes, and wipe with a non-abrasive sponge or rag. "Spray the glass and then using your rag, wipe vertically and then horizontally. For larger glass doors that are hard to reach, you can attach your rag to a Swiffer mop handle," says Sosa. The acid in the cleaner will cut through those mineral and hard-water deposits. For a shiny finish, Wojenski adds that you can wipe the area dry with a microfiber cloth.
As needed: Those with particularly hard water may notice areas of stubborn buildup that just don't seem to go away. Treat those with an abrasive spot cleaner (we've got a recipe for you below) and let sit for at least five minutes before wiping clean. Professional cleaner and organizer Ileana Cabrera adds that using a fine steel wool sponge (Grade 0000) can also help clear tough hard water stains.
To prevent soap scum from forming in the first place, Sosa notes that switching from bar soap to a liquid body wash can reduce the amount of buildup in your shower. Liquid washes don't contain the same thick, waxy, grime-trapping solids that bar soaps do.
Our product recommendations.
These products have the stamp of approval from cleaning experts and hundreds of reviewers putting them to good use in their bathrooms.
Not only are they all highly rated, but these nontoxic cleaners are also made with ingredients that the Environmental Working Group has deemed safe in its Healthy Cleaning database, which analyzes ingredients on their impact on human and environmental health. They also won't harm the environment when they are ultimately washed down your drain, as demonstrated by their Made Safe and Safer Choice1 labels.
Looking for safe, eco-friendly products is especially important with shower cleaners, as they tend to be used in enclosed spaces. When taking those deep, nourishing breaths in the shower, you want to make sure what you're inhaling is good for you.
Here are five cleaners you can feel good about using daily, weekly, or as needed on your shower:
Best sustainable: Grove Co. Daily Shower Cleaner Concentrate + Reusable Cleaning Glass Spray Bottle
This cleaner gets its acidity from citric acid—an organic material that's naturally found in citrus fruits and gets an A rating from the Environmental Working Group. "The plant-based ingredients effectively break down buildup before it starts to form grime," Wojenski explains of the product, which is designed to be sprayed onto glass surfaces after your daily shower (no rinse required!). We love that the cleaning concentrates use natural fragrances and come in recyclable glass bottles. When combined with water, each one forms enough cleaner to fill a 16-ounce spray bottle.
When to use: After you run your shower
Pros: Comes in reusable & recyclable packaging
Cons: Most effective if used daily, so it requires some upkeep
Grove Co. Daily Shower Cleaner Concentrate + Reusable Cleaning Glass Spray Bottle($16.99); grove.co
Grove Co
Best for soap scum: Mrs Meyer's Clean Day Vinegar Gel Cleaner, Lemon Verbena
For a deeper weekly clean, Wojenski recommends this vinegar-powered gel from Mrs. Meyer's, specifically formulated for cleaning hard-water stains and soap scum. Once a week (or whenever you notice mineral buildup on your glass), simply apply the gel to problem areas, let sit for 10 to 15 minutes, and remove to reveal a clean and scum-free surface. Reviewers note that the cleaner is also effective for shining up stainless steel. Some people's skin is sensitive to some of its preservatives (Methylisothiazolinone, Benzisothiazolinone) so be mindful of that.
When to use: About once a week, depending on how hard your water is
Pros: Comes in easy-to-apply gel
Cons: Made with some potentially bothersome preservatives
Mrs Meyer's Clean Day Vinegar Gel Cleaner, Lemon Verbena ($19.91); amazon.com, grove.co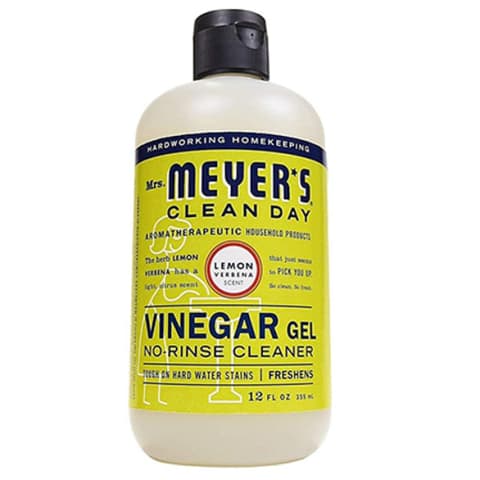 Mrs. Meyer's
Best for hard water: 9 Elements Bath Spray
All of 9 Elements' products harness the power of vinegar to clean tough grime and hard-water stains—but its bathroom spray is where the ingredient can really shine. The simple formula (made with nine ingredients or less, as the name suggests) pairs vinegar with sodium citrate for a safe but effective cleaner that can be used on glass as well as other bathroom surfaces like ceramic, tile, and porcelain.
When to use: About once a week, depending on how hard your water is
Pros: EPA Safer Choice certified
Cons: Some reviewers note that it can streak, so be sure to wipe it down completely after use
9 Elements Bath Spray ($4.99); target.com, amazon.com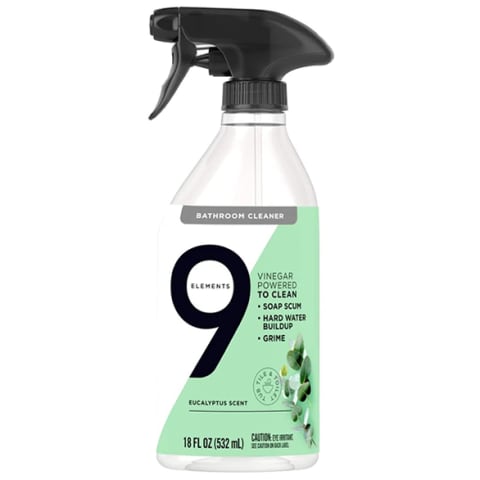 9 Elements
Best for stubborn stains: Branch Basics Oxygen Boost
This powdered product can tackle caked-on stains on or around your glass shower door, sans harsh cleaners like ammonia or bleach. It combines sodium percarbonate and sodium bicarbonate (both have A ratings by the EWG) for an all-purpose spot treatment that can work in the bathroom as well as in the laundry, on carpets, and more. In the shower, simply sprinkle it on top of the buildup, let sit for five minutes, then wipe off with a scrub brush to reveal an impossibly clean surface below. Trust 1,000-plus five-star reviews; this stuff really works! Test out on a small patch of glass first to make sure it isn't too abrasive for your shower.
When to use: When you have stubborn stains
Pros: Powerful bleach alternative
Cons: Might scratch glass; test on a small area first
Branch Basics Oxygen Boost ($22); branchbasics.com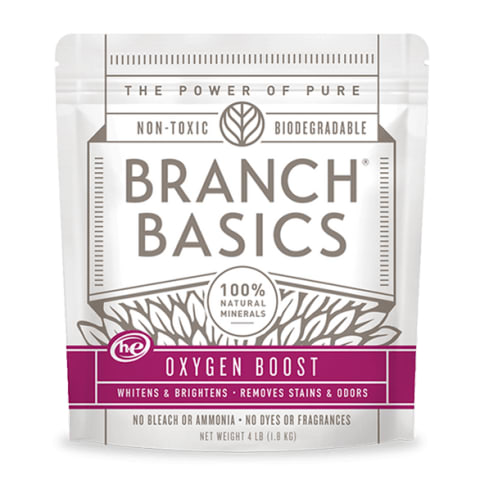 Branch Basics
Best for large showers: ECOS Bathroom Cleaner
This EPA Safer Choice certified spray is designed to extend the time between deep cleanings. It gets rave reviews from users who spray it after every shower and then forget it; it uses plant-derived water softeners to prevent soap scum from forming. Since you don't need to wipe the spray off, it's a great option for larger showers and hard-to-reach areas. Bonus: It's scented with refreshing tea tree, so it will leave your bathroom smelling lovely as it does its thing.
When to use: After you run your shower
Pros: EPA Safer Choice certified
Cons: Most effective if used daily, so it requires some upkeep
ECOS Bathroom Cleaner ($4.38); amazon.com, iherb.com
ECOS
DIY options.
If you'd rather have total control over what goes into your cleaners, these DIY recipes harness common kitchen materials to tackle buildup.
DIY daily cleaner.
To keep buildup from happening in the first place, Melissa Maker of Clean My Space recommends this two-ingredient spray you can use to wipe down your shower after each use. The acidic vinegar will dissolve grime, while the tea tree oil will add an extra punch with its antibacterial properties. Just be sure to wash your hands after using it, as essential oils can upset the skin.
Ingredients:
2 cups vinegar
2 cups water
20 drops of tea tree essential oil
Method:
Combine vinegar, water, and essential oils in a 16-ounce spray bottle and shake.
Keep the mixture next to your shower. After you squeegee your shower down, spray it all over the glass to help prevent buildup from forming.
DIY weekly cleaner.
Ingredients:
2 teaspoons baking soda
1 teaspoon Castile soap
2 cups water
Method:
Combine water, baking soda, and Castile soap in a 16-ounce spray bottle and shake.
Spray your shower once a week to give the glass a deeper clean. Let sit for a few minutes and wipe off with a microfiber cloth.
If you notice any residue left behind, Batista recommends spraying rubbing alcohol on the surface and wiping it away before reusing your cleaner.
DIY spot cleaner.
For tough stains, Cabrera has seen this 3-ingredient combo work wonders.
Ingredients:
2 tablespoons baking soda
3 squirts dish soap
Hydrogen peroxide
Method:
Put the baking soda and dish soap into a bowl and gradually add the hydrogen peroxide until a paste forms. (Feel free to play around with the ratios until you get a texture that you're happy with; it should resemble toothpaste.)
Scrub the mixture onto the stain using a sponge or brush and let sit for five minutes.
Wipe away with water to reveal a clean surface.
The takeaway.
When keeping your glass shower spick and span, you'll want to look for a nontoxic cleaner that is acidic and nonabrasive, like these five options, or the two DIY concoctions. Wipe your glass dry every time you use the shower, and give it a deeper clean at least once a week. Once you're ready to move on to the other surfaces in your bathroom, like ceramic or marble, we've got you covered with tips for those too.

1 Source