These Are The Coolest Glamping Vacations You Can Take This Year

mbg Sustainability + Health Director
By Emma Loewe
mbg Sustainability + Health Director
Emma Loewe is the Senior Sustainability Editor at mindbodygreen and the author of "Return to Nature: The New Science of How Natural Landscapes Restore Us."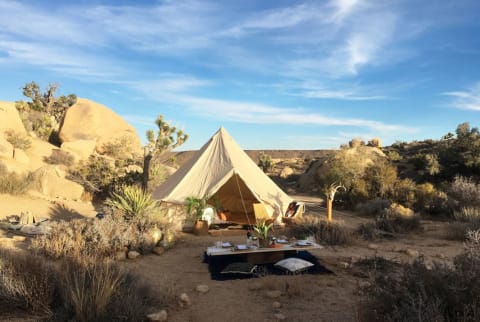 May 27, 2018
Summer is right around the corner, and wanderlust is officially in the air. As adventure tourism takes off and more people continue to seek out unique, off-the-grid vacations immersed in nature, one trend continues to dominate: glamping.
Glamping—a more luxurious form of camping that usually involves decked-out tents perched in picturesque terrains—is an opportunity to relish in nature without committing to an all-out backpacking trip. Such immersions hold a special appeal because they give us a chance to disconnect from technology and soak in the restorative benefits of fresh air (doctors have noted that time outside can improve immune function, break through negative thought patterns, and boost our happy hormones).
Rebecca Davis, the writer and travel aficionado behind The Glassy, says that the "glam" part of glamping holds a special appeal too. "Glamping is an opportunity to be surrounded by nature while still enjoying creature comforts like a plush bed, running water, or even wineglasses that you'd otherwise have to leave at home if you were backpacking." She notes that it's easier than ever to find such respite, thanks to sites like Tentrr or Airbnb that now list alternative accommodations (think: geodesic domes in the desert and tree houses in tropical locales) as a separate category to browse.
Sold yet? Here are a few insanely gorgeous glamping sites across all seven continents to add to your bucket list this year:
1. Domes at White Desert: Antarctica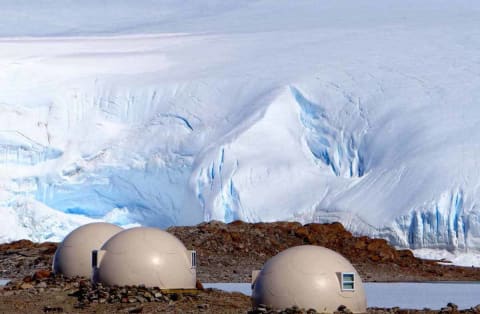 Adventurers, listen up: White Desert claims to be the only company to fly to the interior of Antarctica in a private jet. They offer a carbon-neutral experience (they offset their transportation emissions, and all of their camps run on renewable energy), and their igloo-esque pods made of fiberglass offer unparalleled access to the wild terrain beyond.
2. Paws Up: Montana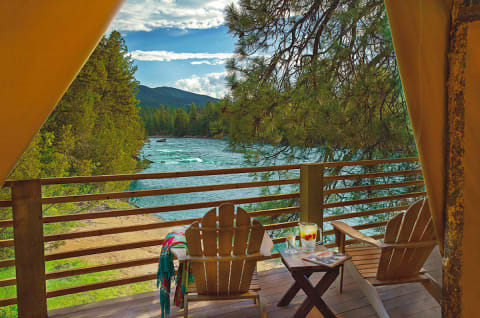 Paws Up in scenic Greenough, Montana, offers up a super-luxurious camping experience complete with king beds, nightly bonfires, and a campsite butler. If you can stand to leave these tents, there's hiking, horseback riding, and whitewater rafting waiting for you outside.
3. Camp'd Out: Across America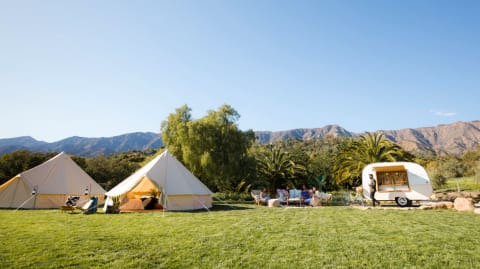 For those of you looking to create your own adventure, Camp'd Out is a glamping service that sets up camp for you wherever you're traveling. The standard offering comes decked-out with a queen bed, organic cotton sheets, and area rugs, and you can add everything from fire pits to camp butlers for an extra fee.
4. Bubble Domes at Finn Lough: Ireland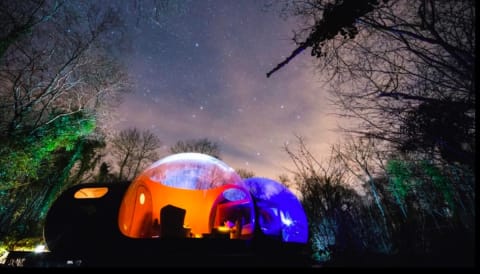 Far from your traditional camping experience, these transparent domes boast some incredible views of the sky and surrounding landscape. You can snuggle up in a fuzzy robe in bed, look up to see the Milky Way, and know that you're on what is potentially the coolest vacation ever.
5. Castaways Tree Tent: New Zealand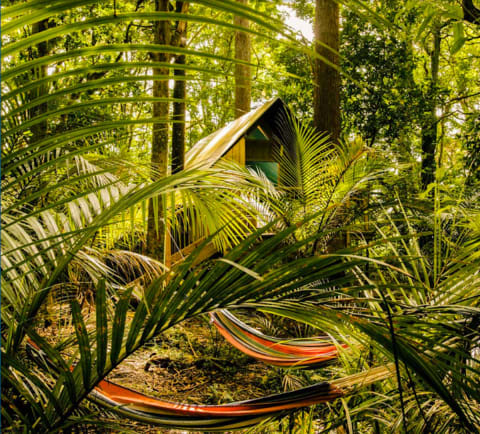 Perfect for those who miss their epic treehouse from childhood (or always envied the kids who had one), this "tree tent" on the Northern tip of New Zealand comes with heating, a gourmet chef, and a solar-powered expresso machine. While it feels totally secluded in the forest, it's a short walk from the Castaways' spas and restaurant. Oh, and did we mention there's a soaking tub in the middle of the property?
6. Collective at Governor's Island: NYC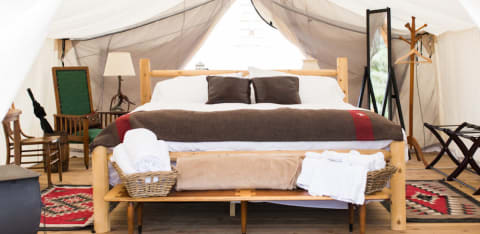 Davis names this brand-new campsite on Governor's Island the perfect place to fulfill your fantasies of camping out in the middle of New York City. The environmentally friendly overnight lodging concept hopes to bring more visitors to the under-the-radar gem that's just a quick boat ride from downtown Manhattan.
7. Treehouse Lodge: Peru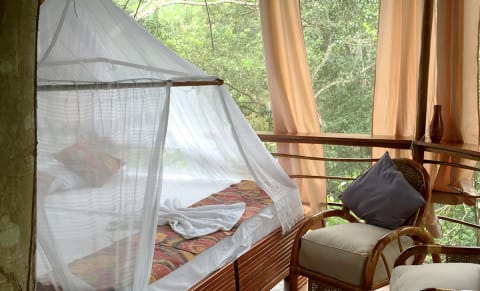 If you can think of a better place to wind down after a day of dolphin viewing, kayaking, or Machu Picchu trekking than this cluster of treehouses deep in the jungles of Peru, let us know.
8. Sandat Glamping Tents: Bali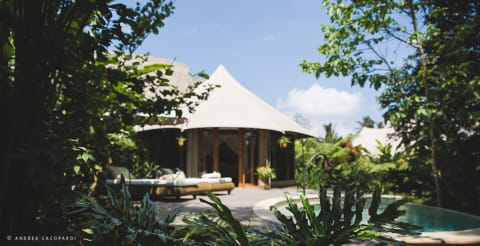 Kick-started by a couple who first brought glamping to Italy, this collection of upscale tents in Ubud, Bali, immerses guests in the spiritual, magical terrain of the island. The tents are all clustered around a beautiful yoga and meditation studio.
9. Duba Expedition Camp: Botswana
Photo: Robert Mark Safaris
The only camp perched in the 77,000-acre private Kwedi Reserve, this glamping site offers an immersive safari experience. Sit back around an open fire pit and look out for lions and buffalo.
10. 4 Rivers Floating Lodge: Cambodia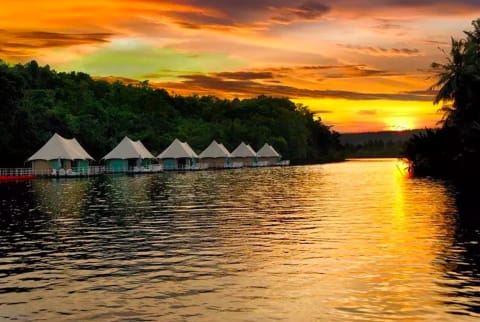 These floating tents are surrounded by rain forest and mountains. Unlike most secluded waterfront experiences, they come with electricity, running water, and access to an upscale restaurant serving local cuisine.
Leave no trace on these beautiful terrains by keeping these eco-friendly travel and hiking tips in your back pocket.