The Case For Friday Night Chores (And 5 To Do This Friday)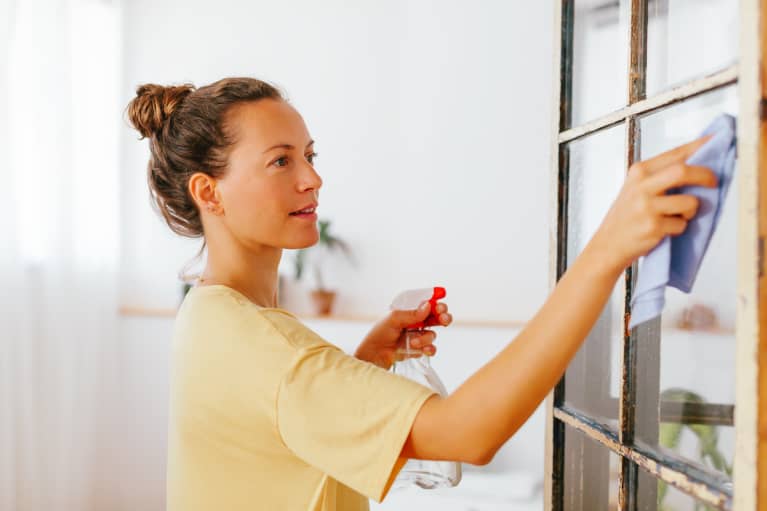 Our editors have independently chosen the products listed on this page. If you purchase something mentioned in this article, we may
earn a small commission
.
Friday nights once were a time full of happy hours on the town, wine on friends' couches, or even awkward first dates. But in 2020 (and realistically, a good bit of 2021), they look a lot more like staying home, turning on a movie, and ordering takeout. Could it be time for a new end-of-week tradition?
The case for Friday Night Chores.
Recently, my social media feeds have been full of acquaintances chatting about their Friday Night Chores (all caps, because it's a capital-T Thing).
A quick Google search on the term turned up this story from a few years ago, courtesy of Rachel Wilkerson Miller. It proposes dedicating your Fridays to the scrubbing, sweeping, and tidying you'd usually spend a few hours doing on Saturday or Sunday. In doing so, you open up your weekends for more rest and relaxation.
A Friday Night Chore session doesn't have to knock everything off your to-do list. It's more efficient to break your cleaning up into chunks, so pick the thing you're least looking forward to and start from there.
If you're feeling inspired to work some Friday Night Chores into your routine this week (let's face it; you'll be home anyway), here are some ideas to get you started. The movie and takeout can wait:
While it doesn't involve cleaning inside your home, getting your laundry out of the way before the weekend is one big thing checked off the list—especially if you live in an apartment or home without the necessary appliances in your unit because you're likely to avoid weekend crowds at your local laundromat.
It also gets the laundry out of its place in your home and the clothes back into their storage spaces—making it easier to declutter without the distraction.
2. Scrub up the sink and worktops.
First, make sure all your dishes from the week are clean (even all those rogue water glasses that we always seem to leave scattered around). After you finish your dishes, don't stop there: Turn to your sink for a good, quick clean.
You can scrub it out with an apple cider vinegar solution or even just with soap and some elbow grease. Then, turn your attention to the flat surfaces in your kitchen—the countertops and other spaces. Make sure they're wiped down so you can kick off your weekend with a nice cup of coffee in a nice, sparkly kitchen.
3. Take stock of your fridge.
Checking this task off the list is a particularly good idea if you're a weekend grocery shopper. Start by pulling everything out to take stock of what's there (so you don't create undue food waste). While your fridge is less packed, you can wipe down the shelves and drawers.
Do a bit of the same with the pantry, and then write up a list for the grocery store from there while what you have is fresh in your mind.
Bathrooms are usually small enough to tackle at once, and cleaning them on Friday means you don't have to dread dealing with them on Sunday night.
Thoroughly clean your space so you're surrounded by nothing but peace during your Saturday morning skin care routine: Wipe down your floors Cinderella-style, mix dish soap with baking soda for a paste to clean the corners of your shower, and maybe even try DIY'ing a quick toilet bowl cleaner.
5. Sort out your sleep space.
Doing the chores on Friday can set you up for a more restful weekend—so focusing some attention on your sleep space makes sense. That way, you can go to sleep and wake up in a clean, comforting, place—and maybe spend a lazy afternoon lounging there too.
Change the sheets, dust off nightstands and bookshelves, maybe run a vacuum through, and you're ready for another week before the previous one even ends.
Checking even one of these off the list will take a huge to-do off your weekend, granting you more free time to spend in a clean, decluttered space, no less. (Staycation vibes, anyone?) And really, who's going out on a Friday night these days anyway?