The Genius French Beauty Serum Hack That Changed My Skin's Texture

Contributing Wellness & Beauty Editor
By Lindsay Kellner
Contributing Wellness & Beauty Editor
Lindsay is a freelance writer and certified yoga instructor based in Brooklyn, NY. She holds a journalism and psychology degree from New York University. Kellner is the co-author of "The Spirit Almanac: A Modern Guide to Ancient Self Care," with mbg Sustainability Editor Emma Loewe.
Putting homeopathic supplements directly on my face isn't something I'd ever tried in the name of skin care, but here we are. I can't take credit for the idea. It was Violette, a French makeup artist who shares her YouTube channel with all kinds of people from all walks of life, chefs, meditation teachers, makeup artists, hair stylists, models, moms, and more, who inspired me.
After bingeing all of her videos one evening (if you're into beauty, this is a worthy endeavor), I found myself wanting to try out her routine and every one of her product recommendations. Violette's warm, nonchalant approach to beauty is refreshing, and when it comes to product we align on a natural and efficacy-driven approach. One peep at her videos or Instagram and you'll see that her skin always looks on point, glowy, and effortless, but don't let the French vibes fool you! In this video, Violette outlined her nighttime routine which is far more involved than what I imagined a French woman would do (... although I have heard that the ultimate French woman beauty secret is to take good care of your skin so you can skip makeup), and certainly more extensive than my own routine. My MO is to invest in treatments and rituals that minimize the use of product, like eyelash lifts, facial gua sha, jade rolling, facial cupping, semi-annual microdermabrasion treatments, all of these help to keep the skin looking vibrant and healthy.
Advertisement
This ad is displayed using third party content and we do not control its accessibility features.
I was most interested in the ampoules, which she said were French homeopathy. Usually they are taken internally, but Violette applies them to her face as part of her skin routine. Could going directly to the source of vitamins and minerals help nourish skin that's depleted? Curiosity got the best of me: what would happen if I swapped my evening glycolic acid or simple face oil for a new supplement-infused regimen a la Violette? One of two things: Either I'd completely break out because sometimes my skin doesn't like too many changes at once, or I, too, would unlock her effortless-looking, lit-from-within natural glow.
Here's the routine I stuck with for two weeks, with some modifications from Violette's version: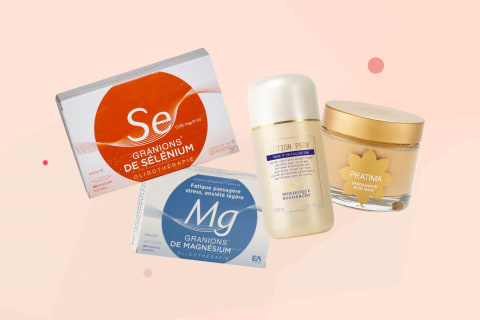 1. Prep the skin.
First I did a double cleanse, always starting with Kahina's oil cleanser and followed with either Indie Lee's brightening cleanser or Dr. Sturm's enzyme cleanser. Violette used May Lindstrom's honey mud, which is an excellent product, but the formula is currently being updated and it's not available for sale (yet).
Next up was the mask. I tried and loved the sandalwood rose Pratima mask Violette uses. It's a detoxifying mud mask that brightens the skin without stripping it of its natural oils, and would be safe to use even on sensitive skin. I masked with this once or twice a week, and when I wasn't using it I used Cocokind's chlorophyll calming mask, which is gentle enough to use every day.
After removing the mask, I used Biologique Recherche's P50 lotion on a reusable cotton round, which provides some light exfoliation, and a spritz of toner for hydration. Sometimes it was plain rosewater, others I used Laurel Whole Plant Organics facial elixir. Violette used Tata Harper's floral essence.
Advertisement
This ad is displayed using third party content and we do not control its accessibility features.
2. Apply the ampoules.
Now that the skin's been prepped, it's time to apply the ampoules. I ordered Granions de Selenium and Granions de Magnesium, per Violette's suggestions. The best news is that you don't have to live in or visit France to get these — this online French pharmacy ships internationally. A box of 30 costs about eight Euro, which currently translates to nine U.S. dollars, a regular steal, since serums tend to be expensive.
These homeopathic supplements come in glass tubes, so be very careful when breaking them open! I may have been over cautious, but always broke off the ends into a paper towel or a face cloth. Don't forget to give them a good shake first. Breaking both ends of the ampoule helped the liquid come out more easily… otherwise the serum gets vacuum-stuck in there. I'd then pour it into my hands (you lose too much in a cotton round), rub them together, and press the serum into my skin and pull it down onto my neck and décolleté as well.
3. Seal everything in with an oil or cream.
Advertisement
This ad is displayed using third party content and we do not control its accessibility features.
4. Last, spot treat.
While Violette prefers using La Mer's concentrate for her spot treatment to speed healing, I opted for Living Libations' Zippity Dew Dab, an organic oil blend made to soothe and stop the growth of blemishes.
The results are in.
I am happy to report I noticed a significant difference in my skin after doing Violette's routine for two weeks. In fact, I saw a difference after just a day! The surface of my skin looked more hydrated, glowy, and less "stressed" than it normally does. Over time, I had fewer red spots, dry patches, and my skin looked more rested and energized.
While I pared down the routine after a couple weeks of diligence—the most I'll ever mask in a week is three times, and that's pushing it—I'm so glad I tried the ampoules! It's the best serum hack I didn't know existed. Merci, Violette!
Advertisement
This ad is displayed using third party content and we do not control its accessibility features.