How To Feng Shui Your Beauty Routine To Bring Love Into Your Life
Our editors have independently chosen the products listed on this page. If you purchase something mentioned in this article, we may
earn a small commission
.
Your face offers valuable information in feng shui. You can glean information about health, personality, and influence others with just your face. Here are some feng shui tips to welcome love with a few tweaks to your beauty routine.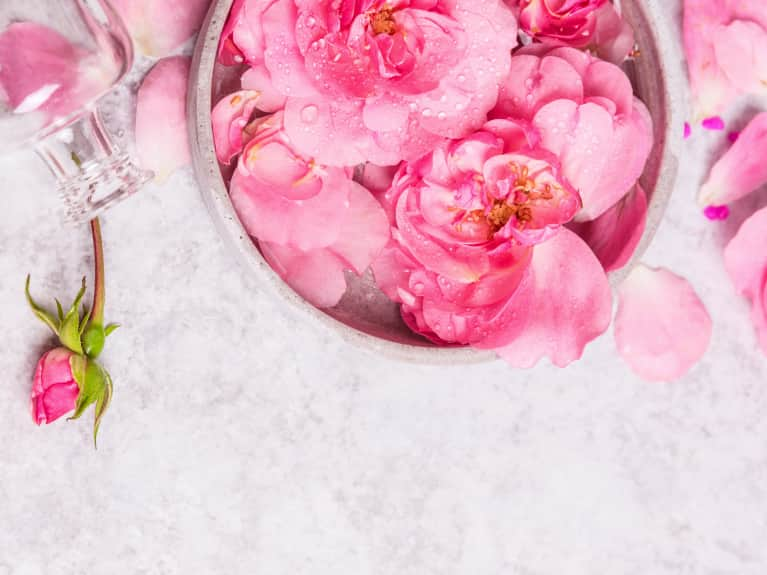 Rosewater is soothing and hydrating for the skin and excellent to spritz on your face, neck, and body before, during, and after any beauty regime. Roses represent love and sweetness—the fragrance of flowers (especially roses) can lift your energy and is said to attract love. On a physical level, rose has a profound tonic action on the heart, activating sluggish blood circulation, relieving cardiac congestion, and toning the capillaries. That's literally why we get a flutter from it.
Apply makeup symmetrically, in pairs.
Humans are attracted to bilaterally symmetrical faces—this symmetry in our faces connotes health and vibrancy and resonates with beauty. When applying makeup be sure to keep both sides as even and symmetrical as possible, and apply everything in pairs. The number two (a pair!) also represents love and partnership in feng shui.
The area where we typically pierce our ears activates the eyes in Chinese medicine. In feng shui, the eyes are connected to the area of the feng shui map related to fire, passion, the heart, and how the world sees you. A simple way to bring more of that fire energy around your face is to wear earrings. Not only do they bring attention to your lovely face, but earrings can activate your passion and beauty that the world sees.
Lengthen and fill your eyebrows.
It is said that long and full eyebrows indicate a long life, happiness, and strong energy. Luckily, fuller eyebrows are also in fashion. They don't have to be dramatic, but if your eyebrows are on the short and thin side, take some time to lengthen and fill them with Alima Pure's Natural Definition Brow Pencil ($18). Beauty is connected to vitality, and plumping up your brows will make you look and feel more energetic.
Your lips also affect your beauty on the inside and out, and in feng shui face reading, thick, full lips are more beautiful because they indicate a sensitive person. Using a lead-free lip pencil like Illia's Lipstick Crayon in Dress You Up ($24) slightly outside your lip line will give thin lips a little more fullness while the rosy hue is traditionally used in feng shui to attract love.
Bathe in rose quartz gem water.
Rose quartz is one of my favorite crystals to use because I think we can all use a little more self-love. The energy of rose quartz is very gentle and helps us to attract and generate love for ourselves as well as with others. It's very easy to make a rose quartz gem water, or you simply take a piece (or two) of tumbled rose quartz and place it in your bathwater to infuse your body with the energy of the stone.
My teachers taught me this method that they call a "feng shui face-lift." Using your right hand (the right hand is related to the feminine), apply organic face cream or oil (your choice) on your face. You start at the tip of your nose, push up the bridge of your nose, finishing at your third eye. While you're doing this, you can chant "Om Ma Ni Padme Hum," a famous Tibetan Buddhist mantra. Repeat nine times, every night and morning for nine days in a row. Visualize clearing your heart and attracting love and beauty into your life.